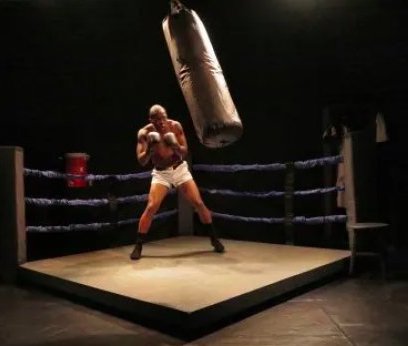 By: Darryl Reilly
Most of the time wearing just white shorts, the athletic and magnetic actor Reginald L. Wilson delivers a powerhouse performance in Sugar Ray, author Laurence Holder's accomplished biographical solo play about the great Black American champion boxer, Sugar Ray Robinson (1921-1989).
If you were a real fighter and guys like LaMatta, me, Graziano, Armstrong, Gavilan, Pep, we were real fighters, Louis, you were a gladiator. You fought until you couldn't fight anymore. You fought for money, you fought for fame, you fought for glory, you fought because there wasn't anything you could do.
The historic Off-Broadway Gene Frankel Theatre's playing area has folding chair floor seating facing scenic designer Patrice Davidson's laudably atmospheric miniature boxing ring with its requisite ropes, a weathered punching bag, a bucket, a wood stool and a nearby closet containing garments for a few costume changes. The theater's standard rows of seats are available to sit in as well.

For 80 minutes, Mr. Wilson commands the stage with his expressive voice and charismatic physical presence. Wilson portrays Robinson from robust youth to latter older-age beset by early Alzheimer's with verve, recounting the fighter's life from birth in Georgia, to a poverty-stricken Harlem childhood, to his rise and fall in the ring. Direct address is a conceit of the play, and so Wilson is in constant motion, periodically engaging with audience members and at times playfully throwing punches at some. In addition to fiercely channeling Robinson, Wilson offers marvelous mini portraits of Robinson's resourceful divorced mother, Walter Winchell and Muhammad Ali. It's a towering turn
Mr. Holder's superior and informative work fuses factual details with smooth dramatic writing, resulting in an absorbing exploration. One can be ignorant of Robinson's life and boxing in general and still be entertained by the play's forceful narrative achievements. Director Luther D. Wells' energetic staging fully realizes Holder's vision while visually and thematically evoking a prize fighter's inevitable downward trajectory. Anecdotally, we learn of the sorrowful fates of many figures such as Joe Louis and Jake LaMotta. Robinson and LaMotta's six bouts were depicted in Martin Scorsese's 1980 film, Raging Bull.
You were intoxicated by the smell of liniment, sweat, old leather, the sounds of striking lickety-split speed bags, of pounding the thudding of heavy bags, of light on your feet rope skipping, of gauze and adhesive tape wrappings on your hands, of the sight of trainers, promoters and blood.

Clanging bells, roaring crowds and furious punches comprise sound designers Thomas R. Gordon and Kimberly K. Harding's smashing contributions which are heard throughout. "Lucky" Gilbert Pearto's bold lighting design shifts from stark brightness to dreamy dimness, all to great effect. Besides the classic boxing shorts, costume designer Edith Carnley provides Wilson with a dapper dark suit.
The combination of Reginald L. Wilson's ferociousness, Laurence Holder's attentive treatment and its impeccable production makes Sugar Ray a richly satisfying theatrical experience.
Sugar Ray (through January 23, 2022)
24 Bond Arts Center in association with Faith Steps Productions
Gene Frankel Theatre, 24 Bond Street, in Manhattan
For tickets, visit http://www.genefrankeltheatre.com
Running time: 80 minutes with no intermission