Riotous performances, inspired staging and striking design, all make this an exquisite revival of Joe Orton's 1964 subversive, black comedy masterpiece,Entertaining Mr. Sloane.
Mr. Sloane is a sexy, muscular, 20-year-old man, who grew up in an orphanage.  He shows up at at a rundown, London house and rents a room from the slatternly, 42-year-old Kath.  After his moving in, their relationship deepens.
Kath's elderly, poor-sighted father vaguely remembers Sloane as the possible perpetrator of a violent crime.  Her upright, single and prosperous brother Ed wants to mentor him, and more.
You know what they say about landladies?  
No, Eddie. 
They say they'd sleep with a broom handle in trousers, that's what they say.
The dialogue is in the crisp style of Oscar Wilde and Noël Coward but twisted, and the premise is in the vein of Harold Pinter's comedies of menace.  Orton takes these theatrical influences and carves out his own territory where the British class system and heteronormativity are skewered and where homosexuality is preferred.
Director Craig Smith's propulsive staging gloriously renders Orton's vision of anti-Establishment mayhem. There's a hilarious simulated sex sequence that takes place behind a sofa.  A vicious beating has the verve of Stanley Kubrick's "Singin' in the Rain" violence in A Clockwork Orange, with assistance from Greg Pragel's accomplished fight choreography.
Kissing becomes a powerful visual motif. The actors are precisely placed, and minutely pace about the stage.  Every joke uproariously lands, especially those about false teeth.  The casting is perfection.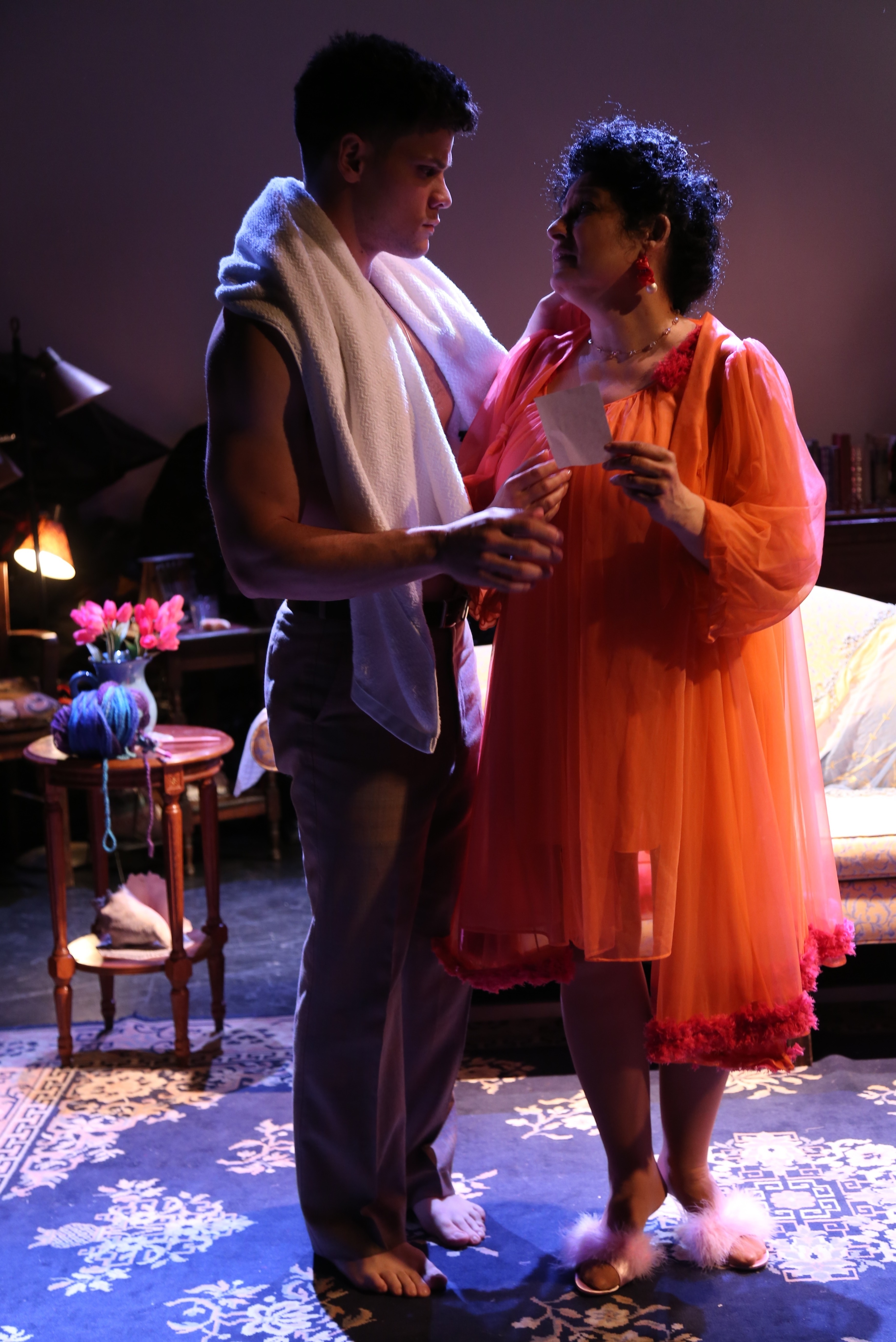 The buxom Elise Stone delightfully revel's in Kath's dottiness and sensuality.  Ms. Stone's raucous performance is a wonderful model of comic earthiness combined with affective, dramatic depth.
When he makes his entrance as Ed, Antonio Edwards Suarez, dressed in shades of gray, jolts the hysteria further.  With a deliberate, slow and clipped, lower-class British accent, the glowering Mr. Suarez seems like he wandered on from Pinter's The Homecoming, which premiered the following year.  Suarez delivers Orton's misogynistic bromides with brio. In depicting the character's pent up lust for men, he unleashes waves of emotion with a lingering glance.  It's a fully shaded and commanding characterization.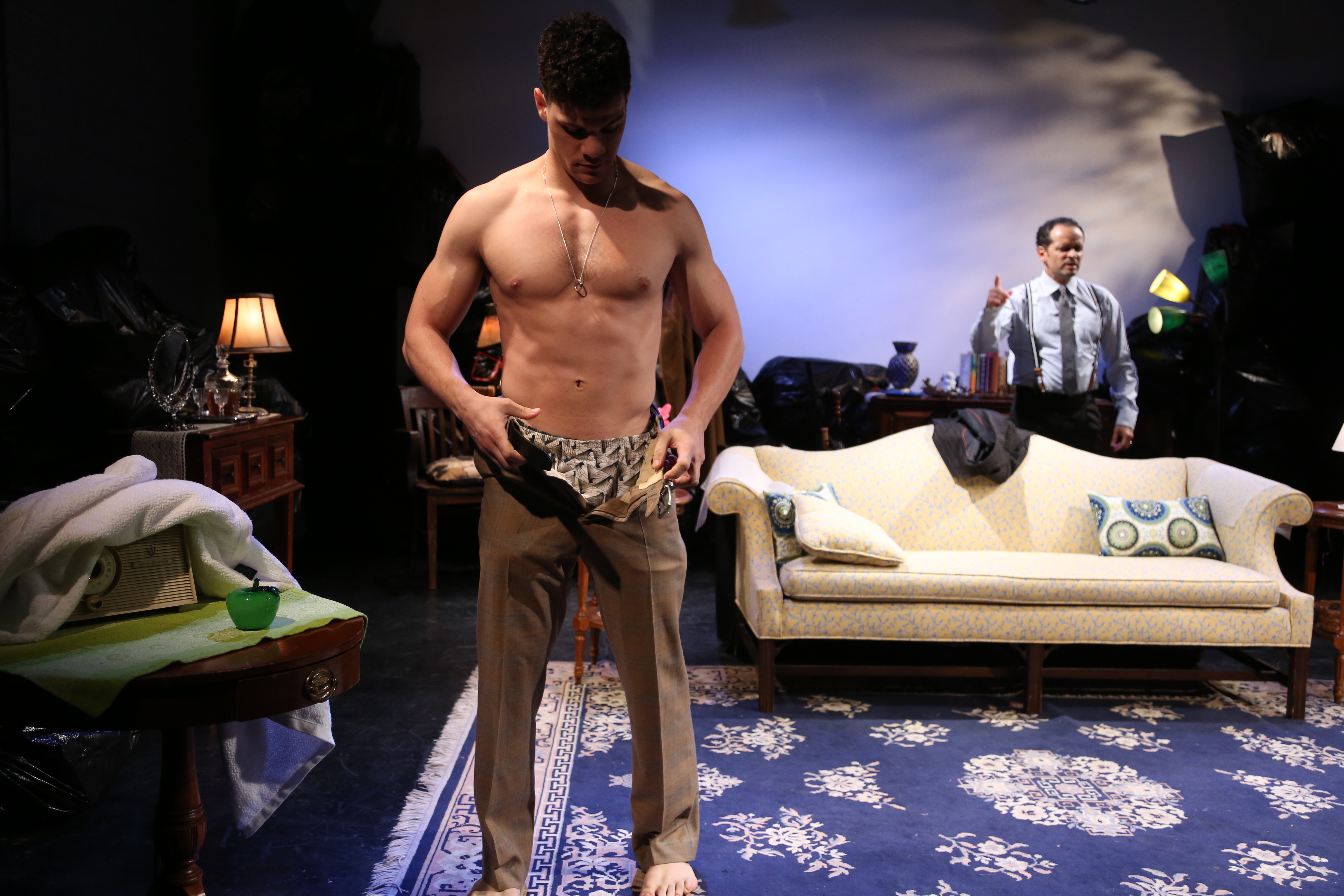 Bellowing and hobbling around on a cane, the bearded John Lenartz is marvelous as the befuddled patriarch Kemp, nicknamed "Dadda." Mr. Lenartz adeptly shifts gears, when setting aside comedy during his one on one confrontation with Sloane.  It's like the heroines of Night Must Fall and Sorry, Wrong Number being trapped with their tormentors due to Lenartz's wide-eyed terror.
That this production has such an ideal Sloane puts it into the stratosphere.  With his sculpted physique, prevalent musculature and chiseled features that recall the young Malcolm MacDowell (who played the role in a 1975 London revival), Matt Baguth is mesmerizing.  Speaking in a whispery, low, lightly accented voice, Mr. Baguth commands attention.  Whether wearing Mod clothing or encased in black leather, and a tight white T-shirt, Baguth vividly captures the predatory nature of this youthful interloper with sly conviction.
The stage is set with an assortment of worn furniture and bric-a-brac that authentically presents a shabby sitting room.  Surrounding this area are mounds of stuffed, black trash bags.  These are the atmospheric features of Tony Mulanix's terrific scenic design.
The living room's back wall occasionally has projections of Kerem SmithStone's eerie video design that shows the stylized locale with clouds and gritty, abstract, industrial footage.  It's a subtle, high-tech touch.
Mr. Mulanix is also responsible for the stunning lighting design that often has striking shadows on the actor's faces, and fluctuating brightness that intensely illuminates the actions.
Gorgeously evoking the time period is the sensational costume design of Debbi Hobson.  Sloane's Mod apparel and iconic leather ensemble are realized with sartorial flourishes.  Ed's gray suit could be from a British gangster film about The Krays.  Sequined high heel shoes, an orange dress, loud floral prints, brooches, and a grand coat are all part of Kath's suitably flamboyant ensemble.  Dadda's grimy outfit looks like it has the aroma of old age.
Ellen Mandel's lively original music has the pop sound of the era, but it's overused.  It borders on being a film score, rather then as incidental music for a play.  Ms. Mandel's sound design could periodically benefit from a lower volume, as it comes close to overpowering the voices of the actors in a few places.
"I have long admired Joe Orton…These are great plays that have had a lasting influence on modern theater," eloquently writes Smith in the program's Director's Notes.  Until his male lover murdered him with a hammer in 1967, at the age of 34, Orton was briefly a foremost and supreme playwright.  "He was a bloody marvelous writer," said Harold Pinter in his eulogy.
First performed in London during the Swinging Sixties and Beatlemania, Entertaining Mr. Sloane was of the zeitgeist of sexual expression, creative fashion and a cheeky attitude toward authority.  This superb production affirms its enduring stature as a work of provocative dramatic literature.
Entertaining Mr. Sloane (through May 14, 2017)
Phoenix Theatre Ensemble
The Wild Project, 195 E. 3rd Street, in Manhattan
For tickets, call 866-811-4111 or visit http://www.phoenixtheatreensemble.org
Running time: two hours and 30 minutes with one intermission
Photo credits: Gerry Goodstein
In 1981, I saw the monumental revival of Entertaining Mr. Sloane, at The Cherry Lane Theatre.  Besides his phenomenal performance in the title role, Maxwell Caulfield also caused a sensation for briefly appearing frontally nude.  Joseph Maher, Barbara Byrne and Gwyllum Evans were also awesome, all under John Tillenger's dazzling direction.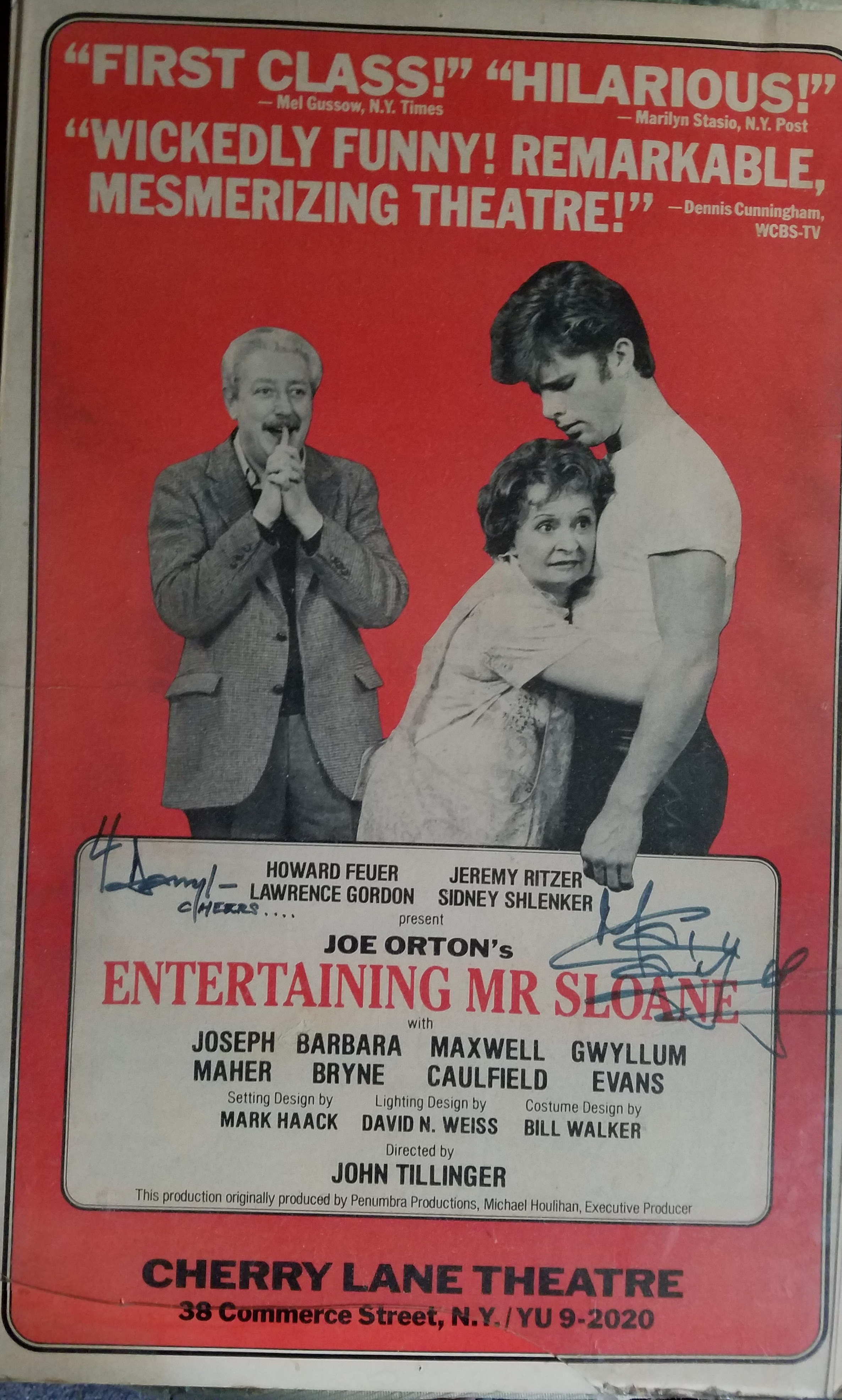 This one of my most memorable theater experiences and it felt euphoric that this production was comparable.  It's a great play.
In 2016, Mr. Caulfield was appearing in the creepy thriller, Tryst, at The Promenade Theatre.  I went to see it and I brought along the window card for Entertaining Mr. Sloane, that I bought at The Broadway Flea Market.
After the show, I waited outside the stage door, along with a nice sized group of fans.
I presented the poster for him to sign.
"Oh, you couldn't have seen that!" he graciously said to me.  His eyes brightened at the sight of this memento of that long ago glory.