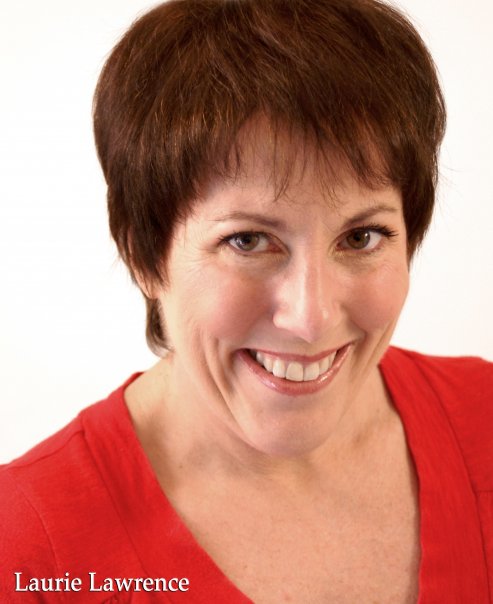 "She was very clear that she wanted her life to be celebrated, not mourned," said Erica Dubno, who superlatively organized the packed, 90-minute memorial tribute to her close friend Laurie Lawrence. This was held at the Beach Point Club, in Mamaroneck, New York, on Sunday May 21, 2017, and it was a beautiful celebration.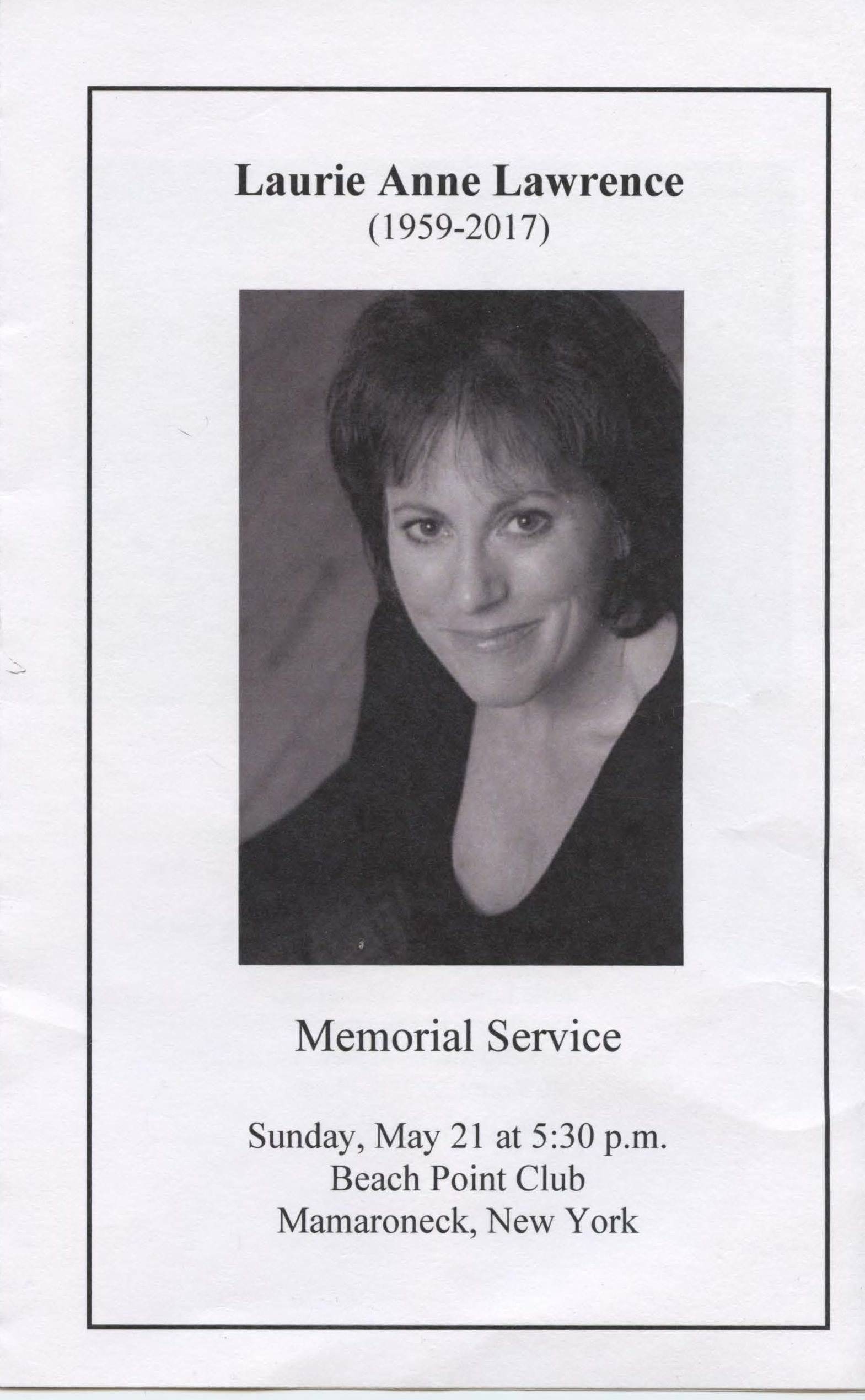 Laurie died on April 30, 2017, in New York City, at St. Luke's Hospital, at the age of 57. She had suffered a massive heart attack on April 18, while at work. During her hospital stay, she was unconsciousness. Her room was decorated with pictures of her life. She was attended to by her many friends. She had registered to be an organ donor, but unfortunately that wasn't possible.
"Imagine," "In My Life" and a finale of "What I Did For Love" were the musical selections that Laurie specified to be played in her instructions. The acclaimed pianist and singer, Michael Isaacs ravishingly performed them. Mr. Isaacs regularly appears at the piano bars Brandy's and The Duplex. Laurie frequently sang at those venues, and Isaacs reminisced about her appearances and their friendship, "I loved her." He also mentioned their mutual close friend, Canadian resident Rory Taggart, who was unable to attend this event.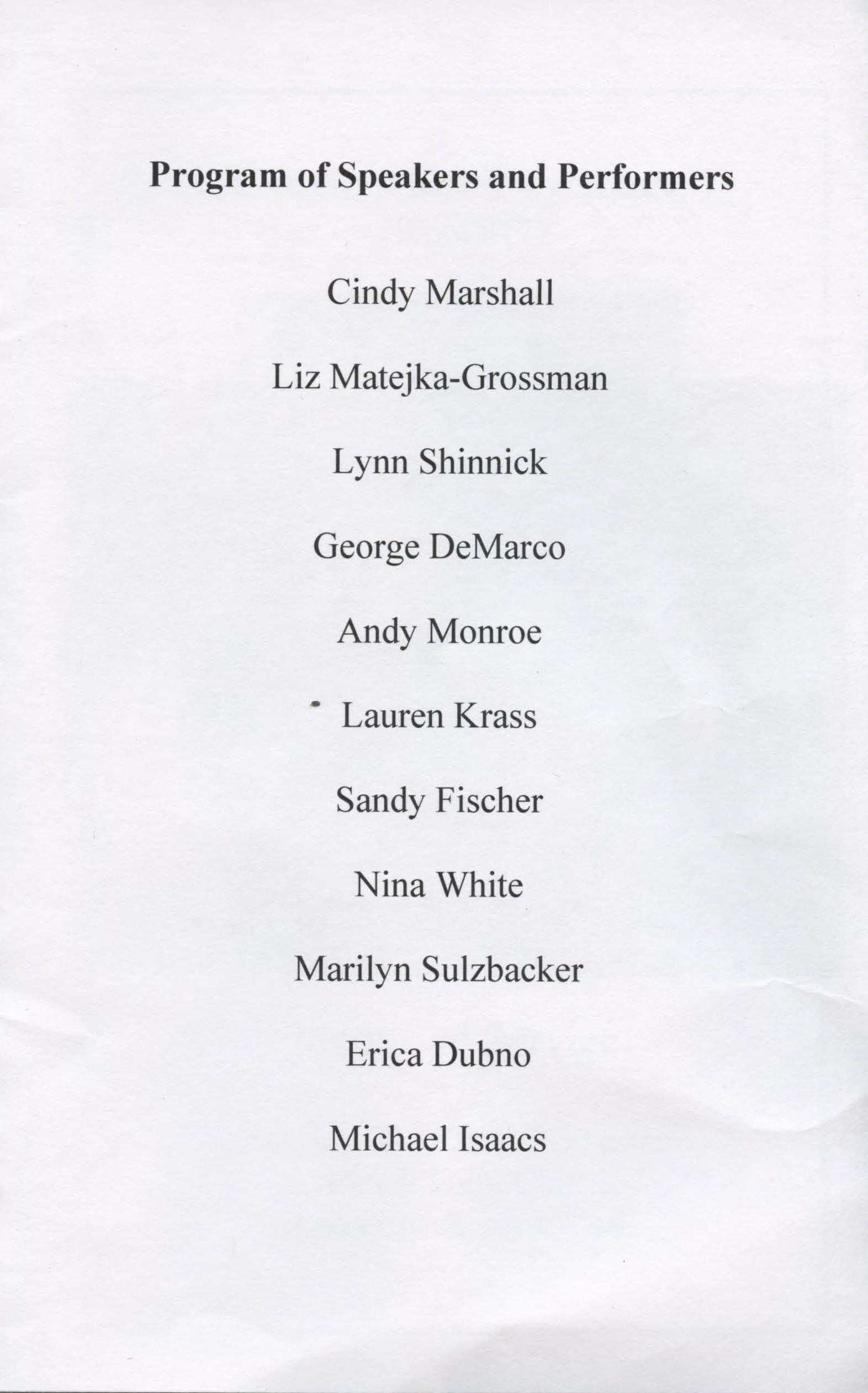 In 2000, I appeared in a one-act play that was part of a festival of short works that was presented at The Producer's Club theatre. One of the other plays was a Honeymooners-style dramedy about a quarreling married couple.
The actress who played the wife was superb. Wearing a blue plaid housedress, she had a fierce intensity that combined with her supreme comic timing, piercing eyes, animated facial expressions, and powerful voice, made her performance quite memorable.
She embodied the tradition of great American character actresses such as Maureen Stapleton and Eileen Heckart, along with the comedic depth of Doris Roberts. Though it was a minor piece, she brought as much conviction to it as if were a Clifford Odets drama.
As we were in separate plays, we did not rehearse together, and I only saw it once during the dress rehearsal. The only real interaction we all had was with the cast members of our own plays.
Three years later I became friends with someone who was part of The Duplex circle. There I saw the actress from that short play. It was Laurie Lawrence. I told her how much I enjoyed her performance and how memorable it was.
"Thanks! That's the last play I did. I just don't have the time or the energy anymore to do theater that doesn't pay. I'd rather sing when I want to and do SAG-AFTRA work." That belief was understandable, but this strategy was a great loss for her talent and for audiences.
This surfaced during a reading of a revelatory diary entry she wrote in 2010, and that was read aloud. She spoke of her never having had the feeling for the need to have children, being single but open to the possibility of marriage if the right man came along, and most poignantly of her disappointment that her acting career had not gone further.
The wonderful slide show of illustrative photographs of her life included family gatherings, work events, her involvement with animals and her coaching for the Special Olympics. There were also shots of her performing, and most telling were new headshots every few years. That dream never faded.
She was from New Rochelle, graduated from Ithaca College as a theater major and moved to New York City to be an actress. For the past 17 years she worked a full-time job in the legal department at CBS.
Creating a bubble within a bubble while chewing bubbling gum was her "Stupid Human Trick" that she performed on Late Night with David Letterman in the 1980's. Her rapport with Dave was marvelous and he was quite warm to her. This bit was shown during a video highlights presentation.
There were clips of her at various venues dynamically singing. Her brassy and affective gifts were showcased with rousing renditions of Kander and Ebb's "All That Jazz," "Cabaret" and "Ring Them Bells."
Local cable news channel NY1 profiled her for their program, "New Yorker of The Week" because of her volunteer work as a coach for the Special Olympics, and a touching excerpt of that was shown. She was also a long-time participant of Big Brothers Big Sisters, and organized an annual Holiday party in support of battered women.
Friends, relatives, and a former roommate poured forth with accounts of her frenetic lifestyle. Working full-time while seeing theater, movies, volunteering, taking classes and performing were all part of her jammed schedule.
Marilyn Sulzbacker, an older, Upper East Side neighbor of hers movingly recounted their long relationship and bond over their cats.
Her cousin George DeMarco, recalled her secretly rehearsing "Dance Ten Looks Three" from A Chorus Line that she was to perform at his surprise birthday party. She was stricken a week before it took place. Mr. De Marco's partner, Andy Monroe then went to the piano and wistfully played and sang "Seasons of Love" from Rent.
Nick-nacks, souvenirs and mementos from Laurie's collection were on display on a large table in the front of the auditorium. Attendees were invited to take something, to have a part of her. Apparently she collected penguins, as there were several figurines of various sizes of them. I took one of the miniatures. I soon returned, and took two more as they seemed to be part of a trio, and it felt wrong not to keep them together.
Over the years we kept in touch through email, Facebook and chance meetings. We once shared a Metro North train ride to Westchester, and joyously caught up. Later that day she wrote a glowing testimonial for my tour business page.
Like so many, I treasured her kindness, vivacity and passion for the performing arts, and was overwhelmed that she was gone too soon.
When my cat was diagnosed with a tumor, she was a constant stream of information and advice. Being an animal rights advocate and cat enthusiast, she was an expert on their care. Following my cat's death, she eagerly encouraged me to adopt another by sending me notices of ones who needed homes. After her beloved Belle died, she soon adopted Vera, who survives her, and has been taken in by a friend.
"She made everyone laugh," declared one of the speakers, and that was a common sentiment. In the past few weeks when going through my various contact lists, I would always smile whenever I came across Laurie's email address, daffylaurie@aol.com.
"I am terribly, terribly unhappy to think that I shall never see her again," wrote Noël Coward upon the death of that other legendary Lawrence, Gertrude.
Postscript: Laurie's mother Elaine Krass was at the memorial.  It was painful to see this elderly woman sitting in a wheelchair hysterically sobbing, and being comforted by well wishers.  Ms. Krass died on July 6, 2017, at the age of 82.