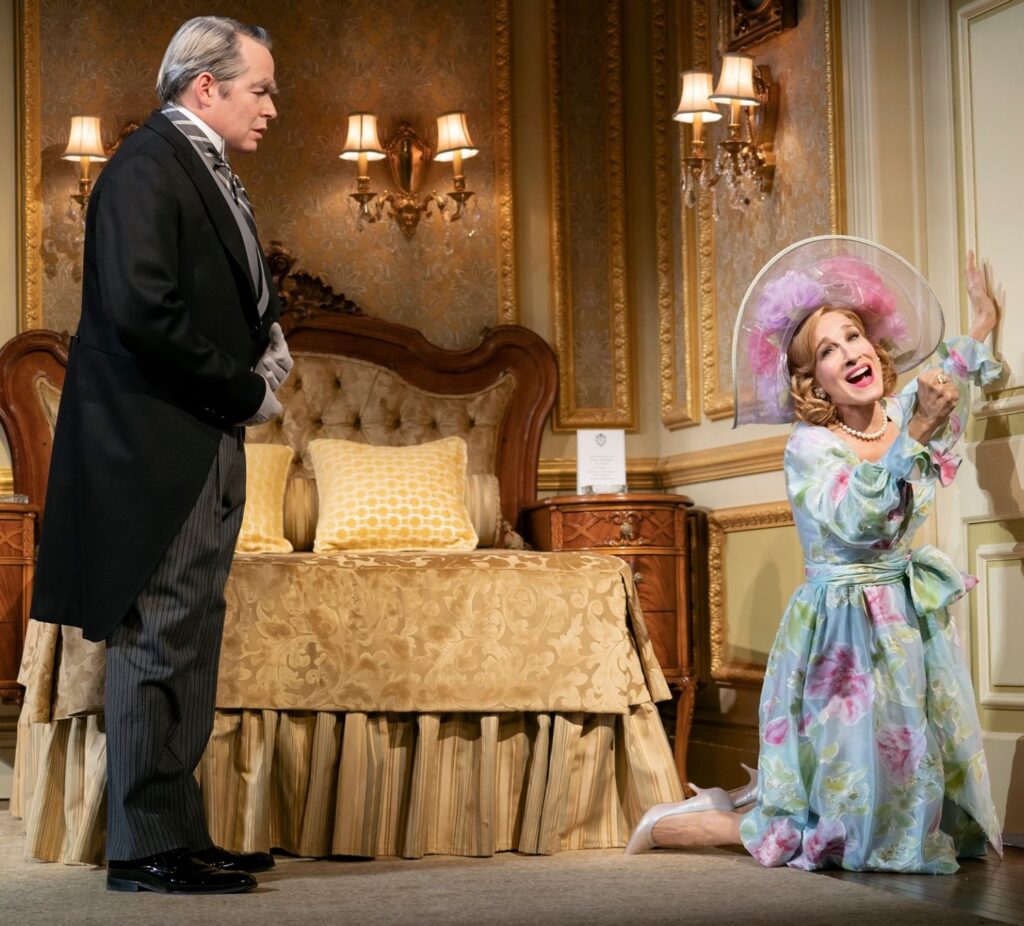 By: Darryl Reilly
Audience laughter abounds during Matthew Broderick and Sara Jessica Parker's uproarious performances in this splendid first Broadway revival of Neil Simon's 1968 hit comedy, Plaza Suite. This married show business couple revel in their different roles during three one-acts all taking place in the same hotel room. They're greeted with wild entrance applause each time they come on stage and though standing ovations at the end of shows have become obligatory, here it's sincere and justified. Mr. Broderick and Ms. Parker's enduring star quality is on display at the Hudson Theatre.
This sparkling period-accurate production reclaims Mr. Simon's lost stature; his popular playwriting career faded during his long lifetime. It's a joy to communally experience live in a theater his precise construction, delineated relatable characters and honed joke-laden dialogue. "It's pink, but it writes" is the retort of a wife who hands her exasperated husband a lipstick when there's no available pencil to jot down crucial figures. Topical cultural references of the era include Elke Sommer, Dr. Joyce Brothers and Frank Sinatra's marriage to Mia Farrow.
"Visitor From Mamaroneck" is a bittersweet tale of middle-aged angst where Simon experiments with seriousness amidst superior comic banter. A 50-year-old melancholy high-powered businessman with two college-age children reluctantly is in a Plaza suite with his wife to celebrate their wedding anniversary but work intervenes. Broderick is relatively subdued yet effective as the age and calorie-obsessed executive who wants to live his life all over again. Parker combines daffiness, wistfulness and her familiar persona in creating a poignantly sterling characterization of the wife. Whether clomping around while wearing one galosh, hopelessly pleading with a room service telephone operator not to include anchovies on an hors d'oeuvre platter, or icily cross examining her husband about his young female secretary, Parker is superb.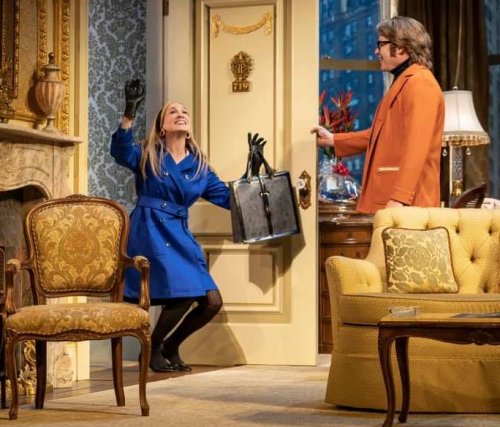 "Visitor from Hollywood" is in the manner of a 1960's sex farce. The delightfully animated Broderick plays a successful schlocky Hollywood producer originally from Tenafly, New Jersey, who owns Humphrey Bogart's Beverly Hills house. He's in New York to sign Lee Marvin to a picture and has contacted his now married with children former high school girlfriend to visit him with the intention of a tryst. Furiously rattling a cocktail shaker, sliding around in slippery exclusive English-made shoes and employing a mock-suave personality, Broderick is hilarious. The vibrant Parker dazzles as the vodka stinger-swilling Pucci-style dressed N.J. housewife who makes feint attempts to leave for the drive back home to the suburbs. A delirious highlight is their zany dance sequence which goes from Frug to Swing.
Mimsey, the 22-year-old daughter of a middle-aged Queens couple has cold feet just before her $8000 Plaza wedding and has locked herself in the bathroom in "Visitor from Forest Hills." Simon's situation comedy-style premise is elevated by his wicked sense of absurdism, command of psychological depth and addition of an inspired curt plot twist. Broderick is gleefully in overdrive as the father being as broad as possible. Accidently tearing open the back of his morning coat and walking on the outside ledge of the Plaza with the intention of barging into the commandeered bathroom window as he's besieged by pigeons are hijinks that bring down the house. Clad in a pastel floral print dress and an outrageous hat, the tart Parker as the mother basks in the silliness.
In addition to expertly steering his stellar duo's three magnetic turns, director John Benjamin Hickey choreographs sight gags, utilization of the large set and rapid pacing with aplomb. Actors Danny Bolero as the humane waiter, Molly Ranson as the conniving secretary and the mostly unseen Mimsey, and Eric Wiegand as the pragmatic bellhop and the low-key groom, all perform their subsidiary roles with infectious gusto.
Scenic designer John Lee Beatty's gorgeous recreation of the Plaza's grand exterior adorns a curtain on which the titles of the acts are projected, and his detailed suite is perfection. Some of legendary costume designer Jane Greenwood's witty creations evoke the 1960's with Austin Powers-style pizzaz, while other ensembles are appropriately sedate. Tom Watson's flamboyant wig design visualizes the main characters with tweaked realism. Lighting designer Brian MacDevitt and sound designer Scott Lehrer each employ inspired subtlety for optimum effect.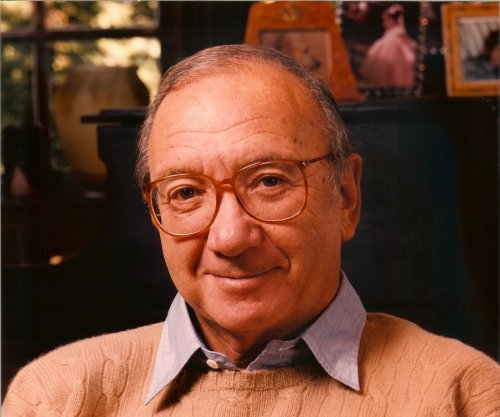 But Simon writes sunny. That, I think is the main reason why he is so beyond-words successful there is a sunny quality to his work, and you feel good when it's over. Not smarter; not cleansed; just good. And even though his thoughts are filled with shadows, his writing landscape is always bright.
So, stated Oscar-winning screenwriter William Goldman of Neil Simon (1927-2018) in his classic 1969 book The Season: A Candid Look at Broadway, which analyzed the 62 productions of the 1967-1968 Broadway season. Included is the smash Plaza Suite, for which scalpers were getting $60 for a pair of tickets to, the highest illegal price for a show at that time when the top legitimate price was $8, as reported by Goldman. The play was directed by Mike Nichols, it opened February 14, 1968, starring George C. Scott and Maureen Stapleton, and ran 1097 performances. Nichols won the Tony Award for Best Direction of a Play; Simon was nominated for Best Play and Stapleton was nominated for Best Actress in a Play. "For me, Simon is the most skillful playwright to have surfaced in the sixties. Not the best. The most skillful," wrote Goldman.
Upon entering the theater there is the sight of a lobby wall with chronologically hung posters of the 30 Broadway shows Simon wrote between 1961 to 2001, for which he received two Tony Awards for Best Play and a Pulitzer Prize for Drama. This snappy incarnation of Plaza Suite affirms Neil Simon's skillful achievement while showcasing the immense talents of Matthew Broderick and Sarah Jessica Parker.
Plaza Suite (through June 26, 2022)
Hudson Theatre, 141 West 44th Street, in Manhattan
For tickets, call (855) 801-5876 or visit www.plazasuitebroadway.com
Running time: two hours and 40 minutes including one intermission