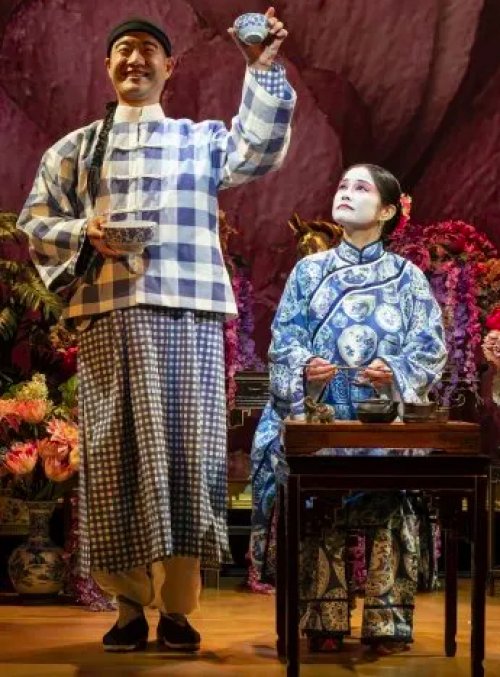 By: Darryl Reilly
The horrors of foot binding, England's 17th century incursions into China which led to its preoccupation with tea, and the harrowing 19th Chinese immigrant U.S. experience are among the subjects enacted in playwright Lloyd Suh's sly, moving and theatrical work, The Chinese Lady.
The youngest of seven children, 14-year-old Afong Moy was sold in 1834 in China by her father to two wheeler dealer American brothers. Wearing fetishized inauthentic Asian garb in a room dubiously furnished, she is an exotic living attraction performing an anthropological routine in a New York City museum. This consists of describing how her feet were mutilated to keep them small, walking around, eating Chinese food with chopsticks, and lecturing on Chinese history. There were few Asian people in the U.S. at that time, so the exhibition is immensely popular, eventually touring where Afong meets President Andrew Jackson at the White House. There's no documentation about the real-life Afong after 1850, so virtually all of The Chinese Lady is inventively imagined with meta touches.

Mr. Suh's ingenious other character is Atung, a cheery pragmatic older servant who translates for Afong, attends to her and sells Asian-themed souvenirs. Suh artfully blends historical research with commanding dramatic writing to craft a poignant and informative tale. Its 90 minutes spans decades where one becomes smitten with its characters as they address the audience directly. Shocking facts of the exploitation of and the brutality leveled against Chinese workers in that era are imparted. Also captured in the play is the freewheeling sense of 19th century show business, especially when P.T. Barnum takes over managing Afong.
Actors Shannon Tyo as Afong Moy and Daniel K. Isaac as Atung are majestic in their monologues and dynamic in their interactions. With her sunny countenance, expressive voice and litheness, Ms. Tyo vivaciously depicts Afong's life journey from girlishness to old age. Physical fluidity, vocal dexterity and an abundance of charm characterize Mr. Isaac's grand performance. Their characterizations are enhanced by Linda Cho's witty and lavish costume design which adds visual allure and psychological dimension.

Presentational flourishes abound in director Ralph B. Peña's gorgeous physical staging which combines small-scale spectacle with humanity. Scenic designer Junghyun Georgia Lee provides a large gold frame through which we observe Afong's act and an assortment of stylized pieces which evokes the past through clever artifice. That's complemented by the shimmering artistry of lighting designers Jiyoun Chang and Elizabeth Mak and projection designer Shawn Duan. Sound designer and composer Fabian Obispo's original music and composition, ranges from delightfully jaunty to purposefully moody.
The Chinese Lady is an arresting and affective piece if theater.
The Chinese Lady (February 23 – April 10, 2022)
The Barrington Stage Company and Ma-Yi Theater Company
Susan Stein Shiva Theater at The Public Theater, 425 Lafayette Street, in Manhattan
For tickets, call 212-967-7555 or visit http://www.publictheater.org
Running time: 90 minutes without an intermission