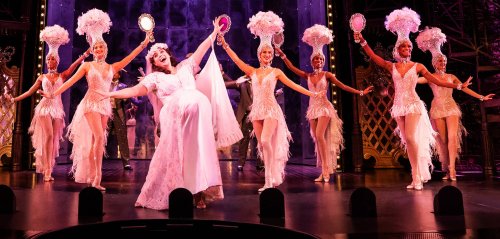 By: Darryl Reilly
Beanie Feldstein's clunky rendition of "I'm the Greatest Star" crystalizes the absurdist dimension of this off-kilter first Broadway revival of the 1964 musical, Funny Girl. With her nasal, often muffled singing, oddly emphatic line readings and smug mugging, in no way does she suggest a great star, yet this nearly three-hour show is centered around her. It instantly deflates with her wan introductory "Hello, gorgeous." She does exhibit idiosyncratic pluck and stamina throughout.
Ms. Feldstein's "People" is painful, her "Don't Rain on My Parade" is a garbled rush, and her "The Music That Makes Me Dance" is a drawn-out off-putting wail. The totality of her performance is a fascinating instance of delusional adequacy. A highlight of this situation is a song and dance number where she's dressed as a U.S. W.W. I soldier festooned with bagels. Despite her desperation, she fades into the background amidst the sensational ensemble.

Feldstein's career includes noteworthy screen and television appearances as well as the featured role of Minnie Fay in the 2017 Broadway revival of Hello, Dolly! For attempting to play the part of premiere vaudevillian Fanny Brice, which was legendarily created onstage by Barbra Streisand, whose landmark performance is preserved in the 1968 film adaptation which garnered her a Best Actress Oscar, the inexperienced out-of-her-depth Feldstein gets a C for chutzpah.
Though more Aunt Eller than Molly Goldberg, the statuesque Jane Lynch as Fanny's Jewish mother brings on her familiar polished wiry wry dynamism. The sunny Jared Grimes as Fanny's platonic best friend offers superior tap dancing and a sterling characterization. Suave theater fixture Ramin Karimloo is a terrific Nick Arnstein, Fanny's magnetic ne'er do well gambler love interest. Stage veteran Peter Francis James' portrayal of impresario Florenz Ziegfeld is of delicious imperious show business grandeur. Toni DiBuono scores as the yenta supreme, Mrs. Strakosh. Debra Cardona makes a comic impact as another poker-playing neighbor. The rest of the game cast is excellent, especially when zestfully recreating long ago-Ziegfeld Follies-style production numbers.

Isobel Lennart's solid book inventively imparted a fictionalized stage worthy narrative based on the life of Fanny Brice (1891-1951), taking her from working class Brooklyn to stardom and high society. Harvey Fierstein's revised treatment maintains its basic framework while adding more emotional depth and tossing in plentiful Yiddishisms. The glorious overture affirms the oomph of renowned composer Jule Styne's music, later Bob Merrill's lyrics prove to be adept. The score is finely realized by Brian Ronan's sound design, Chris Walker's orchestrations and Michael Rafter's music supervision.
Director Michael Mayer's professionalism surmounts the production's void of its deficient lead performer by conjuring up as much stagecraft as possible, making for a watchable experience. Ellenore Scott's choreography and Ayodele Casel's tap choreography inject welcome razzle dazzle. Though functionally aiding in swift scene transitions, David Zinn's scenic design is undistinguished, lacking in scope. Costumer designer Susan Hilferty's efforts are equally mostly underwhelming, ranging from passable to occasionally accomplished. Kevin Adams' lighting design achieves a snazzy vintage look.

Funny Girl originally ran on Broadway for over three years, with Barbra Streisand in it for a year and half, she then starred in the London production. She was succeeded on Broadway by Mimi Hines, Marilyn Michaels and Barbara Cook did U.S. tours. Hence, talented performers other than Streisand did succeed in the role.
While not in the pantheon of Broadway musicals, this choppy revival reveals Funny Girl to be a good show independent of it. This incarnation would be best enjoyed by Beanie Feldstein fans and musical theater completists.
Funny Girl (open run)
August Wilson Theatre, 245 West 52nd Street, in Manhattan
For tickets, visit http://www.funnygirlonbroadway.com
Running time: two hour and 50 minutes including one intermission