"The Fourposter transformed our lives and we were here!" reminisced the actress Tandy Cronyn at New York City's Historic Landmarks Preservation Center's Cultural Medallion dedication ceremony honoring her parents, Jessica Tandy and Hume Cronyn on April 25, 2018.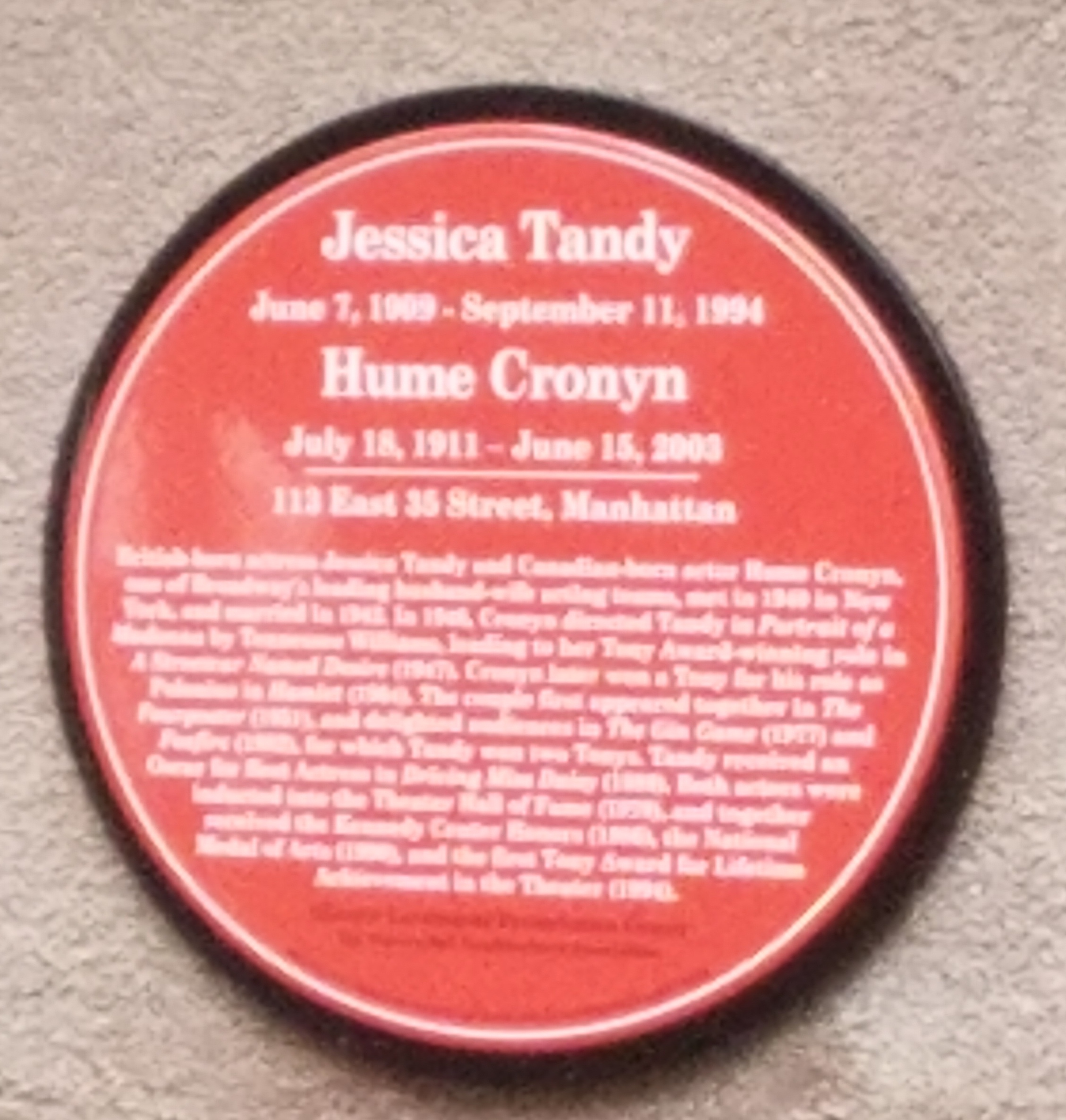 The organization "affixes porcelainized enamel plaques to the exterior of buildings to commemorate an individual or an occurrence that made a significant contribution to New York City's rich cultural heritage."
Often referred to as "America's First Acting Couple," Ms. Tandy and Mr. Cronyn are certainly worthy of this distinction.  They both died some time ago and this occasion was a wonderful remembrance of them.
"This is truly an honor for all New Yorkers," declared Julie Menin of the Mayor's Office of Media and Entertainment about the custom of placing these plaques in view of the public. "They were tremendous New Yorkers and theirs's was such a New York story. They came from far away and settled here," said Ms. Menin in her remarks that focused on their screen careers. A choice revelation was that in his later years Cronyn appeared in several NYU student films and wouldn't accept any fee.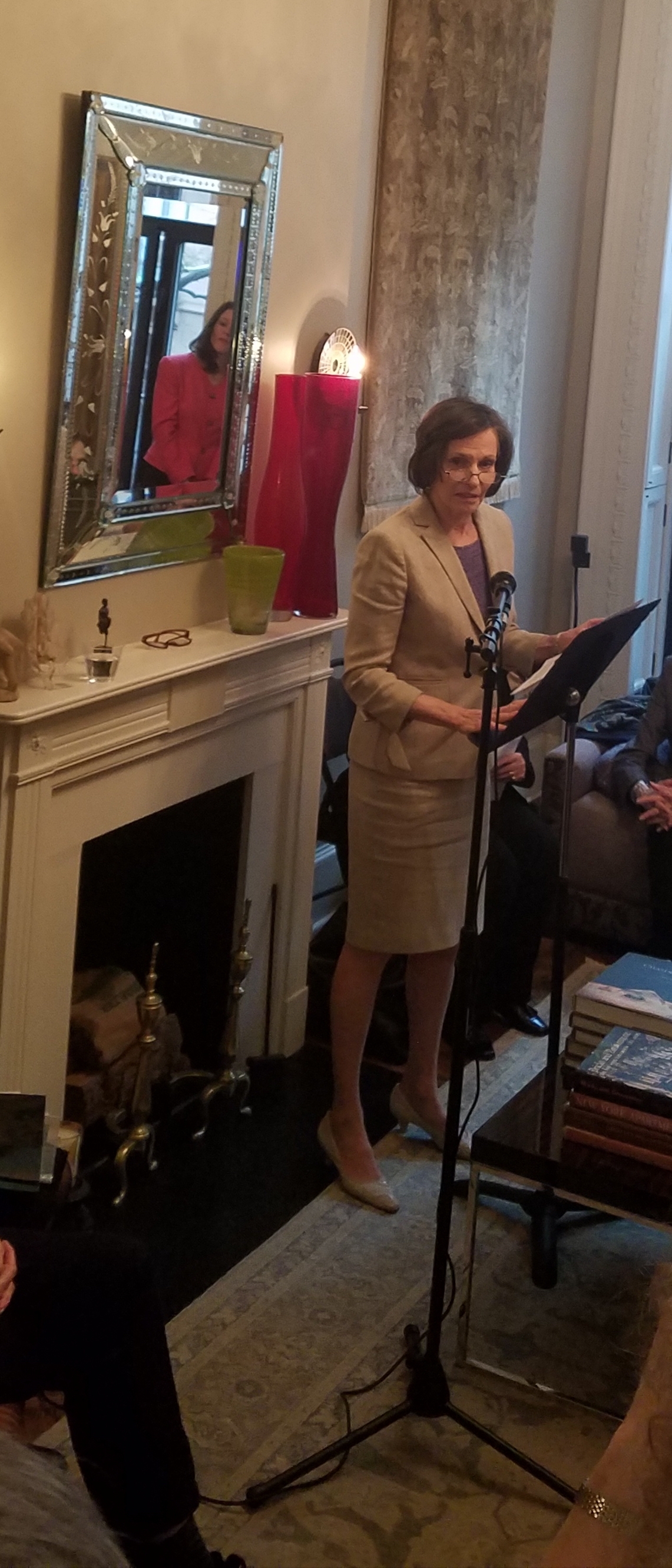 Ms. Cronyn explained that after an unfulfilling time in Hollywood making movies in the 1940's, they moved back East with her brother Christopher to restart their theater career. After briefly living in Greenwich, Connecticut, they settled into this Manhattan townhouse on East 35th Street in 1951 for about five years.
Mr. Cronyn had obtained the rights to Jan de Hartog's 1951 two-character play The Fourposter and with José Ferrer as the director it was a smash hit running 632 performances on Broadway. It starred Tandy and Cronyn who then toured around the United States in it. This was the real start of their celebrated acting collaboration.
The event was held in the living room of this private residence. Barbaralee Diamonstein-Spielvogel, the founder and chair of the HLPC welcomed everyone and gave an address that chronicled their lives and careers. Author and Professor Emerita of the University of North Carolina Milly Barranger gave additional biographical details.
"Our mission statement is too insure that the performing arts live!" expressed Jacqueline Z. Davis, the executive director of the New York Public Library for the Performing Arts at Lincoln Center. Ms. Davis described the materials pertaining to Tandy and Cronyn that are part of the library's vast holdings. These include video recordings of plays they appeared in, extensive audio and video interviews and letters to such theatrical titans as Elia Kazan.
The former drama critic of the New York Times, Frank Rich was unable to attend and a letter he wrote on April 20, 2018 was read aloud. It was filled with warm praise and documented their historical importance in aiding the emergence of regional theater in the United States. In 1963 they accepted British director Tyrone Guthrie's invitation to appear in a roster of classic plays that included The Miser, Hamlet and Death of a Salesman at the inaugural season of what would become the Guthrie Theater in Minneapolis, Minnesota.
Tandy Cronyn was the last speaker and then the gathering moved outside to the front of the house where she read the plaque's inscription as it was unveiled.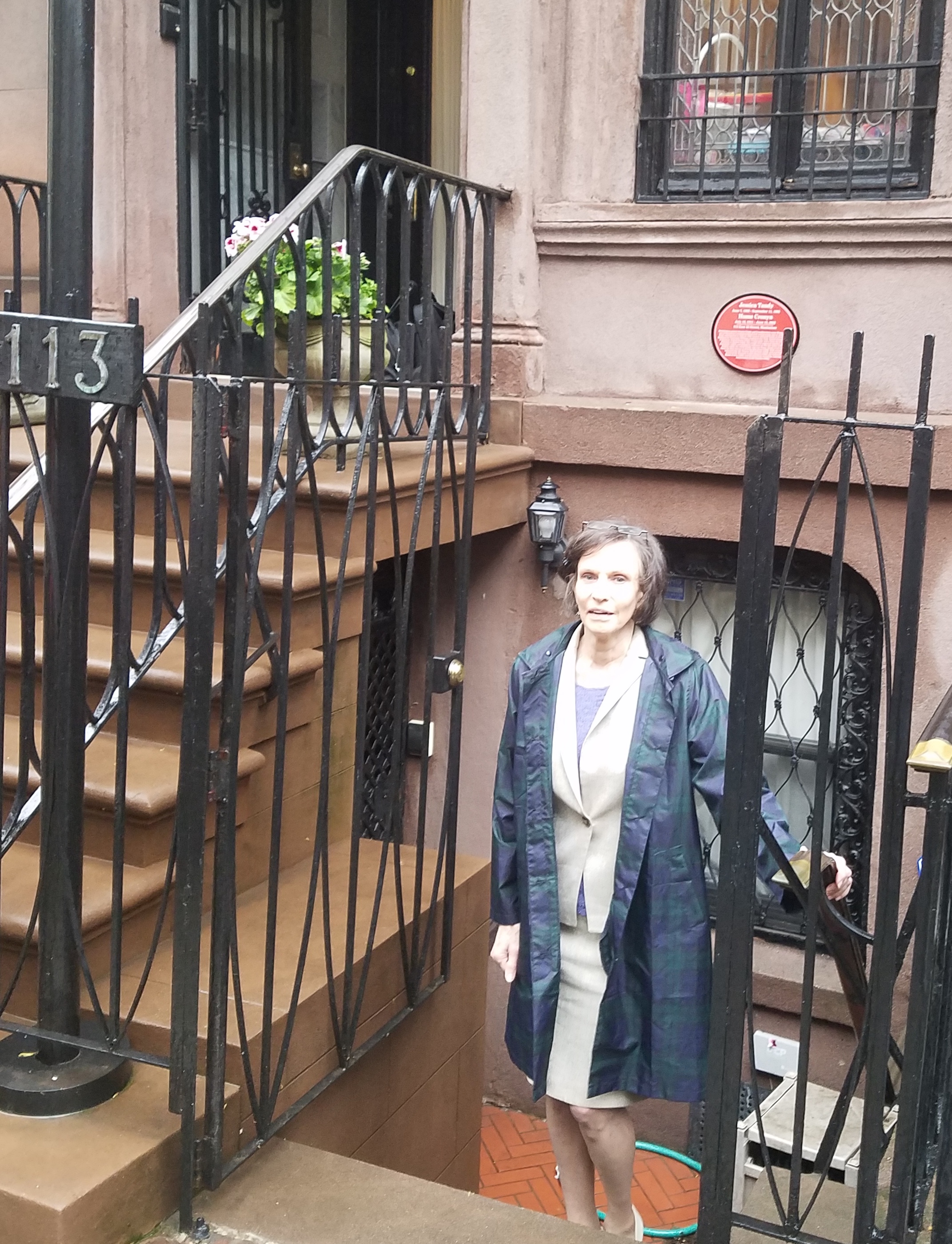 For more information about the Historic Landmarks Preservation Center visit www.hlpcculturalmedallions.org
For more information about Jessica Tandy and Hume Cronyn visit
https://en.wikipedia.org/wiki/Jessica_Tandy
https://en.wikipedia.org/wiki/Hume_Cronyn