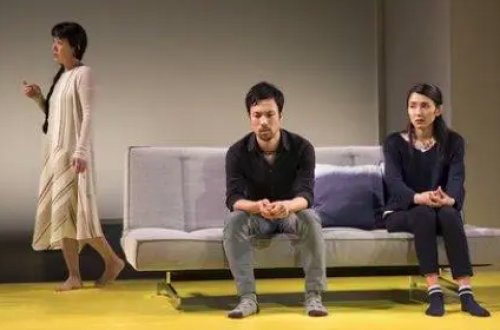 By: Darryl Reilly
With its glacial pace, crypticness and arresting production design, Japanese playwright Toshiki Okada's Time's Journey Through a Room at first seems more suited to a museum than a theater. However, halfway through its one hour running time it metamorphosizes into a majestic rumination on the persistence of memory, love and death.

Its setup of a man and two women in a room recalls Harold Pinter's Old Times though without the humor or specificity. Kazuki sits in a chair with his back to the audience as the daffy Honoka prattles vaguely on. Arisa is on the sidelines as a semi-narrator who is supposed to visit but is on a bus and is running late due to traffic. She arrives midway through the play and everything falls into place as we now learn who everyone is and crucial past events.
While I am living, I cannot help but continue to change. Everything changes, and I can only change with it. As I do so, there are times when my past becomes shackles from which I want to be freed, but I can't escape by my strength alone. I need someone to help me. Please help me.
Mr. Okada's dialogue as translated by Aya Ogawa is spare, poetic and perfectly complements his metaphysical scenario. The 2011 earthquake, subsequent tsunami that resulted in the Fukushima Daiichi nuclear disaster are specters looming over the action.
In the spirit of the loquacious Winnie in Samuel Beckett's Happy Days, the animated Yuki Kawahisa beautifully portrays Honoka with sunny depth. Maho Honda as Arisa, the play's unifying figure, is brilliantly wistful. Veering from low key to emotionally volatile Kensaku Shinohara richly conveys Kazuki's angst and anguish. This trio's rapport and chemistry is palpable and is integral to the production's success.
Vivid tableaus, perpetual movement by the actors and precise placement of them characterize Dan Rothenberg's stately, sensitive and aesthetic direction that crisply realizes Okada's vision.
Orange flowers in a glass vase on a white table with adjoining white chairs in a room with a yellow floor, white walls, a white door frame, a gray couch with blue pillows are the stark elements of Anna Kiraly's mesmerizing scenic design.
The symbolically abstract prologue of a box-like lighted tunnel bathed in shimmering darkness as rumbling is heard effectively showcases Amith Chandrashaker's lighting design and Mikaal Sulaiman's sound design that then settles into straightforwardness. Maiko Matsushima's stylish costume design has the actors clothed in variations of white, gray, black and blue that are visually pleasing.
Initially confounding, Time's Journey Through a Room transforms into a profound and moving experience. This U.S. premiere is presented by The Play Company (PlayCo) which explores "the ideas, events and issues of our time through intimate, personal live theatre experiences."
Time's Journey Through a Room (through June 10, 2018)
The Play Company (PlayCo)
Mezzanine Theatre at the A.R.T./New York Theatres
502 W. 53rd Street, in Manhattan
For tickets, call 866 811 4111 or visit http://www.playco.org
Running time: 60 minutes with no intermission