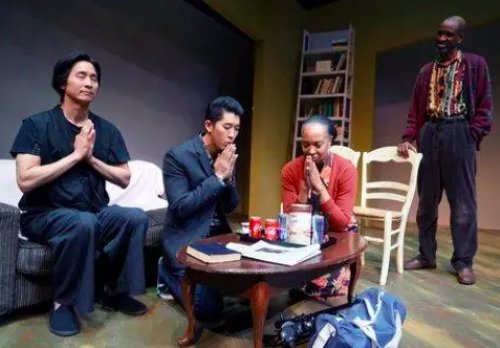 By: Darryl Reilly
Is a young Asian woman a ghost or a melancholiac's hallucination? That is the haunting question vividly answered in playwright Prince Gomolvilas' gripping thriller The Brothers Paranormal which crackles with tension from start to finish. It's a masterfully written synthesis of Blithe Spirit, The Amityville Horror and The Sixth Sense with shades of Stephen King. Comedy gives way to terror as its Asian and African-American characters also battle their own personal demons. A floating pillow is a frightening sight and Ella Fitzgerald's 1960 live Berlin recording of "Mack the Knife" becomes a spooky touchstone.
Max is a 25-year-old jocular Thai-American born in the United States who has recently started a paranormal investigation company. He has an MBA and runs the business end while his 39-year-old recovering alcoholic brother Visarut handles the spiritual side due to his witnessing visions of the dead as a child. The concern is a glorified con game as, of course, there are no such thing as ghosts. Max moved back to the Midwest from California following his father's death to care for his schizophrenic mother and troubled sibling.
Their first client after six months of inactivity is the African-American Delia who is in her 50's and believes a young Asian woman is haunting her house. She thinks the apparition is Thai as she recognizes a few uttered words as being similar to those spoken by the staff at the neighborhood Thai restaurant. Her African-American paramedic husband Felix is wary but goes along with this endeavor as a last resort due to Delia's agitation. The couple left their native New Orleans two years earlier just before Hurricane Katrina and have since been struggling emotionally and financially in 2007 when the play is set.
Mr. Gomolvilas' horror film-style scenario has been imaginatively conceived for the stage by solid short scenes, smoothly imparted exposition and humane characters that are all minutely detailed. Facets of their races and cultures are richly depicted. A paean to Ethiopian coffee is among the marvelous tangents tossed in. Suspense, humor and startling surprises abound, and the fantastical incidents are concretely justified by the play's acute sense of logic. Gomolvilas' tremendous command of dramatic writing is matched by the entrancing and frequently scary production.
Vin Kridakorn's cheery portrayal of Max is the play's centerpiece. Youthful, animated and personable, Mr. Kridakorn beautifully conveys the role's mounting psychological complexities as the poignant denouement is reached.
Dawn L. Troupe is towering as Delia. Evolving from a chatterbox to an imperiled woman, Ms. Troupe is galvanizing with her expressive vocal delivery, soulful presence and physical grace. This serves her well when she combats the malevolent intruder. Troupe's awesome work propels the play to a high level.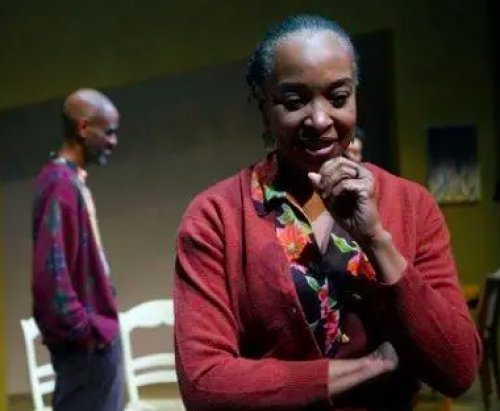 Treasuring a vintage LP record while passionately announcing musical history facts is a wonderful highlight of Brian D. Coats' commanding performance as Felix. The lean Mr. Coats' hard-edged folksiness is best expressed through his dynamic voice and imposing countenance as he describes the couple's travails and the constant death he deals with as a paramedic. Coats becomes the focus of attention as he powerfully discloses Felix's significant revelations.
Whether chiding Max or gloriously describing Thai funeral practices, the beaming Emily Kuroda's appearances as the mother are a welcome delight with her soothing accented cadences. The serene Roy Vongtama as Visarut majestically captures the part's sorrow employing a spacy and pronounced speech pattern and emitting a sad vibe. As the questionable silent spirit, Natsuko Hirano exhibits allure and needed athleticism.
Director Jeff Liu not only calibrates these fine performances but crafts an amazingly epic presentation on a small scale. Mr. Liu fully realizes Gomolvilas' vision with crispness, momentum and thrills that are all visually on display here. Illusionist Steve Cuiffo's awesome special effects add a wow factor that truly puts the production over. Fight consultant Michael G. Chin's otherworldly violent passages have many on the edge of your seat moments.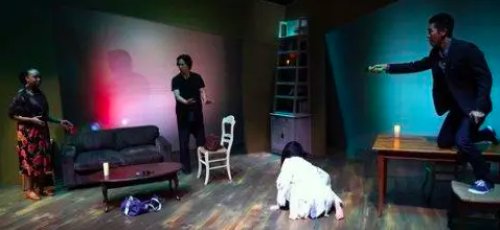 The textured jutting right-angled walls that scenic designer Sheryl Liu ingeniously provides are accompanied by simple furnishings. Max's house, Delia and Felix's residence and a hospital are the locations at which the events briskly alternate due to Ms. Liu's inspired handiwork.
Victor En Yu Tan's eerie lighting design is moderately shadowy throughout and darkens when reflecting the supernatural portions. The chills are compounded by sound designer Ian Wherle's ominous tones.
The characters' personalities and backgrounds are reflected by Hyun Sook Kim's gorgeous costume design. Delia's red ensemble and later her floral casual outfits, Felix's bold geometric-patterned garments, Max's relaxed business wear, the mother's exotic-themed dress and Visarut's black clothes are all spot on.
With his title's sly nod to Dostoevsky Gomolvilas signifies The Brothers Paranormal's grand aspirations . These are achieved through his supremely calculated construction, the cast's exquisite performances and an impeccable presentation. It's a fascinating, spellbinding and heartbreaking experience.
The Brothers Paranormal (through May 19, 2019)
Pan Asian Repertory Theatre
The Beckett Theatre at Theatre Row, 410 West 42nd Street, in Manhattan
For tickets, call 800-432-7780 or visit http://www.panasianrep.org
Running time: two hours including one intermission