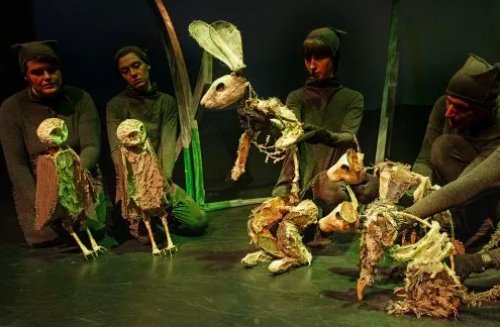 By: Darryl Reilly
Orange plastic strips held and shaken around by a team of black clad and black capped master puppeteers vividly render a cataclysmic forest fire in the enchanting performance piece PackRat. In it, dazzling puppets depict an assortment of animals on an odyssey seeking a new home, wowing an audience of children and adults for an enthralling 60 minutes.
Besides the charming kleptomaniac rodent title hero, there's a group of funny owls, a noble rabbit, a hungry bald eagle ominously flying overhead, a turtle, a lizard and Valley Girl-style squirrels that are all gloriously on display. Comically distorted over-sized humans make brief appearances. A Bambi-type death scene is wrenching.
Writer and director Renee Philippi's appealing scenario is simple, heartfelt and dramatic. It's realized by Ms. Philippi's supreme command of stagecraft that revels in theatricality. Designer Carlo Adinolfi's awesome cutouts, handheld and shadow puppet creations individualize the animals with striking expressive details. Mr. Adinolfi's stylized set pieces thoroughly convey the look of a rustic environment and his arresting projections visualize varying locales and the animals' dreams. The production is enhanced by the perfection of Eric Nightengale's atmospheric lighting and sound design. Composer Lewis Flinn's energizing original music veers from jaunty to appropriately moody as it complements the piece's actions and emotions.
The soothing vocal tones of the unseen Vera Beren narrates this tale of Bud the pack rat whose thievery of humans' objects instigates disaster and redemption. Ms. Beren also portrays the voices of the various animals with warmth and distinction.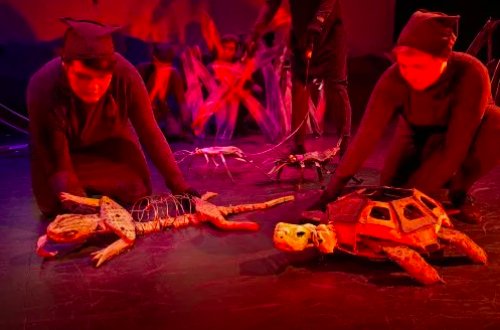 Wearing costume designer Laura Anderson Barbata's unobtrusive black outfits, the superior company of puppeteers consists of Mr. Adinolfi, Sabrina DeWeerdt, Maggie Gayford, Jenny Hann, Kayla Prestel and Alanna Strong. With their impassive faces and tremendous dexterity, they superbly manipulate the puppets. Though they are visible, their presences are magically muted as they enact the characters they're presenting.
Founded in 2004, Concrete Temple Theatre has been developing PackRat for three years and Dixon Place presents this premiere. Its technical artistry, emotional resonance and engaging plot all cohere into a ravishing experience.
PackRat (through February 14, 2020)
Concrete Temple Theatre
Dixon Place, 161A Chrystie Street, in Manhattan
Running time: 60 minutes without an intermission