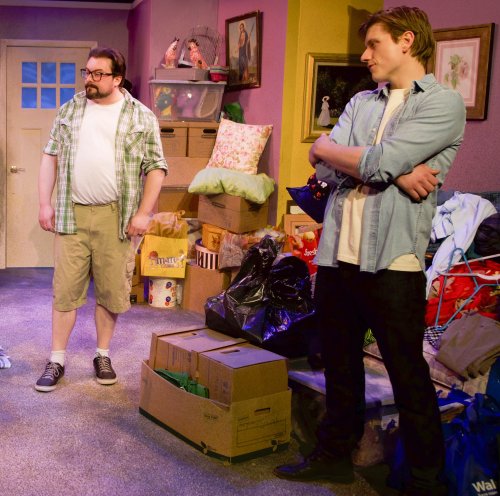 By: Darryl Reilly
The audience reacted with a round of applause at the end of a character's pent-up tirade in playwright Matthew McLachlan's searing dysfunctional family drama, This G*d Damn House. This incident occurred during the play's eventful second act with its series of painful revelations. Mr. McLachlan's defined characters express themselves through his crafted dialogue that ranges from the styles of polished sitcom to piercing tragedy.
Free-spirited divorcee Angie is a Central Florida middle school art teacher who is about to be evicted from her squalid home. Her marriage broke up long ago after 12 years when her husband came out as gay. The good-natured Jacob is her older son who is in his 30's. He lives in the area and gave up on his acting aspirations after marrying Ally who was a dancer, she is now about to give birth to their first child. Jacob has a steady career as a wedding photographer and is now overseeing Angie's move. He has notified his younger playwright brother Danny of the situation. He returns to Florida from New York City to help Jacob sort through and pack their mother's cat urine-stained trove of hoarded worthless possessions.
McLachlan mines the familiar territory of siblings coping with a present conflict involving a flawed parent while grappling with the aftereffects of their traumatic past, with force, suspense and a satisfying conclusion. In Angie, he has created an ultimate bad mother. Little by little, we learn that her at first endearing eccentricities mask her solipsistic viciousness, as one jolting disclosure follows another, exposing her odious former and current behavior.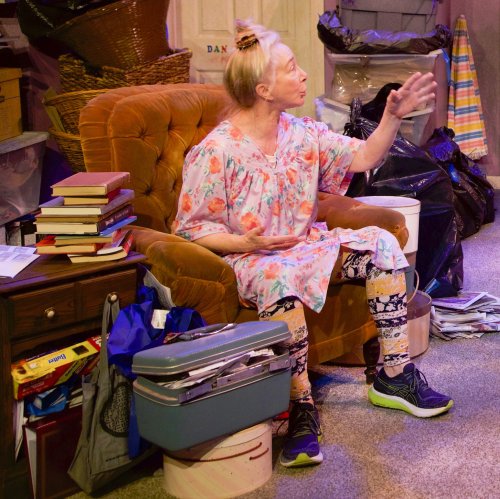 Veering from charmingly daffy to cold bloodedly malicious, Sachi Parker is riveting as Angie. With her ingratiating trilling voice, grand gestures and fluid physicality, Ms. Parker offers a fearless characterization which vividly embraces Angie's neurotic selfishness. Parker's gleeful delivery of a hateful screed is what sets off her daughter-in-law's furious rebuttal. This elicited the audience's cathartic response to Angie finally being called out. Parker offers an indelible portrait of evil.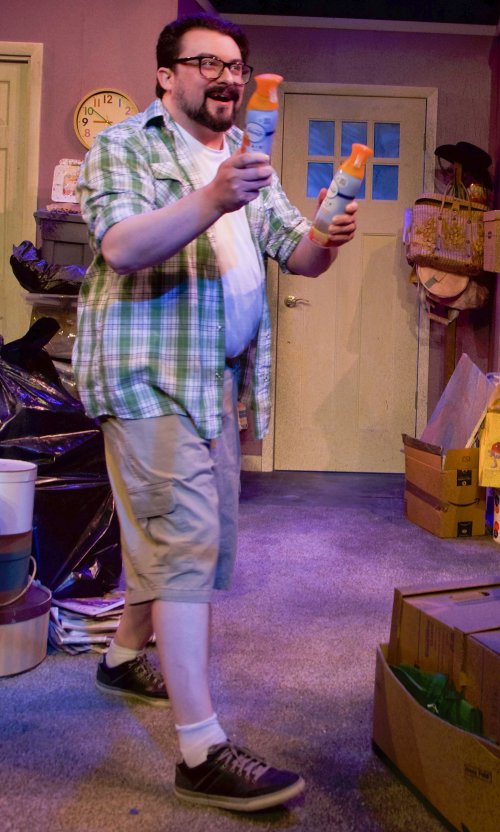 Kirk Gostkowski in the pivotal role of Jacob, is enabled by his appealing everyman persona to strongly depict this good guy's perpetual amiability, while also reaching the heights of eloquent Arthur Miller-style rage. Mr. Gostkowski's down to earth stage presence and aching vocal delivery are integral to This G*d Damn House's success.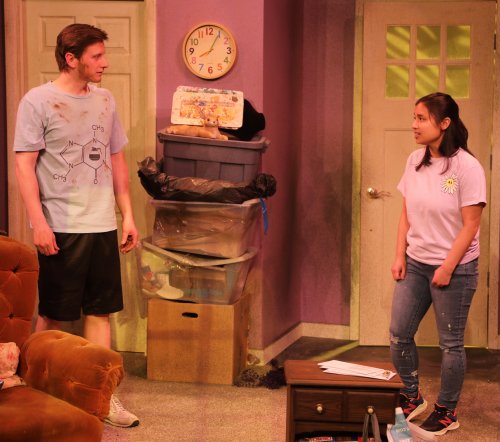 The peppy and boyish Gabriel Rysdahl contributes mightily as Danny with his soft-spoken and occasionally barbed manner. Mr. Rysdahl fully conveys his character's anguish and resignation at being forced to make a profound decision. It is the formidable Christina Perry as Ally, who stirred the audience with her fury. While conveying the physical state of pregnancy, Ms. Perry minutely depicts the complexities of her romantic relationship with a troubled man, through her captivating and compelling performance. The soulful Rica de Ocampo is engaging as Hannah, Angie's teacher's aide and friend. Ms. de Ocampo wonderfully captures the sense that she is a sympathetic witness to this clan's psychological warfare.
Director Ella Jane New calibrates the cast's intense performances while physically staging the play with swift pacing, momentum and visual depth. That is achieved by scenic designer David Henderson's wondrously detailed shabby living room tightly crammed with junk and worn furniture. One can almost smell the foul odors characters refer to due to Mr. Henderson's arresting configuration. Michael Abrams' steady lighting design crisply varies to connote the passage of hours and fluctuating moods. Sound designer Greg Russ renders music and effects with pleasing effectiveness. Ms. de Ocampo's everyday costume design clothes the actors with inspired realism.
This G*d Damn House's first act initially seems meandering as a plentitude of exposition is casually imparted, then the play with its unsettling plot snaps into place. It becomes a wrenching exploration of familial discord, which many people may identify with.
This G*d Damn House (through April 8, 2023)
Chain Theatre, 312 West 36th Street, in Manhattan
For tickets, visit www.chaintheatre.org
Running time: two hours including one intermission