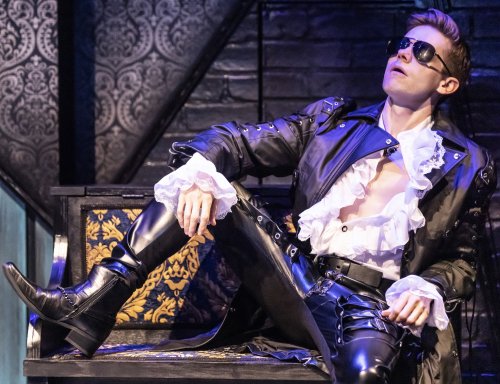 By: Darryl Reilly
His bulging impressive crotch encased in black leather pants in tandem with his great height, awesome physique, coiffed blond hair, chiseled facial features exhibiting his be-fanged gleaming teeth, and possessing vocal grandeur, all enforce the youthful and sensual James Daly's Ortonesque characterization as the ideal vampire Count in the comically sexy spoof, Dracula, A Comedy of Terrors.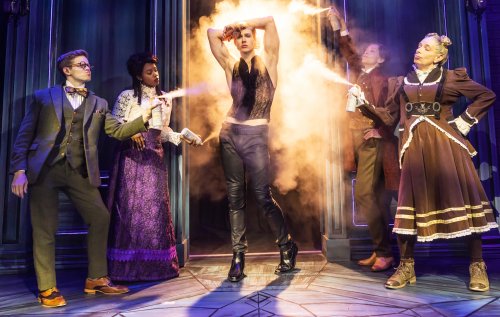 Mr. Daly is a notable Canadian actor who has performed in productions of Damn Yankees, Grand Hotel and Cabaret. Daly's dynamic stage presence matches his alluring visual appeal; he is the show's worthy centerpiece. The seasoned and animated quartet of Jordan Boatman, Arnie Burton, Ellen Harvey and Andrew Keenan-Bolger, all gleefully mug their way through their multiple campy Charles Ludlam-type roles with elan.
Dracula, A Comedy of Terrors' co-authors Gordon Greenberg and Steve Rosen's skillfully abridged Mel Brooks-style treatment of Bram Stoker's 1897 much-adapted novel Dracula, is faithful to its plot. Mr. Greenberg and Mr. Rosen playfully add homoeroticism, gender bending, jokey anachronisms and contemporary cultural concerns, such as the moralistic motivation for the finale. Greenberg and Rosen's narrative is essentially similar to the source material. English lawyer Jonathan Harker eventfully journeys to Transylvania to close real estate dealings with Count Dracula. After an eerie and murderous shipboard crossing with a cargo of six coffins containing his native earth, Dracula arrives in London to cause mayhem while finding true love. The insect-eating Renfield, Mina, Lucy, the here now female nemesis vampire hunter Van Helsing, and wooden stakes through the heart, all appear.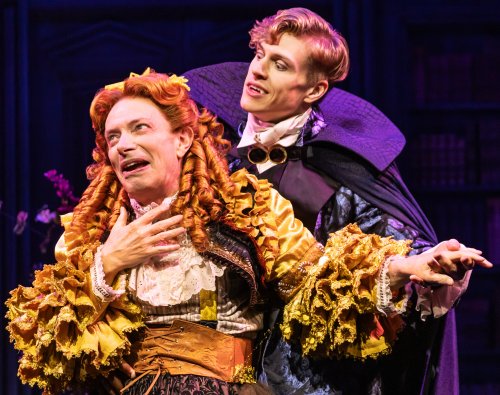 Greenberg's direction is fast-paced and filled with sight gags such as periodic miming of walking stairs, resulting in a breezy presentation. Tijana Bjelajac's minimal scenic design on the black-accented stage includes some choice movable furnishings, allowing for momentum from one scene to the next. The proscenium is surrounded by red neon lights for a horror movie-effect. Ms. Bjelajac's riotous puppet design includes horses' heads on sticks for actors to gallop on and life-sized cartoon-like figures. Rob Denton's lighting design achieves a netherworld and timeless effect with its swirling smokey dimness and strategic brightness. Sound designer Victoria Deiorio adeptly renders the soaring music and spooky effects. Tristan Raines' grand costume design beautifully relies on brocade, velvet, leather and mesh. Wig and hair designer Ashley Rae Callahan's puckish creations accentuate the production's wacky tone.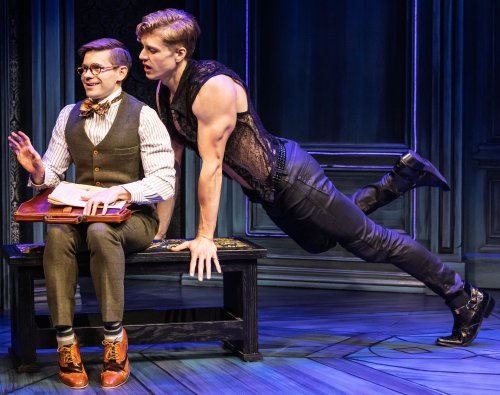 Dracula, A Comedy of Terrors is an accomplished 90-minute diversion inciting abundant audience laughter.
Dracula, A Comedy of Terrors (through January 7, 2024)
Drew & Dane Productions
New World Stages, 340 West 50th Street, in Manhattan
For tickets, visit www.draculacomedy.com
Running time: 90 minutes without an intermission