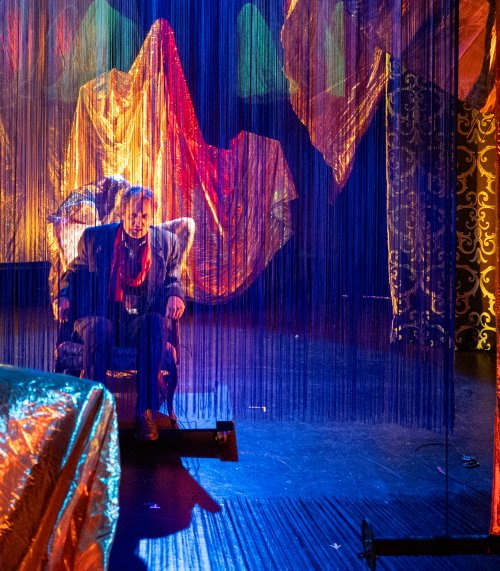 By: Darryl Reilly
"I have decided to master the art of psychic self-defense." So, intones a nutty professor-type recurring character before via simulated telepathy he levitates and moves around furniture and props at the start of the dreamy, ravishing and absorbing performance art piece, Psychic Self Defense. Also taking part are a wacky female scientist brandishing a magnifying glass, dancing tassles, a giant tongue, and a host of hooded figures.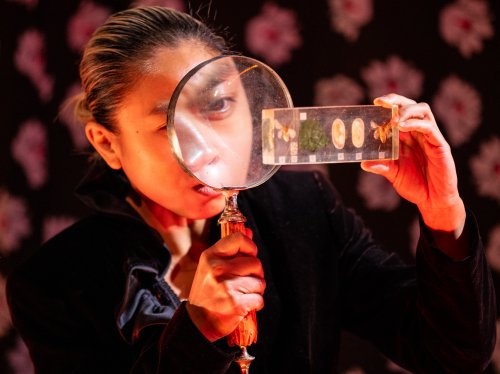 Psychic Self Defense's hour of upbeat surrealistic vignettes is realized through grand stagecraft. Spoken word is minimal, but curtains are plentiful during the presentation. Voluminous red velvet, entrancing sunflowers and gleaming gold mylar ones, are all continuously pulled and alternated. There is also striking shadow puppetry and arresting abstract projections. Some attendees could spend the time pondering the show's meaning, while others could simply revel in the engaging enigmatic high theatricality before them. Chuckles and wonderment abound.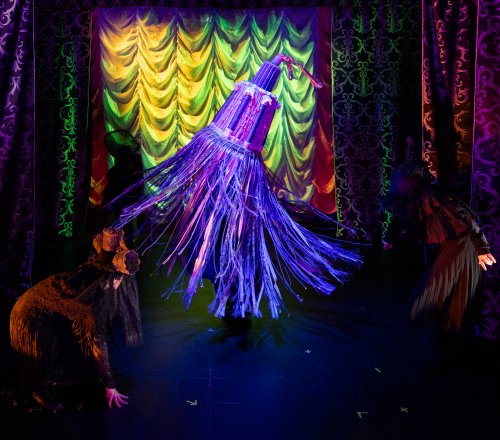 A brief initial immersive sequence has the audience led by a guide shrouded in black couturière through the theater's backstage area which is crammed with compartments containing vintage bric-à-brac and antique-style chandeliers. Then, patrons are seated in the auditorium and treated to composer Craig Flanagin's gloriously melodic sonic compositions which are heard throughout the production as rendered by his pulsing sound design. The professor eventually appears, and we are off on a jolting journey, that is performed by the magnetic and collaborative company of Ean Sheehy, Nikki Calonge, Daniel Allen Nelson, Kate Brehm, Adrienne Swan, and Elyse Durand.
Psychic Self Defense is created, written, designed, and directed by Normandy Sherwood. Ms. Sherwood is a prominent long-time theater maker, and here offers a stimulating vision. Her staging is precise and imaginative, and her curtain and costume design are gorgeously eccentric. Daniel Allen Nelson's scenic and rigging design are appropriately fantastical. Lighting designer Christine Tang atmospherically bathes the stage in alternatively murky and bright hues. Ms. Sherwood and Mr. Flanagin are the musicians.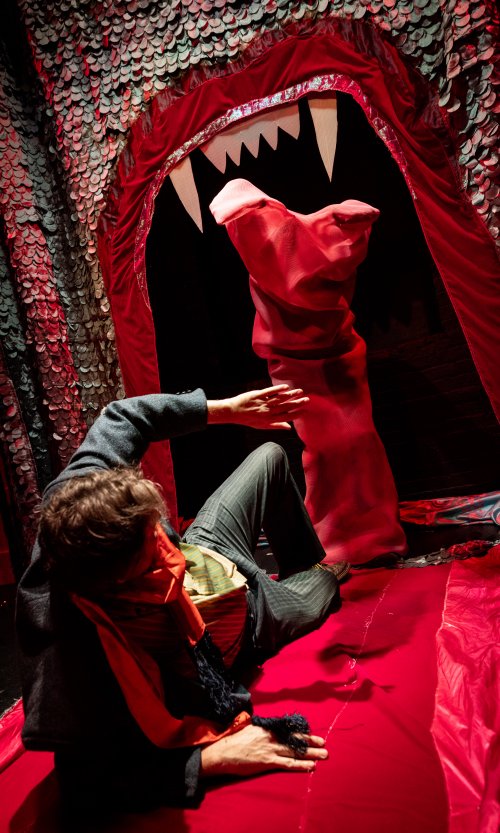 "I made this show during the pandemic, and after the deeply isolating and fragmenting experience we all went through, this is the kind of repair or defense I think we need—an experience of beauty and mystery." So, states Sherwood of her creation. Psychic Self Defense is beautiful and mysterious, it is also a thoughtful distraction from the cares of the world.
Psychic Self Defense (through September 30, 2023)
HERE Arts Center, 145 6th Avenue, in Manhattan
For tickets, visit www.here.org
Running time: 60 minutes without an intermission