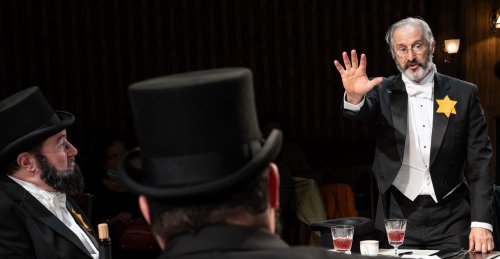 By: Darryl Reilly
Yes, you accuse me. Very well. The Elder takes
responsibility for what he does. After the war,
put me on trial. I'll explain before the Jewish
people, before history, what I had to do. And
what if they find me guilty? Let them put me
inside a cage, for the world to sneer at. Let
them laugh!
Thus, snarls an imperious Jewish doctor in defense of his Holocaust collaboration with the Germans in author Leslie Epstein's searing 2007 stage adaptation of his 1979 novel, King of the Jews. Mr. Epstein's compelling scenario is based on historical facts; with their vaunted preoccupation with efficiency, the Germans instigated Jewish self-governing ghetto councils. These were known as Judenrats which took censuses and provided names to the Germans of Jews for their orderly deportation in boxcars to concentration camps. Epstein explores the moral quandary of those in this hopeless situation of deciding who shall live and who shall die. Would it have been better for Jewish leaders to have refused and instead had the Germans round up Jews at random? The cooperation bought time for some at the expense of others. Eventually the ghettos were liquidated, and most everyone met similar genocidal fates. "Sooner or later, we'll all be beaten anyway…" "Horowitz" is comic slang for Hitler and "The Blond Ones" means the Germans. Gallows humor abounds.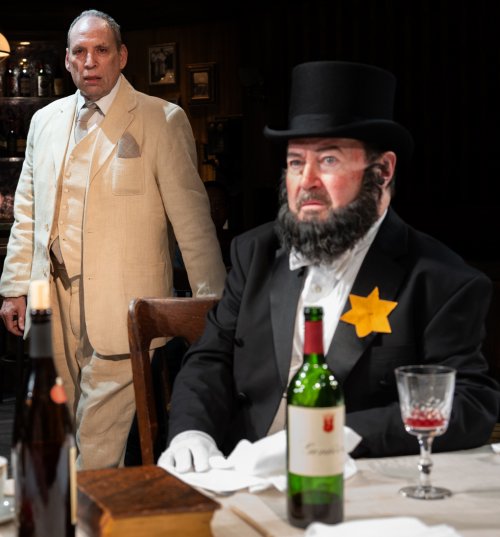 King of the Jews' engrossing immersive narrative device is that the show takes place in Lodz, Poland's, bustling Jewish-owned Astoria Café. New York City's HERE Arts Center's mainstage auditorium has been configured into an expansive playing area set with cabaret-style tables and chairs where the audience sits, experiencing the play in often close contact with the cast. There is a raised stage for musicians and performers, a busy bar and an entrance door with adjacent front windows. Scenic designer Lauren Helpern's voluminous and finely detailed environmental landscape perfectly realize this pointed presentational concept. The theater opens 30 minutes before the play's start; the audience gets a rollicking atmospheric pre-show with comedy, singers and a band, led by music director and virtuoso clarinetist Matt Darriau.
The first act takes place in 1939 after the German invasion of Poland, the second act occurs in 1941 as the Germans set up the ghetto. Initially Jews are deceived with the pipe dream of a Madagascar homeland, then there is the euphemism of "a farm project," in reality this was resettlement for extermination; the names of 100 Jews are demanded for this. The council members now wear top hats, white tie, tails and evening gowns emblazoned with yellow stars, adding an absurdist dimension to their pondering of consigning fellow Jews to death. Epstein swiftly charts these harrowing developments with dramatic skill and sharp dialogue. A fugitive boy in hiding at the café delivers a powerful eyewitness account of a dilapidated bus used as a gas chamber. Epstein richly delineates his host of Grand Hotel-style café characters which include the owner, his wife, the staff, patrons, a Polish military official and a couple of rabbis. An elderly waiter reminisces about serving coffee to Sarah Bernhardt when he was 17, in 1873.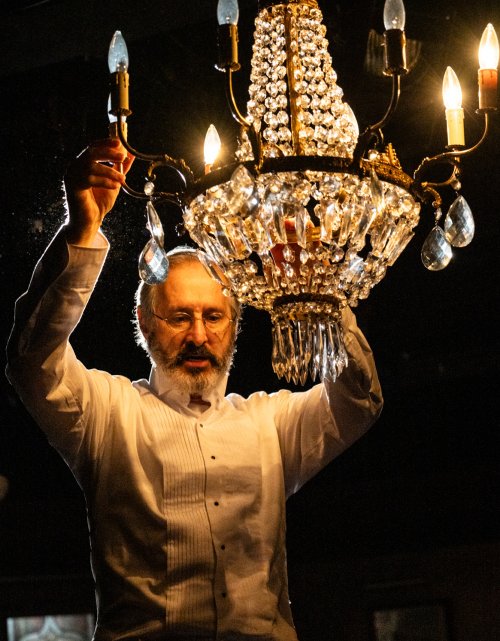 The lean and charismatic Richard Topol offers a chilling characterization of the self-serving and grandiose doctor who manipulates his way into being the head of the Jewish council. The rest of the ensemble give animated portrayals reminiscent of indelible character actors in Ernst Lubitsch's films. Rachel Botchan, David John Little, Daniel Oreskes, Allen Lewis Rickman, JP Sarro, Dave Shalansky, Jonathan Spivey, Erica Spyres, Wesley Tiso and Robert Zukerman, all revel in their roles, conveying depth, pathos and eccentricity.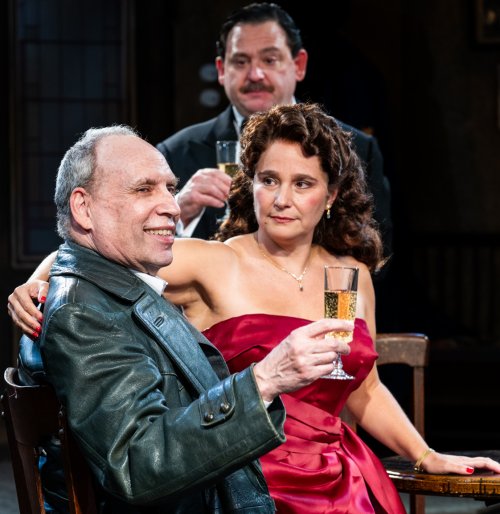 Director Alexandra Aron's physical staging is a marvel of precision and visual elan that also achieves suspense and emotional tones. Ms. Aron creates a queasy You Are There-style dynamic; there is a shocking offstage incident depicitng German brutality including an unsettling brief display of onstage male nudity.
Zach Blane's forceful lighting design conjures up the past with its eerie dimness, veering into fiery redness. Sound designer Jane Shaw renders music, gunshots and other effects with jolting verve. Oana Botez's period costume design is of stylish authenticity, which is enhanced by Krystal Balleza's fabulous wig and hair design. A tempting platter of pivotal poppy seed rolls and the ominous large census book are among the hallmarks of Sarah Pencheff-Martion's vivid prop design.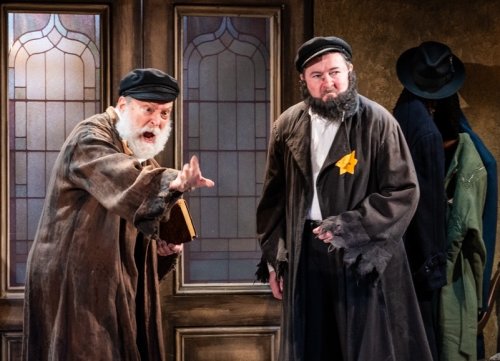 King of the Jews is a stark dramatization and a gripping theatrical recreation of a dark era.
King of the Jews (through November 18, 2023)
Parkman Productions
HERE Arts Center, 145 6th Avenue, in Manhattan
For tickets, visit www.here.org
Running time: two hours and 30 minutes including one intermission