By: Darryl Reilly
"I made a promise to the gods!" So, defiantly says a 19th century young rural Frenchwoman to her family after beseeching them to move to Paris so she can be an artist in playwright Kristyn Koczur's absorbing 75-minute biographical exploration Of The Dream That Was My Life… Through impressionistic vignettes, Ms. Koczur's finely researched play dramatizes the tumultuous life of sculptor Camille Claudel (1844-1923) and her tempestuous professional and personal relationship with the celebrated married sculptor Auguste Rodin (1840-1917). Koczur's well-structured scenario and often poetic dialogue charts Claudel's eventful existence from childhood to her promising career and to old age and death in a mental institution. Sexism, betrayal and the vicissitudes of the art world, are among the resonant themes Koczur evokes in her passionate treatment.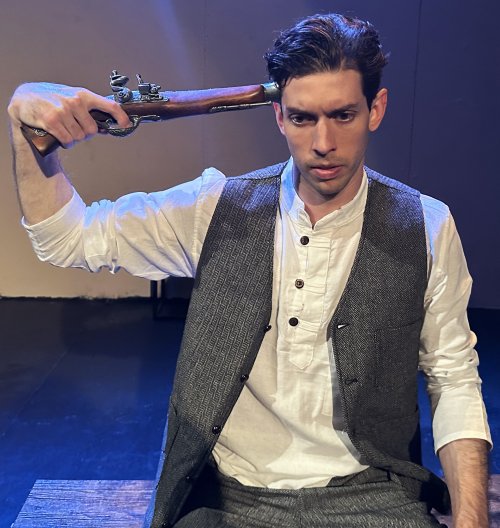 Ms. Koczur also plays the older Camille who witnesses scenes from her life being enacted as well as interacting in the present. Koczur's stately presence and full-bodied voice inform her majestic characterization which conveys the artist's spiritedness and melancholy. Employing a marvelous French accent, the sparkling Valeriya Pushkareva is enchanting as Claudel's stern mother and in other roles. The magnetic Frederic Jean is richly playful as the father and as a teacher. The tall, sleek and imposing, Bart Elliott's conflicted younger brother is of commanding soulfulness. With his beaming presence and emotional speech pattern, Henry Davis is an appealing Rodin. Hannah Fink's young Camille is a lovely portrait of fiery girlishness. The animated Collin Hendley is hilarious as the head of the mental institution and in his other charged portrayals. The alluring Nissi Victoria Toro merrily enriches her multiple characters. Sophia Furshpan and Teddy Biggins are each delightfully lively as the childhood Camille and her younger brother.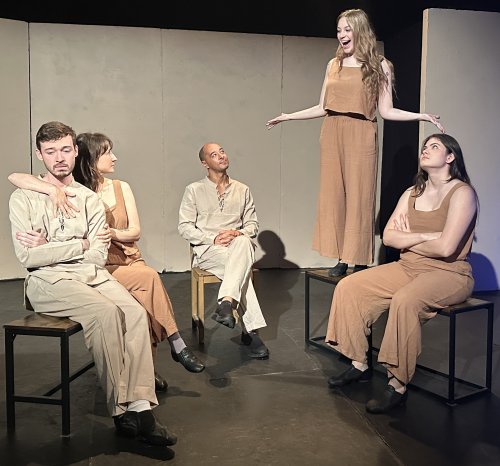 A striking Marat/Sade-style device in the production is the Inmate Ensemble; characters are portrayed by patients in the institution which Claudel was committed in. In these bracing sequences choreographer Francis J. Roach provides vivid modern dance-type movement, some of these configurations resemble recreations of Claudel's sculptures. Director Daniel Amenda's vigorous physical staging melds the performances and technical aspects into an absorbing small-scale presentation. Daryl Wugalter's strategically minimal scenic design has the bare, black-accented stage surrounded by white panels and set with two movable benches, one scene fluidly follows another. Mr. Wugalter's artful costume design combines the optics of the 19th century with timelessness, and the Inmate Ensemble wear pleasing earth tones.
Integral to the show's achievement is technical director Ken Coughlin's high caliber contributions. Mr. Coughlin's atmospheric lighting design has a vintage and dreamy sheen. His sound design perfectly render the effects and composer and pianist Jai Jeffryes' moody recorded incidental music which is performed with violinist Machiko Ozawa. Coughlin's gorgeous and impactful projection design contains locational photographs, paintings of 19th century Paris and a haunting montage of Claudel's sculptures, all forcefully visualizing the piece's times, places and tones. The bustling production is aided by Callie Stribling's smooth stage management.
I'm standing on the edge of the abyss that separates me from the only one who has always shared my burning desire to uncover the truth. I will not recognize boundaries. Forgive me if I burned too brightly and you got caught in the flame.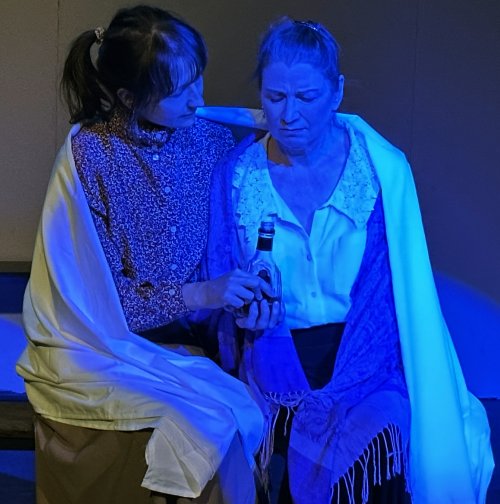 Camille Claudel and Auguste Rodin's calamitous involvement has inspired numerous ballets, musicals and plays, arguably including Ibsen's When We Dead Awaken. An acclaimed 1988 French film on the subject starred Isabelle Adjani and Gérard Depardieu. Of The Dream That Was My Life… tells the tale again in a fresh, affective and theatrical manner.
Of The Dream That Was My Life…(through October 28, 2023)
American Theatre of Actors, 314 West 54th Street, in Manhattan
For tickets, visit www.spincyclenyc.com
Running time: 75 minutes without an intermission