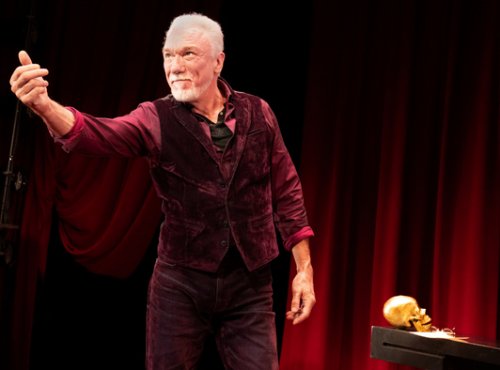 By: Darryl Reilly
…Come, you spirits
That tend on mortal thoughts, unsex me here,
And fill me from the crown to the toe topful
Of direst cruelty!
So, with a speech by Lady Macbeth, the distinguished American stage actor Patrick Page begins his enthralling and erudite self-created solo show, All The Devils Are Here: How Shakespeare Invented The Villain. For 80-theatrical minutes, the dynamic Mr. Page enraptures with one towering Shakespearean characterization after another. These are laced with his masterfully honed historical commentary and pertinent personal observations regarding The Bard's indelible villainous figures. The time is never taken up with fanciful authorship theories, instead there are concrete declarations, "He created three dimensional human beings consumed with evil…"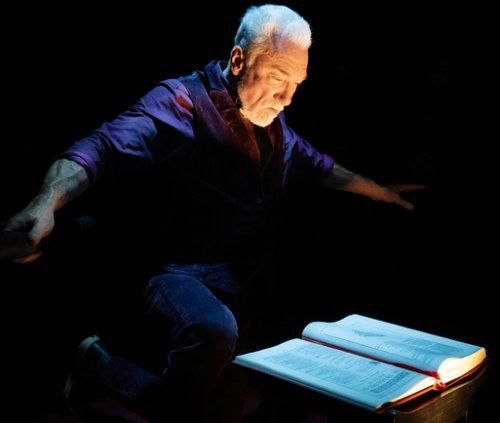 Page chillingly intones Lady Macbeth's words in his expressive deep voice while seated at a black lacquer table set with a vintage book, his face complemented by shadows, this jolting imagery is accompanied by swirling smoky dimness on the bare contained stage framed by flowing crimson curtains. This all signifies that we are in for a grand time with this premier theater artiste. Over decades, Page has forged a major acting career playing numerous major classical roles in regional theaters and enlivening Broadway with his pivotal appearances in The Lion King as Scar, Spider-Man: Turn Off the Dark as the Green Goblin and his Tony Award-nominated turn in Hadestown as Hades. Besides his consummate vocal abilities, there is his forcefully lithe physicality, striking animated weathered face that is accentuated by well-cut white hair, and his piercing eyes; these galvanizing traits are all employed in All The Devils Are Here: How Shakespeare Invented The Villain.
"Is Iago a psychopath?" ponders Page of Othello's nemesis, launching into a psychological exploration citing published authorities while mentioning John Wayne Gacy, Jeffrey Dahmer, Richard Ramirez, and alluding to Donald Trump. Page then supremely acts out a scene between Othello's manipulative soldier and the tragic Moor. For The Merchant of Venice, Page superbly performs an exchange between Antonio and Shylock, concluding with the immortal speech which is impeccably delivered, "Hath not a Jew hands, organs, dimensions, senses, affections, passions?" Malvolio in Twelfth Night, Edmund in King Lear, Hamlet, Macbeth, and Richard III are all given electrifying mini portrayals by Page.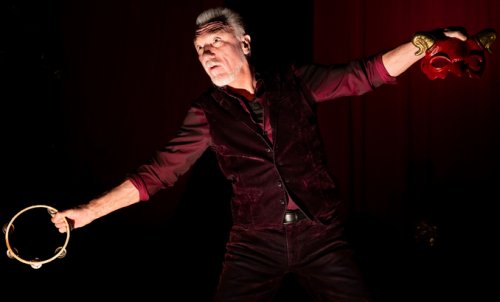 Director Simon Godwin's beautifully picturesque staging has Page strategically in motion, still and precisely gesticulating for optimum visual effect. A gleaming steel skull also features in Arnulfo Maldonado's previously mentioned arresting scenic design. Lighting designer Stacey Derosier's entrancing palette of varying vibrant and muted hues invigorate the presentation. Darron L West's bold sound design renders the evocative and often eerie incidental music and effects with soaring results. Costume designer Emily Rebholz vividly clothes Page with artful simplicity. He wears black jeans, over his black button top T-shirt is an iridescent dark red dress shirt and a darker red vest. These upper pieces come on and off; a black and white patterned blazer, a leather jacket and a fur-bordered black coat, are also in the accomplished mix of illustrative clothing.
"I've waited 50 years to use this!" gleefully declares Page as he holds up and brandishes a Barnabas Collins-style silver wolf's head cane during the show's opening sequence. "I was the president of the Monmouth, Oregon, Dark Shadows fan society which had five members" states Page of that childhood totem. The American House of Cards, Succession, The Sopranos, Breaking Bad and Star Wars, are among the pop culture references Page makes, demonstrating Shakespeare's enduring influence.
Our revels now are ended. These our actors,
As I foretold you, were all spirits and
Are melted into air, into thin air…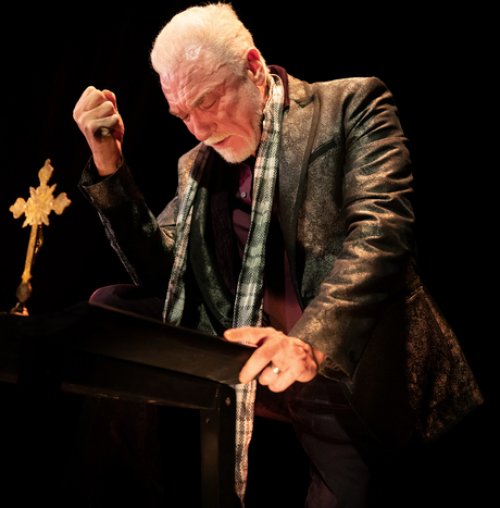 The informatively entertaining All The Devils Are Here: How Shakespeare Invented The Villain's finale is Patrick Page's ravishingly fresh interpretation of Prospero in The Tempest.
All The Devils Are Here: How Shakespeare Invented The Villain (through January 7, 2024)
DR2 Theatre, 103 East 15th Street, in Manhattan
For tickets, visit www.allthedevilsplay.com
Running time: 80 minutes without an intermission