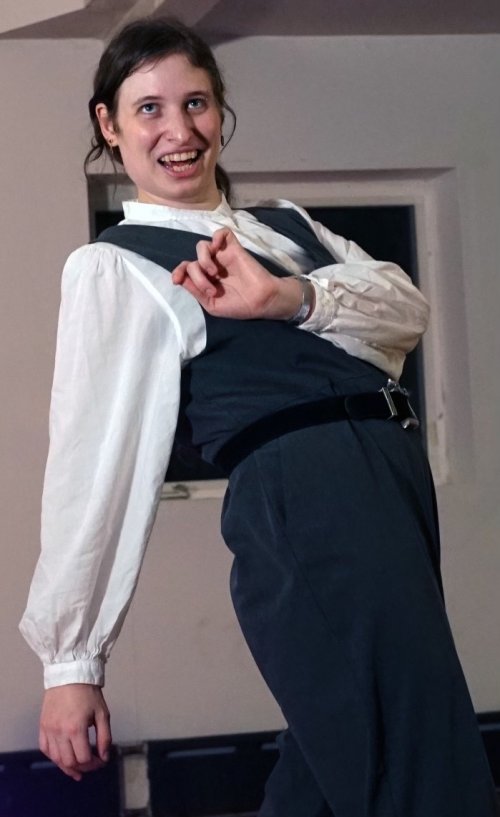 By: Darryl Reilly
Handel's Sarabande was a memorable motif in Stanley Kubrick's Barry Lyndon. In the beguiling solo performance piece This Show is My Funeral, that arresting composition accompanies the show's clever writer and riveting performer Josephine Simple's enthralling interpretive dance sequence. With her curly flowing brown hair, often grimacing striking facial features, wide eyes and animated physicality, Ms. Simple is breathtaking here and actually resembles a Kubrickian figure, wearing a lustrous tailored jumpsuit cinched with a belt and a white blouse. That sense is amplified when this number veers into a cheeky linguistics bit, recalling the primate centric The Dawn of Man from 2001: A Space Odyssey, where Simple's melodious and expressive voice are integral. That portion is one several highlights of this engaging, jolting and frequently humorous presentation. Conveying depth throughout in disparate segments, Simple is very funny and quite dramatic in her piercing characterizations, those qualities are the 60-minute show's core. Laughter and thoughtfulness abound.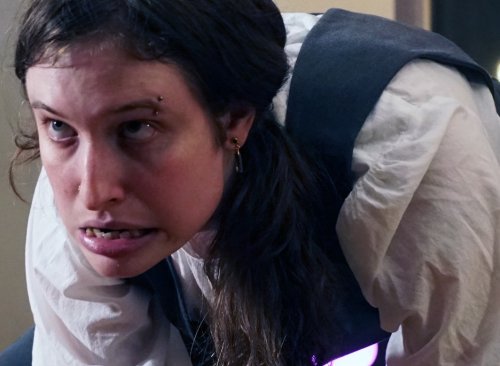 "…a transexual dyke, a practicing Buddhist…" is from Simple's show program self-description. This Show is My Funeral's conceit is that it is a commemorative exploration of Simple's pre-transition existence as a male, who had forged a writing and performing career as Shon Arieh-Lerer. "So, this is Josephine" tartly says Shon's crotchety female New York Jewish retired college drama professor when visited by her ex-pupil. She has baked vegan crackers made with flax seeds and the comically mispronounced quinoa for the occasion. "My best student, a born character actor" is her mournful remembrance of the past. This is a profound theme of the show, the extinguishment of a trans person's former identity as felt by those who knew that previous persona, as well documenting that now non-existent being. Simple realizes these notions by recalling Shon's life and recreating the characters he performed, through her detailed and affective stream of consciousness-style writing and mesmerizing sometimes emotionally raw performance.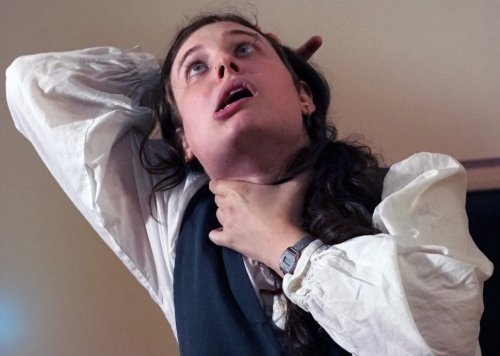 On a projection screen is shown a memorial-style slide show of Simple's previous life as Shon with wry written comments. For a recalled standup comedy routine, Simple dons male clothing and replicates such a conventional exhibition which diverges from the comedic to the chilling. An hysterical portion is the Dadaist "I'm Jane." While engaging in florid movements Simple intones that phrase repeatedly as the projection screen displays written commentary such as, "10 minutes of someone yelling the same thing over and over is a poor excuse for theater."
This Show is My Funeral is performed in a space at the Brooklyn art gallery Brick Aux with an informal and spontaneous tone, there is often direct audience address. The show was delayed a few minutes; Simple announced that it couldn't start until her mother returned from buying her flowers for opening night. An audio-visual glitch incited a cascade of hilarious improvisation until it was corrected. Sitting on a highchair at a console playing guitar periodically is the beaming and bespectacled, Henry Kandel, who also directed the production with sharp and focused staging. The contained playing area is set with the projection screen on one side, and on the other side a wall screen, a wingchair and a vintage-type phonograph component from which is heard a haunting instrumental version of Eric Clapton's "Tears In Heaven."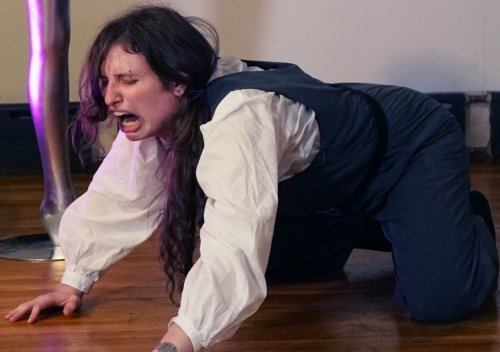 This Show is My Funeral is a heartfelt entertainment.
This Show is My Funeral (Fridays and Saturdays through October 21, 2023)
Produced by Jennifer Downes
Brick Aux, 628 Metropolitan Avenue, in Brooklyn
For tickets, visit www.bricktheater.com
Running time: 60 minutes without an intermission