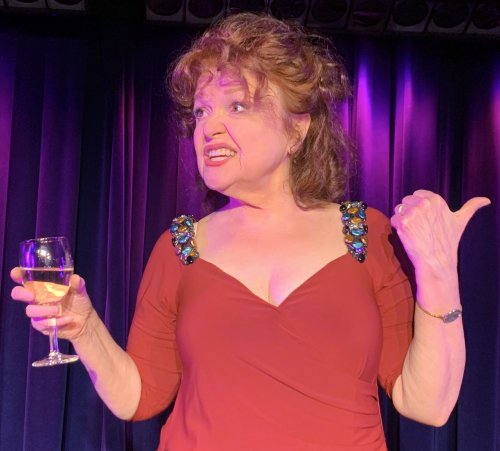 By: Darryl Reilly
"Don't speak the words The Bride of Frankenstein, this is the last time you will hear those words. I also played Mary Shelley, no one asks me about her!" So, grouses the vivacious Charlotte Booker near the start of her exhilarating self-written solo show with music, Elsa Lanchester: She's Alive! The title references a classic line from that iconic horror movie in which Lanchester monumentally portrayed those dual roles, achieving cinematic immortality. For a lively 80 minutes, Ms. Booker commands the stage during her affectionate witty biographical fantasia. "You will find that this show is different from movies, it is live, working in film is prison…My career is a mystery to me; they didn't know what to do with me."
Clad in a gleaming red gown, with her wildly expressive face and flaring eyes accentuated by her flowing red hair, combined with her dynamic physicality, Booker is supreme while offering an accurate visual representation of Elsa Lanchester. That quality is complemented by Booker's awesome vocal replication of Lanchester's distinctive trilling English speech pattern, which strategically veers into Cockney. "I'm not a chanteuse, I'm a monologist with music."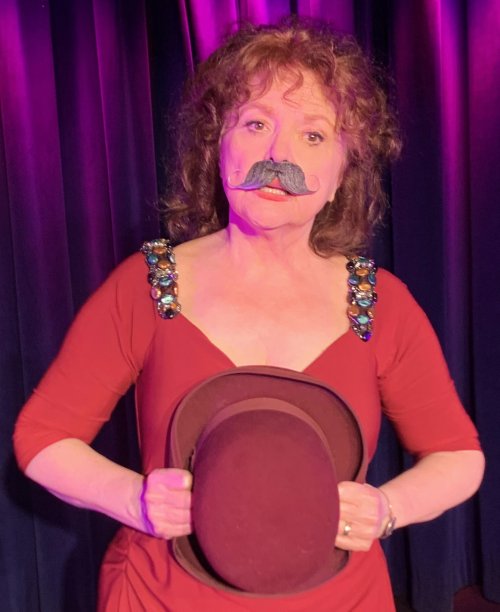 That sense is gloriously on display as Booker grandly performs several Great British Music Hall-style musical numbers, including a mirthful always a bridesmaid and never a bride lament, the saucy "32 Ways to Plant a Cabbage," and a hilarious recreation of dancing with Isadora Duncan as a child. Elsa Lanchester: She's Alive! is an entertaining vehicle showcasing Booker's tremendous talents as a performer. Accomplished pianist Mark Nutter accompanies Booker for the show's musical portions and with his steady presence is an occasional dry foil for her grandiose ruminations.
"I was the It Girl of 1920's London" is how Lanchester describes her notable her early-stage heyday in the show. The two-time Oscar nominee Elsa Lanchester (1902-1986) came from a dysfunctional background. She had a romance with her co-star in a play, the emerging great actor and later Oscar-winning Charles Laughton (1899-1962), they wed in 1929. The tortured Laughton's secretive homosexuality was revealed soon after, following his arrest for soliciting men for sex which occurred in their home. "We'll throw out that couch," Lanchester tartly declares upon learning of his predicament. They then entered into a complex partnership which lasted for 33 years until his death from cancer. They moved to Hollywood in the 1930's for the sake of his ascending career, while she soldiered on as a noteworthy character actress, most vividly as the hissing wild-haired bride of Frankenstein's' monster in that 1935 classic film.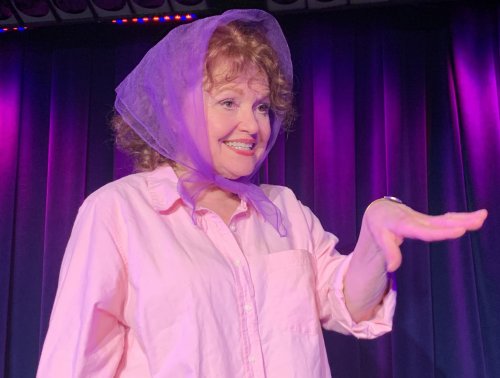 "She doesn't need to be directed; she needs to be censored" quipped Laughton regarding his direction of Lanchester's 1950's cabaret act which was laden with bawdy limericks. He undertook this enterprise with the aim of establishing Lanchester as a major entertainer in her own right. Booker's shrewdly imaginative scenario conjoins a 1962 Lanchester Los Angeles performance with her artful narrative additions. The funny prologue has Booker entering through the performance space in rehearsal clothes, then deputizing an attendee as a prompter by handing him a script; comical audience interactions abound. During an interlude for clever expositional effect, Booker humorously and sincerely converses on a telephone with Robert Mitchum who starred in Laughton's 1955 directed eerie film masterpiece, The Night of the Hunter.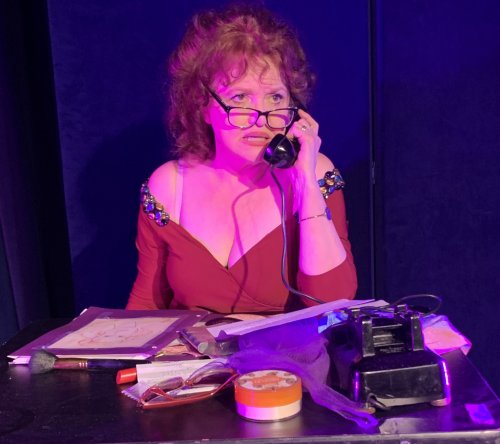 Elsa Lanchester: She's Alive! is a nostalgic delight due to Charlotte Booker's immense artistry which reclaims that marvelous performer.
Elsa Lanchester: She's Alive! (Fridays through November 3, 2023)
Spin Cycle
Laurie Beechman Theatre, 407 West 42nd Street, in Manhattan
For tickets, visit www.SpinCycleNYC.com
Running time: 80 minutes without an intermission