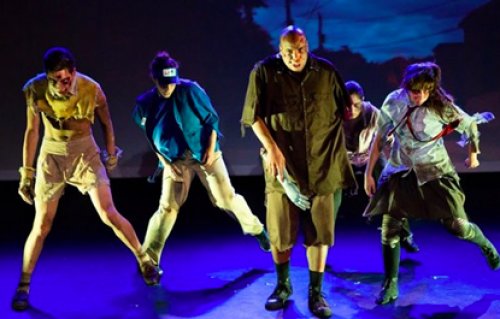 By: Darryl Reilly
In the Middle American town of Hill Valley, "Gun Capital of The World," we meet gruff right-wing gun nut Bruce and his two sons. Pete is a 13-year-old amiable youth. Junior is a brooding 20-year-old well-toned jock wearing black jeans and a black fishnet tank top harboring a deep dark personal secret. They hang out at their nutty pal Otis' Gun and Bullet Emporium. Across town is Pedro's Hamburger Café, "No Tacos!" There hardworking Mexican immigrant Pedro with Goth waitress Chloe serve food and drink to the habitués. These include the feisty philosophizing old African American Odessa and young pothead Basil. The television playing at the café broadcasts news reports of the unexplained zombie plague, which is confirmed by the band of five walking dead roaming through the town causing mayhem.

Scenically The Zombies: A Musical is quite proficient, ingeniously using simple props with well-conceived wall projections and displaying funny animations and representing the locations of the town. A great detail is the reappearing small scurrying roach in Pedro's Café. Lighting designer Dan Jobbins' efforts adds considerably to the successful look of the show. The gallery of eclectic human and walking dead characters is grandly realized by the work of makeup designer Michelle Buongiovanni and costume designer Annette Westerby.
Structurally the show is problematic. The second act is packed with action and revelations but at over two hours with intermission, it all feels too long, the length diluting its effectiveness. Max Resto who wrote the book, score and directed has a great grasp of and obvious appreciation for the genre. His score is professional and has a number of fine comic and dramatic songs. However, they don't all advance the plot. His book at times is very humorous but also descends into the ponderous. A reexamination and condensing of the material would undoubtedly sharpen it, highlighting its achievements.
Mr. Resto's able direction combined with Tricia Brouk's inspired flamboyant choreography and Michael Striano's accomplished fight choreography together often makes the musical visually compelling.
An uplifting aspect is that this is the first major New York theatrical credit for most of the diverse 13 member cast. Their uniformly fine singing and acting talents and enthusiasm is joyous. This ensemble brings tremendous focus and commitment to all of the characters.
Philip Akogu waving his severed arm, Tova Katz, Christina Pagán, Tamrin Goldberg and especially limber, animated Sam Given all display quirky individuality as the band of marauding zombies.
Alex Daly wonderfully conveys the sullenness of Junior. Alex Parrish as Little Pete is a charming portrait of adolescence. Their wacky stalwart father Bruce is well played by Thomas Poarch. Rich Hollman is suitably over-the-top as Otis, the nutty gun shop owner.
Wearing a hairnet, apron, a cross and often pushing a broom, while using a heavy Mexican accent, Luis Galli's intensity adds much depth, making him even funnier as Pedro. Sharply spouting Odessa's neurotic verbose ravings, Tammi Cubilette skillfully veers from comic to dramatic. Emily Hope Holland as the Goth waitress Chloe is purposefully low-key yet arresting. Russell Kohlmann sweetly plays good-natured stoner Basil.
Overall, Zombies: A Musical is fitful entertainment for those in the mood for a cheesy horror movie spoof.
Zombies: A Musical (through July 13, 2014)
Peter Jay Sharp Theater, 416 West 42nd Street, in Manhattan
For tickets call, 212-279-4200 or visit http://www.ticketcentral.com
Running time: two hours and 15 minutes including one intermission