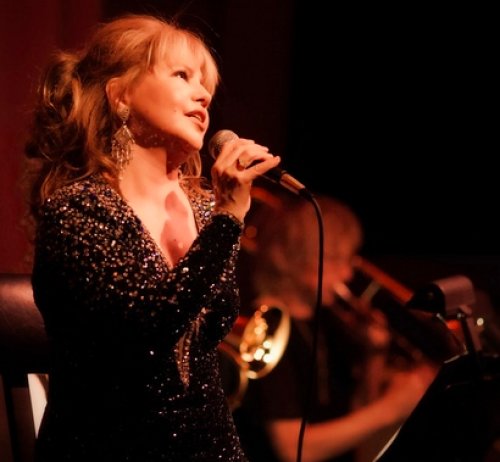 By: Darryl Reilly
"Many women have opened for Frank, but I actually opened for him in concert. Think about that for a minute," joked Pia Zadora while reminiscing about Frank Sinatra. She then launched into a lively, "The Lady Is a Tramp." It was one of a number of pleasantly entertaining highlights of her breezy autobiographical cabaret show, Pia Reloaded, at The Metropolitan Room.
The evening was in the tradition of the canny retrospective by a minor but fondly remembered show business survivor. Her opening number was "Alive," from the Lauren Bacall Broadway musical vehicle Applause. Her singing was appealing and emphatic but would not be mistaken for that of a major vocalist in an historic concert.
"Camp taste is a kind of love, love for human nature. It relishes, rather than judges, the little triumphs and awkward intensities of "character." . . . Camp taste identifies with what it is enjoying. People who share this sensibility are not laughing at the thing they label as "a camp," they're enjoying it. Camp is a tender feeling," wrote Susan Sontag in Notes On Camp.
60ish, blonde, vivacious, and looking fabulous in several glittering Bob Mackie costumes, she was delightful. Her caustic commentary and giddy, personable presence showed her to be consummately self-aware about the general perception of her achievements.
"Pia Reloaded, because I'm ready to go! Pia Zadora Is Still Alive? was another title suggested to me."
Midway through the show, she briefly left the stage to change outfits and a short, comprehensive biographical film played to the theme from Curb Your Enthusiasm. Recounted was her Golden Globe winning triumph in the infamous film Butterfly, and clips from the film of Harold Robbins' trashy novel The Lonely Lady were shown. Also played were snippets of interviews with Johnny Carson, Larry King, David Letterman and Conan O'Brien. Other career milestones included were a testimonial to her by Frank Sinatra, a bra commercial, her appearance in Penthouse, her childhood film debut in Santa Claus Conquers The Martians where she sang the theme song, and a still of her with Tallulah Bankhead in the short-running Broadway play, Midgie Purvis.
"My little shiksa!" was Zero Mostel's affectionate soubriquet to her during the original production of Fiddler on The Roof, where she was the only non-Jewish actress playing one of his five daughters. She recalled this in a video of the recent The Town Hall tribute to the 50th anniversary of that Broadway classic musical. "Mazel Tov, Oy Vey, and Schmuck, were the three Yiddish things I needed to know, he told me."
I'm happy to be here because it's where I started. Maybe not in this room, but in Hoboken." She then performed a lengthy biographical original song, "The Story of My Life." Popular standards included "Cry Me a River," a swinging "All of Me," "The Man That Got Away," "The End of a Love Affair," a raucous "I'm Getting Married in The Morning," "Some Other Time," "C'Est Si Bon" where she led audience members in a conga line, "How Do You Keep The Music Playing," a medley of Bernstein and Comden and Green's, "New York, New York," along with Kander and Ebb's "New York, New York" and with their "City Lights."
Other factoids imparted were that she's of half Polish and Italian descent. The cocktail she sipped during the show was a "Piatini," available at Pia's Place, her nightclub in Las Vegas, where she lives with her police officer husband. "When I do something wrong, I'm under house arrest." Friends in the audience whom she called out to included her high school classmate Julie Budd.
To sing her Grammy-nominated Best Rock Vocal Performance by a Female, "Rock It Out," she wore a leather biker jacket. "I lost to Tina Turner!"
Vinnie Falcone, a pianist for Frank Sinatra, was the very fine musical director with whom she hilariously bantered. The talented band of musicians was Bob Sachs on bass, Mike Mechem on drums, Joe Lano on guitar, and David Arana on keyboards. Jeff Kutash directed the fast paced show with flair. Behind the musicians was a large screen that in addition to the videos, showed images such as bubbles, flowers, Paris, and Rio de Janeiro.
Near the end, she did a bit of opera singing, surprisingly demonstrating a well trained voice. "My father was the music coordinator for La Cage Au Folles," was the lead in remark for "I Am What I Am," which was the bombastically fitting finale to this slick, fun and nostalgic show.
Pia Reloaded (August 5 – 10, 2014)
Metropolitan Room, 34 West 22nd Street, in Manhattan
Running time: one hour and 15 minutes without an intermission