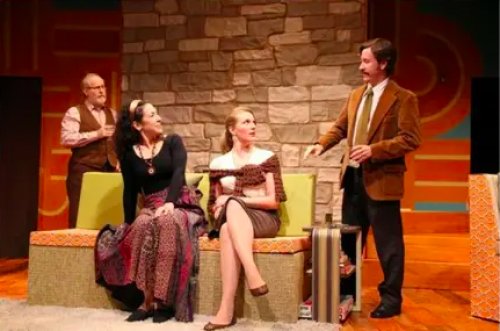 By: Darryl Reilly
"Jews don't have a monopoly on suffering-"
"Come on, you're telling me you suffered? You're from Santa Barbara-"
This is a snippet of conversation between a romantically involved college freshmen male and female, and an example of the many witty zingers in Dana Leslie Goldstein's funny and moving play, Daughters of The Sexual Revolution.
In suburban Westchester, 1976, we meet three couples. Lively, free spirited and just turned 40, Joyce Horowitz is married to the older, cantankerous W.W. II veteran Ed. They have a rebellious 18-year-old daughter Stacia who has recently become involved with her earnest, good-natured, 18 year-old college boyfriend, Simon Davies. There is also the Horowitzes' new neighbors in their 30's, the Prescotts, anxiety ridden Judy and her pompous psychiatrist husband, Liam.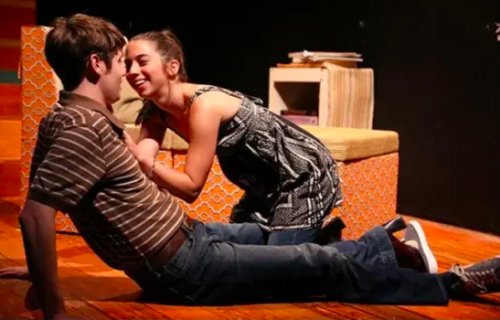 With a great sense of time and place, Ms. Goldstein has written a highly compelling and quite entertaining, well-plotted play that examines the complicated relationships of these couples with believability, drama, and humor. The events and conflicts depicted in it live up to the play's title, as sexuality in its many forms are dramatized in relation to the crises these couples face. The 1970's in The United States was a transformative era in terms of personal and sexual choices and she captures that spirit of liberation
That touchstone, bestselling, self-help book, I'm OK, You're Ok, is prominently featured. So are pot smoking, Valium, The Pill, and The Bicentennial. During scene transitions, bits of Fleetwood Mac, Steely Dan, and Linda Ronstadt are heard.
Susanna Frazer's direction expertly realizes Ms. Goldstein's vision with superb results from the cast as well as briskly managing the physical qualities of the production. Fast paced, but always with sensitivity, the 95 minutes race by with an increasing depth.
Christine Verleny as Joyce leads the ensemble. This consummate actress is simultaneously hilarious and heartbreaking with her crisp comic timing and reflectiveness. As a wife, mother and individual who becomes aware of her same sex attraction, she masterfully conveys all of the euphoria and despair her character feels. This is a very accomplished and memorable performance.
As her cranky, well-meaning husband, Michael Selkirk is marvelously deadpan yet animated.is luminous and greatly moving as the unraveling neighbor. Greg Oliver Bodine very skillfully plays her conceited husband with tremendous self-absorption that never devolves into caricature. Alyson Lange gives a wonderfully multi-faceted portrait of adolescent turmoil and deviousness. Charmingly stolid, yet emotive, boyish Luke Hofmaier is terrific as the hapless suitor caught up in the middle of the family conflict.
With bricks and orange patterned walls, sectional sofas, a liquor table, and bookshelves, Jennifer Varbalow's simple set design vibrantly conjures up the look of the 1970's for the one set that serves for the two households and a college dorm. There's plenty of macramé, plaid, jumpsuits and other period details in Annette Westerby's evocative costumes.
From its complex comical opening scene to its wistful conclusion, Daughters of The Sexual Revolution is a joyous, insightful and involving workthat is perfectly rendered,
Daughters of the Sexual Revolution (through October 11th, 2014)
WorkShop Theater Company, 312 West 36th Street, in Manhattan
For tickets, call 866-811-4111 or visit http://www.workshoptheater.org
Running time: 95 minutes without intermission