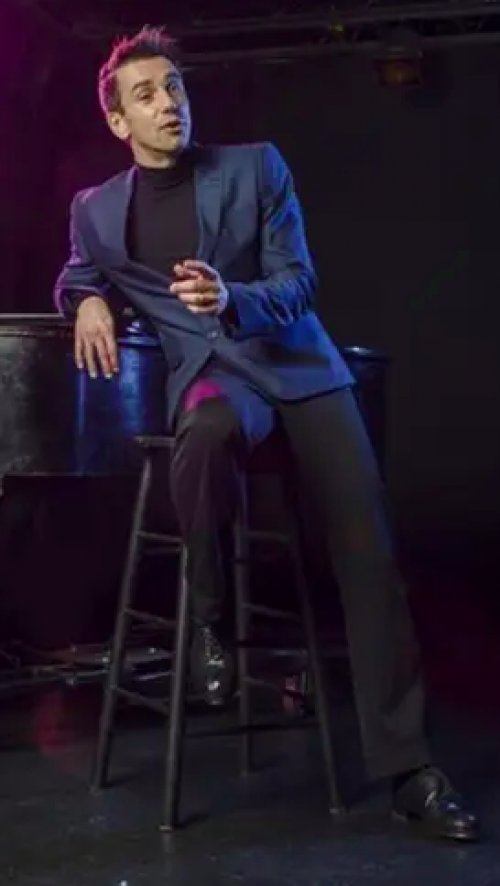 By: Darryl Reilly
"They say I've become a parody of myself. That if I entered an Anthony Newley contest, I'd come in third," wistfully says British performer Jon Peterson near the end of his superb biographical cabaret show, He Wrote Good Songs.
Athletic, limber, and with striking facial features, he offers a sensational portrayal of the British star in this 90-minute musical chronicle. His writing of this obviously and comprehensively researched, well-constructed solo show covers Newley's life from childhood to death, as well as his stormy marriage to Joan Collins in between.
Anthony Newley (1931-1999) was born illegitimate in the East End of London and grew up in poverty. He became a child actor and scored a success as the Artful Dodger in David Lean's 1948 film adaptation of Charles Dickens' Oliver Twist. In the 1960's, he teamed up with Leslie Bricusse to co-write the lyrics and music for two Broadway musicals that he also starred in, and for several movies, including Goldfinger's title song. These works yielded numerous popular songs. The equally idiosyncratic, Sammy Davis Jr. had several hit singles recording a number of them.
As a performer, he was known for his florid gesticulating and bombastic vibrato singing voice. Following a downturn in his career he played Las Vegas for five years becoming a campy attraction there, and on television appearances on talk and variety shows. Near the end of his life he had a great comeback appearing in cabaret in New York City and London before his death from cancer at the age of 67. On his tombstone he wanted his epitaph to be, "He Wrote Good Songs."
Forcefully replicating Newley's trademark physical mannerisms and vocal style, the dynamic Mr. Peterson fabulously performs "Gonna Build A Mountain," "Once In A Lifetime," "Candy Man," "I'm All I Need," "Pop Goes The Weazel" and "Who Can I Turn To?" as well as as well as many others. For the signature number, "What Kind Of Fool Am I?" he dons baggy pants, suspenders and clown makeup, as Newley did in the show Stop The World-I Want To Get Off.
These are all interspersed with very well chosen and delivered biographical reminiscences that are addressed to the audience. Included is a hilarious recounting of the nine-month film shoot of Dr. Doolittle, and unpleasant co-star Rex Harrison "who was bitten by every animal" and nicknamed "Tyrannosaurs Rex" by the crew. Through expert mimicry Peterson also portrays various figures from Newley's life such as his parents, a stuffy teacher, and producer David Merrick.
Director Gwen Hillier's simple, purposeful staging gives the show a brisk pace, and a compelling visual quality in the small space with just its few stools and a piano off to the side. Musical director Bruce Barnes provides flawless accompaniment. After often-lengthy amounts of time of Peterson's spoken material, he always perfectly came in with music right on cue.
Jon Peterson's dazzling performance in He Wrote The Good Songs will enthrall admirers of Anthony Newley and enlighten those who are unfamiliar with him.
He Wrote Good Songs: A Life of Anthony Newley (one performance on October 27th, 2014)
Stage 72/Triad, 158 West 72 Street, in Manhattan
Jon Peterson's website for more info: http://www.jonpeterson.biz
Running time: 90 minutes with no intermission