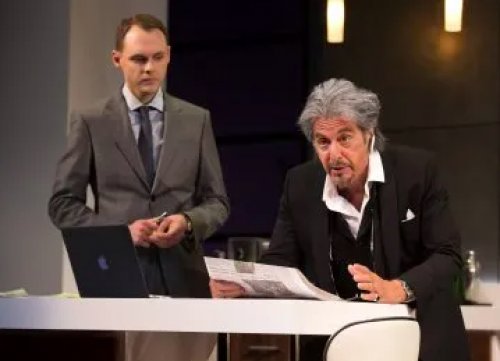 By: Darryl Reilly
Al Pacino appearing on Broadway in the premiere production of a new play by David Mamet is highly enticing. If China Doll only consisted of its relatively lively 40-minute second act that could have sufficed as minor starry entertainment. Unfortunately, its painfully preceded by a leaden first act of a nearly interminable hour. Together this makes for a negligible play and a sad display of the latest efforts of two great theatrical talents.

During its previews, China Doll was the ongoing subject of tabloid show business gossip. Large advance ticket sales, negative audience reactions, clashes among the creative forces and authorial revisions were recounted. Also reported was that due to Mr. Pacino's inability to remember the script, he had to refer to the text being displayed on several laptop computers strategically placed onstage as well as a being fed lines through a Bluetooth earpiece. If that is the case it is understandable as not many actors could retain and effortlessly deliver Mr. Mamet's formless, repetitive and inane verbiage, let alone one who is 75 years old as Pacino is.
"Fuckin' Ruthie, fuckin' Ruthie, fuckin' Ruthie, fuckin' Ruthie, fuckin' Ruthie, " Pacino memorably bellowed as Teach, a hapless thief during his electrifying entrance in the 1983 Broadway revival of Mamet's Pulitzer Prize-winning drama American Buffalo. Here, as Mickey Ross he wanly intones, "Come in. What is that? A newspaper. I don't want a "newspaper." What do I want?" to his meek assistant, Carson, "a younger man." From this flat opening moment, it is regretfully apparent that neither star nor author will be repeating past glories here.
The title is never explained and remains a cryptic point of thought. Is it the name of the jet that the plot revolves around? Is it a reference to a woman? What could it mean? Knowing the work and personality of David Mamet, perhaps it's a House of Games con device that has no significance at all just like the play itself. Muddled and rambling it comes across as an arrogantly tossed off minor exercise by an eminently established author solely for profit. The dialogue is a grating rehash of his patented style of staccato vulgarisms and explosive tirades interspersed with pauses that result in self-parody. If Glengarry Glen Ross was his zenith, China Doll is his nadir.
The setting is "an apartment" in the "evening." Mickey Ross is some sort of mega-rich political wheeler-dealer fixer. He recently bought a private jet from a foreign company that's now in Toronto. During a flight emergency it briefly landed in the United States and he's now liable for $5 million in sales tax to an unspecified U.S. state.
In between griping to his assistant, Ross spends most of the time yammering on his cell phone and Bluetooth earpiece to various people including his lawyer, a hotel manager and his much younger girlfriend to whom he is soon to marry. That's about it.
These details are rehashed over and over with sparingly biographical nuggets that are obtusely imparted. Ross was a protégé of a previous corrupt governor whose reformer son is now the current governor and seemingly has a vendetta against him. The plot congeals.
Act Two takes place the next morning with a fast-paced series of catastrophic developments and the play dramatically concludes abruptly with touches of Speed-the-Plow and Oleanna.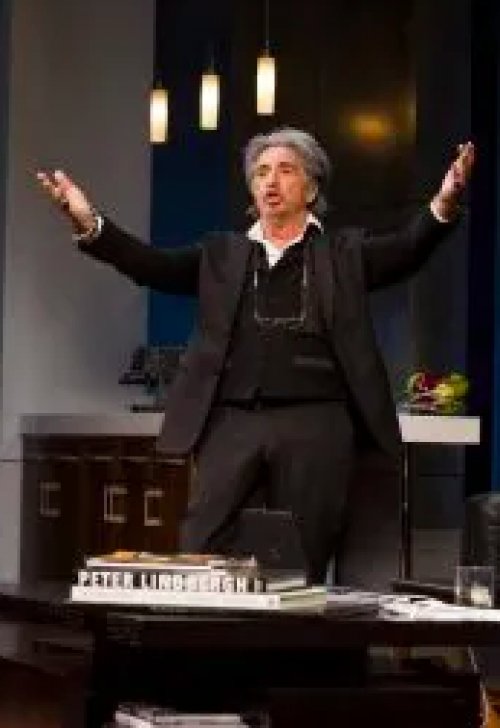 Faced with such hollow material, Pacino's task is to valiantly energize it with his charisma. He rants, roars, whispers, stares, paces and gesticulates with brio recalling his dynamic work over the decades. It's a wearying star turn that though noble is sorrowful for him and those who have been thrilled by his past triumphs. Fans that know him only from his movies could be satisfied seeing him spiritedly perform live.
After a number of stage appearances in New York City in the 1960's, he achieved movie stardom in 1972 with his role in The Godfather. Ever since he has repeatedly returned to the stage in ambitious productions that have included Shakespeare's Richard III, Julius Caesar, and The Merchant of Venice, O'Neill's Hughie, Brecht's The Resistible Rise of Arturo Ui, and Wilde's Salome. There were also his intense involvements with The Local Stigmatic and Chinese Coffee. These performances received a diverse critical reaction but were always popular events with audiences.
In China Doll, Christopher Denham admirably plays the young assistant. Though mostly silent, he is tall, lean, and with his expressive countenance, Mr. Denham skillfully manages to make a fine foil for Pacino. He crisply achieves the humor and steeliness that this subordinate role requires.
With such a deficient play and a titanic star, the accomplished director Pam MacKinnon's pragmatic staging really only consists of moving the two actors around.
Derek McLane's inspired scenic design lavishly recreates a luxurious airy apartment. It visually elevates the production with many high-end details including a captivating sculpture of a women seated on the floor in a Rodin's The Thinker type pose. It's all well lit by lighting designer Russell B. Champa. For Mr. Pacino, costume designer Jess Goldstein has created a black-based ensemble instantly connoting authority and for Mr. Denham sleek shimmering power suits.
China Doll is an exasperating spectacle of poor writing and dispirited stellar performing that comes close to being an outright debacle.
China Doll (through January 31, 2016)
Gerald Schoenfeld Theatre, 236 West 45th Street, in Manhattan
For tickets, call 212-239-6200 or visit http://www.chinadollbroadway.com
Running time: two hours including one intermission