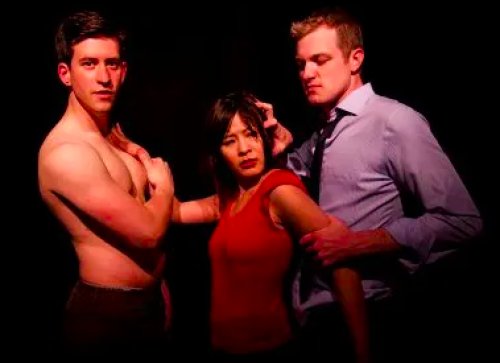 By: Darryl Reilly:
A closeted gay movie star in 1964 grappling with the machinations of maintaining his career is the outstanding selection of playwright Erik Champney's compelling and very well performed three one-act program, Blankets and Bedtime: 3 Restless Plays.

The first play, Sparkler takes place near the pool of handsome 30ish Clayton Boyd's Los Angeles house. He's two years into his latest marriage to perky television star Carol Hayes who's in her early 20's, and they have a newborn daughter. Also there is Boyd's good-natured boyish male lover, Jack Halpon, who is an ex-Mouseketeer in his mid-20's who is up for a small role in the new Paul Newman movie.
This complicated and common arrangement has been amenable to all until Carol, whose show is going to be cancelled, has career ambitions and is pursuing the part of Honey in the film adaptation of Who's Afraid of Virginian Woolf? starring Elizabeth Taylor and Richard Burton. Conflict arises when Clayton declares that a role in such controversial material would be bad for their wholesome image. Instead, he is encouraging about her getting the lead role in the upcoming film version of Barefoot in The Park, a Neil Simon film with Robert Redford.
Mr. Champney's dialogue is searing, insightful and believable. This is combined with well-researched facts about show business of that time which gives the play realism. The subject has been explored in accounts of the lives of such figures as Rock Hudson and Tab Hunter and this play is an excellent dramatization of such a situation.
Industry notables such as studio heads Jack Warner and Walt Disney, agent Sue Mengers, Annette Funicello, and Natalie Wood are also cleverly woven into the narrative adding more authenticity to the story.
Bearing a strong resemblance to Tab Hunter adds further strength to Chad Ryan's powerful portrayal of Clayton. The handsome Mr. Ryan swaggers imperiously like a movie star, effortlessly capturing the aching sense of hiding in the closet for the sake of career.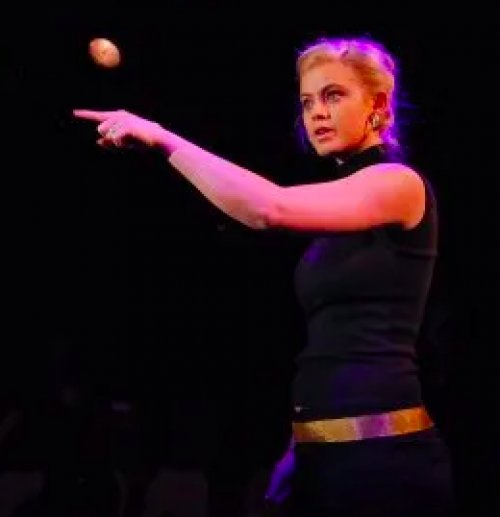 Looking like a combination of Ann-Margret and Sandra Dee, Ellie Gossage creates a sensational characterization as Carol. Wearing a black stylish black outfit with a gold belt, blonde hair pulled back and dangling gold hoop earrings, the sleek Ms. Gossage looks exactly likely the character and her emotional performance becomes shattering.
Max Meyers embodies Jack's physical and personal attractiveness and is a terrific foil for the couple. Mr. Meyers' charming and straightforward performance is tinged with the palpable lust and love for Clayton.
Costume designer Ramona Pula's other expert touches include short bathing suits for the men that look to be inspired by Roddy McDowall's home movies of celebrities of that era. The simple set design includes a lounge chair, an end table with a decanter of Scotch that the characters frequently pour.
Besides achieving detailed and sensitive performances from the cast, the director of all three plays, Janet Bentley, has visualized the work with inventive physical staging, using different areas of the stage and theater to great effect. Fight choreographer Randall Rodriquez's forceful work is also integral as there are riveting physical confrontations.
A high compliment to pay to a one-act play is that it is so good that one wishes it were a full-length one. Such is the case with Sparkler. The writing and performances are so exceptional that one wants to know what happens next.
Saitama takes place in Shanghai in 1941 during the Japanese occupation in a "comfort house," a brothel where Japanese soldiers consort with captive Chinese women. Daiyu mentors and is protective of the younger Nuying. Hideki is the young Japanese Air Force Second Lieutenant whose erotic gamesmanship with the two women has tragic consequences.
Champney's precise, detailed and effective writing finely renders this historical subject matter. Ms. Bentley and Mr. Rodriquez's accomplished efforts are enhanced by Gilbert "Lucky" Pearto's striking lighting design with its creative use of shadows. It's a physically and emotionally haunting presentation.
As Daiyu, Meggy Hai Trang's performance is perfect blend of jaded fortitude and weary optimism. The charismatic and sensual Chem-Mao Sun is commanding as Hideki. Mr. Sun veers from light-hearted to menacing volatility with breathtaking ease. Adelyne Liu as Nuying offers a lovely quiet portrait of girlishness innocence amidst despair.
The middle play is the minor and abstract The Screens. It takes place in Tennessee Williams country, à la Suddenly, Last Summer. A loquacious young gay man named Allen grandiloquently yammers on to an older taciturn gay "visitor" named Damien. It also recalls Williams' later works with its vagueness and heightened dialogue.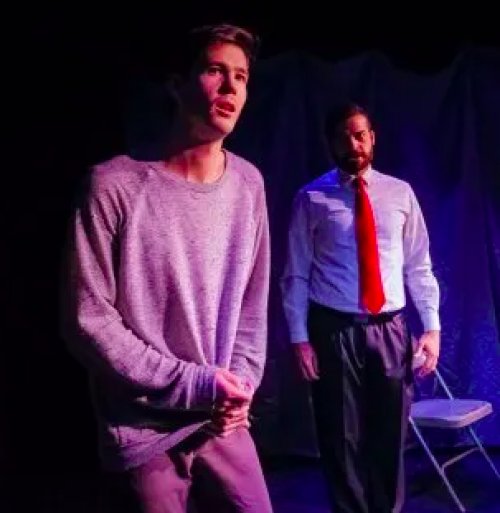 The animated Dylan Goodwin as Allen and the intense Erik Ransom as Damien both do their best with this problematic material, delivering lively, focused and entertaining performances.
The aesthetic if extraneous colorful projections created by video and sound designer Andy Evan Cohen are a swirling collection of shapes and colors that illustrate Allen's reveries. Mr. Cohen also created vivid title slides for each play that is shown before they begin.
Blankets and Bedtime: 3 Restless Plays is produced by the theater company A Pixie Theory and is presented as part of The Planet Connections Festivity. The stated theme of the three plays is "the extremes people will go to in the name of self-preservation." Erik Champney succeeds at dramatizing this concern while also demonstrating that he is a talented and imaginative playwright.
Blankets and Bedtime: 3 Restless Plays (through June 27, 2016)
A Pixie Theory Production presented by the 2016 Planet Connections Festivity
The Paradise Factory, 64 East 4th Street, in Manhattan
Running time: 80 minutes with no intermission