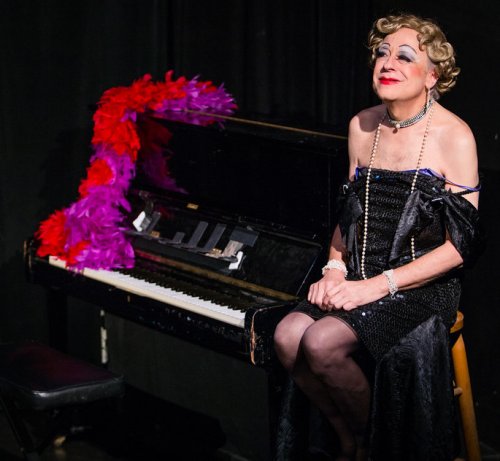 By: Darryl Reilly
This haunting show, devised and performed by Jeremy Lawrence consists of 17 songs, runs 65 minutes and conveys the decadence and despair of Weimar Germany (1919-1933). Lavender Songs: A Queer Weimar Berlin Cabaret has the mature and slim Mr. Lawrence in drag virtually for the entire length of the performance. In a dirty-blonde curled wig, his face garishly made up, twirling a red and purple boa, and wearing a sleeveless sequined black dress, the fearless Lawrence is like an Otto Dix painting come to life.
The conceit is that we're at a Berlin nightclub for the last performance there of "Tante Fritzy." Formerly a "prole rent boy," she is now an aging cabaret performer regaling the audience with often bawdy songs and stories. It's the waning days of the Weimer Republic, and the specter of Nazism looms with references to Adolf Hitler and Joseph Goebbels.
The effect of this framework documents the sexual and personal freedom that existed in Germany during that time of economic chaos. All of this would soon be violently extinguished after Hitler came to power.
Lawrence's seasoned and tuneful voice richly matches the emotions of the lyrics and melodies of the songs. The breezy patter is filled with double entendres, comically pronounced German words, directly engaging the audience. His gravelly, warbling delivery is reminiscent of legendary female impersonator Charles Pierce's impression of Tallulah Bankhead.
Walking through the seating area with the ease of a practiced stand-up comic at one point he coerces an audience member to come on stage for a brief dance.
The program consists of songs written between 1920 and 1937. Many are by the German composer and lyricist Friedrich Hollaender (1896-1976) who is perhaps best known for the songs popularized by Marlene Dietrich including "Falling in Love Again" and "Illusions."
The stage is bare except for a piano, a stool, a chair, and a vintage screen to hang clothes. Out of this minimal landscape, director Jason Jacobs creates a vibrant, small-scale panorama with his precise staging. Lawrence glides around, often stands still totally, but remains mesmerizing due to Jacobs' command of visual technique that includes the striking lighting.
Ominous dimness captures the dimension of the time period and the place of this rowdy venue. Most effective are the periodic sustained bursts of intense brightness. This frames the fearless Lawrence as if he is one of Richard Avedon's harsh portraits of weathered show business celebrities in all of their decaying grandeur.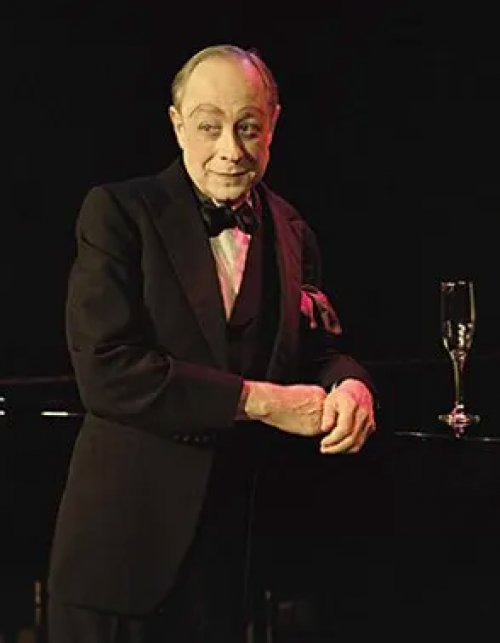 Clad in black, the lovely and blonde Ariela Bohrod who is her early 20's, very skillfully accompanies Lawrence on piano. Ms. Bohrod is also an excellent silent foil for some of the gags. The interaction between a very young and a much older performer adds even more depth to the presentation.
Produced last fall by the gay theater company, TOSOS (The Other Side of Silence), Lavender Songs: A Queer Weimar Berlin Cabaret premiered in 2008.
It is based on an evening created by Professor of German at The University of Wisconsin, Alan Lareau, for the U.S Holocaust Museum in Washington D.C. in conjunction with the exhibition Nazi Persecution of Homosexuals 1933-1945. Lawrence expanded this concept and wrote all of the new English lyrics and poems that are recited.
Lawrence's awesome performance in this bold production makes Lavender Songs: A Queer Weimar Berlin Cabaret simultaneously entertaining and chilling.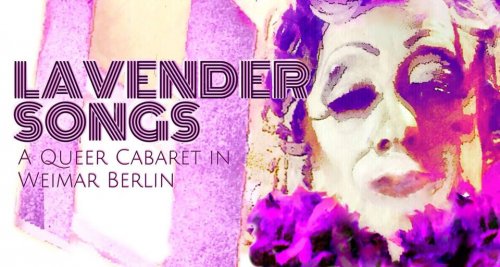 Note written on September 8, 2022: I saw this on the Thursday before the 2016 election in an office building theater on West 46th Street. This show has haunted me ever since. Originally, I intended to mention in my review the cautionary timing of this production. I took those sentences out as on reflection I didn't feel it appropriate to make political judgements in a theater review. It seemed then like hyperbole to compare the United States to the Weimar Republic and Trump and the Republicans to Hitler and the Nazis. Besides, Hillary Clinton was going to win anyway. Following the 2016 election, Jeremy Lawrence played several return engagements of this show which no doubt resonated even more.
Lavender Songs: A Queer Weimar Berlin Cabaret (return engagement: October 10, 17 and 24, 2017 at 7 Pm)
Panagea, 178 Second Avenue, in Manhattan
For tickets, call 212-995-0900 or visit http://www.pangeanyc.com
Running time: 65 minutes with no intermission