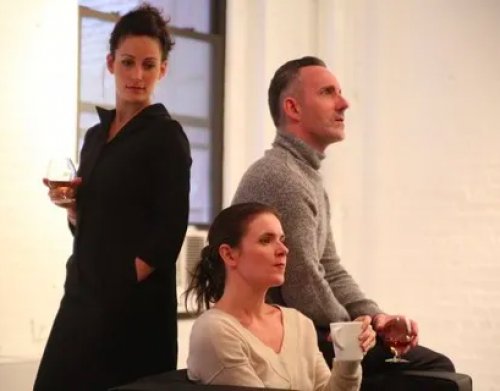 By: Darryl Reilly
Three strong, international actors with their delightful accents wonderfully enhance Old Times, Harold Pinter's enigmatic modern classic play of romance and nostalgia in this striking small-scale production.

The filmmaker Deeley and his wife Kate live in the English countryside. They're awaiting the arrival of her friend Anna, whom she hasn't seen in 20 years. The two women were roommates in London. Anna has since married an Italian and lives in Italy. She shows up, and after a lot of reminiscences about their lives in the late 1940's, it is revealed that Deeley and Anna may have known each other back then.
Pinter upends a conventional reunion with his characteristic style of wit, non-sequiturs, free associative reveries, offbeat incidents and the tantalizing possibilities of the characters' statements being unreliable. He was notoriously cryptic about the meaning of his works, offering few answers to actors and directors other then "Just do it." He was awarded the Nobel Prize in Literature in 2005, three years before his death at the age of 78.
Highlights of the dazzling wordplay include Deeley's richly detailed monologue about having seen the 1947 film Odd Man Out in a nearly deserted, run-down cinema and Anna's cliché-ridden recollections of the joys of cultural life in London in the past.
There is also the exhilarating psychological duel between them as they wistfully sing the lyrics of numerous popular songs such as "These Foolish Things," "Smoke Gets in Your Eyes," "The Way You Look Tonight," and "They Can't That Away From Me." "They don't make them like that anymore," Deeley declares.
Old Times premiered in London in 1971, and is considered among Pinter's greatest works. It has been performed all over the world and has been continuously revived.

In his definitive biography of Pinter, the eminent British drama critic Michael Billington's eloquent summation of it is, "play that constantly renews itself, partly because of the extraordinary tension between what is said and what is felt, partly because of its mixture of exact social observation and emblematic imagery, and partly because so much depends on the chemistry of the casting." Here that chemistry is quite palpable with its compelling performances and clash of accents.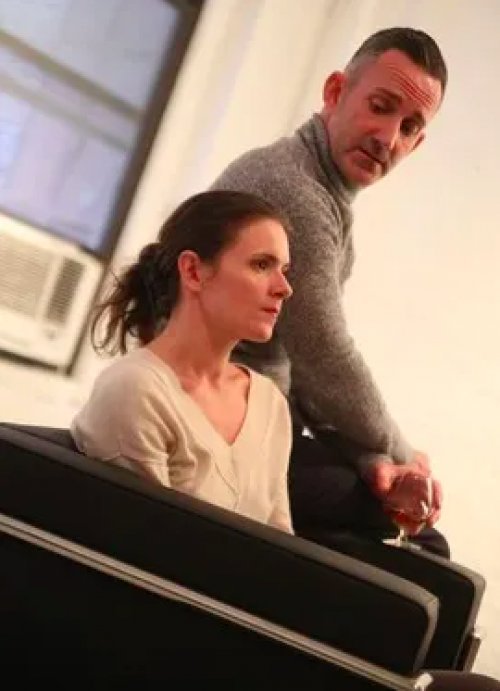 Dressed in a chic, all-black ensemble, the Israeli actress Danielle Shimshoni is alluring as Anna. The sleek Ms. Shimshoni's hair is pulled up framing her expressive facial features. Shimshoni's melodiously throaty voice recalls the cadences of Marlene Dietrich and enriches the dialogue. Her delivery ranges from flirtatiousness, to lighthearted to ominous. Physically and vocally she is commanding as this quintessential, Pinteresque female catalyst.
Caressing every word with his clipped British accent, the Irish actor Philip O'Gorman is simultaneously dynamic and laidback as Deeley. With his close-cropped salt and pepper hair and animated face, Mr. O'Gorman beautifully achieves all of the comedy and all of the menace associated with Pinter.
Wide-eyed, thin, and bird-like, the Slovakian actress Katarina Vizina is equally impressive as Kate. Ms. Vizina's croaky Eastern European accent and lithe physicality is on great display when after her climactic bath she returns to the action while parading around in a white terry cloth robe. Often understated but periodically erupting, Vizina is a terrific third wheel especially when making her wacky facial reactions.
Besides Shimshoni's black attire the actors is perhaps symbolically wears a combination of gray, black and beige.
That this cast intensely performs in such a confined space is another aspect of their accomplishments. The theater is a small loft-like room with exposed pipes and the audience is seated in an L-shaped configuration in two long rows and one short row, all relatively close up to the playing area.
Eventually after the audience is seated, the actors barrel out and the play rapidly begins without a change of lighting. It's a jolting opening.
Besides guiding these engaging performances, director Christopher Martin has meticulously staged the action on the arresting minimalist set that he designed. The floor and brick walls are white. There is a small black rug on the floor near the two plush black cube chairs. Red leaves are strewn about and there's a pile of them as well. In view are the theater's windows, an air conditioner and a shelf with a coffee service and drinks.
Like musical chairs, one actor is often standing sometimes with his or her back to the others. Sometimes an actor sits on the arm of a chair. The trio sipping brandy from brandy glasses yields painterly tableaus. This aesthetic placement of the actors in a variety of permutations perfectly complements the play's dialogue and is visually exciting.
Mr. Martin's ingenuity in the fields of direction and design is faithful to the author's intentions and most crucially is revelatory without heavy-handed conceptual distractions. Martin's strategic casting liberates the production from the predictability of it being very English.
"It is a work of beautiful elegiac obliquity and one that touches some chord in all of us," concludes Billington.
This refreshing production of Old Times with its engrossing performances and superior presentation is provocatively entertaining.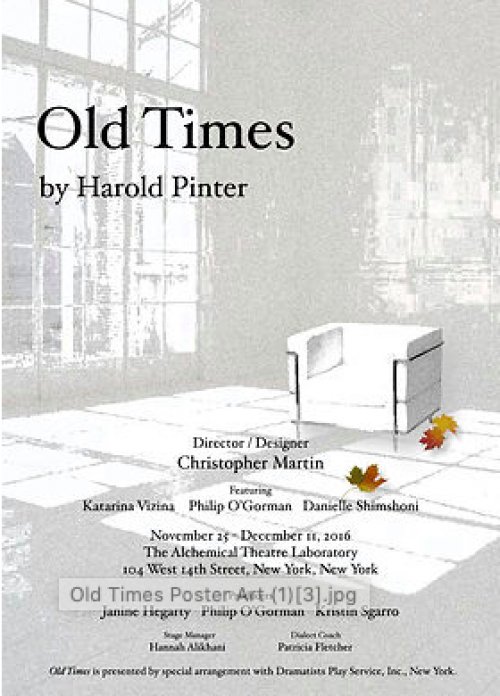 Old Times (through December 11, 2016)
White Space at Alchemical Theatre Laboratory, 104 West 14th Street, in Manhattan
For tickets, call 866-811-4111 or visit http://www.oldtimesnyc.com
Running time: 70 minutes with no intermission