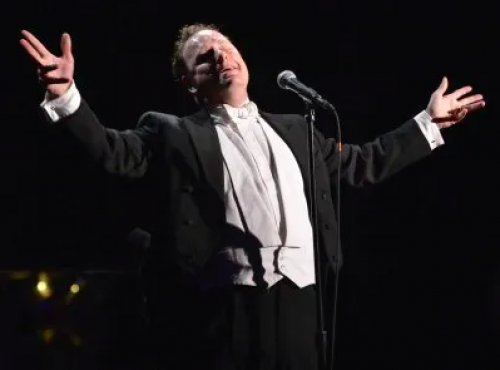 By: Darryl Reilly
Jake Broder's grand performance, his inventive script, a dynamic jazz trio and a nightclub milieu all make His Royal Hipness Lord Buckley an exhilarating recreation of the 1950's cult performer's act.
The venue at 59E59 Theaters has been configured into a cabaret setting with the audience sitting at small tables and chairs and encouraged to buy drinks sold at the bar. Hanging from the ceiling are brightly colored Japanese paper lanterns.
Beginning with a thrilling jazz instrumental sequence, the simulation of being in a 1950's venue is consistently sustained. The leading performer enters through the audience wearing white tie, tails, and a red carnation, while carrying a cigarette.
Lord Buckley was the persona created by Richard Myrle Buckley who was born in California to an English father and an American mother. Buckley began performing in nightclubs in the 1930's as a master of ceremonies. He came to prominence in the 1950's as an offbeat monologist spouting overwrought Beat Generation double-talk with appearances on Ed Sullivan and Groucho Marx's television shows, album recordings, and nightclub performances.
The title Lord was self-bestowed and was part of Buckley's comic credo that everyone was a Lord and Lady.
He died prematurely in 1960 at the age of 52 of a stroke, and has since faded into relative obscurity. At that time until 1967, entertainers in New York State were required to have a cabaret card that was administered by the state in order to perform. Shortly before his death, his was seized due to a 1941 arrest for marijuana possession. Lenny Bruce's cabaret card was taken away for obscenity during that era.
Bob Dylan has cited Lord Buckley's influence on several of his lyrics. Other entertainment figures such as Bill Cosby, George Carlin, Arlo Guthrie, George Harrison, Jimmy Buffet and Robin Williams have also claimed his work as an inspiration.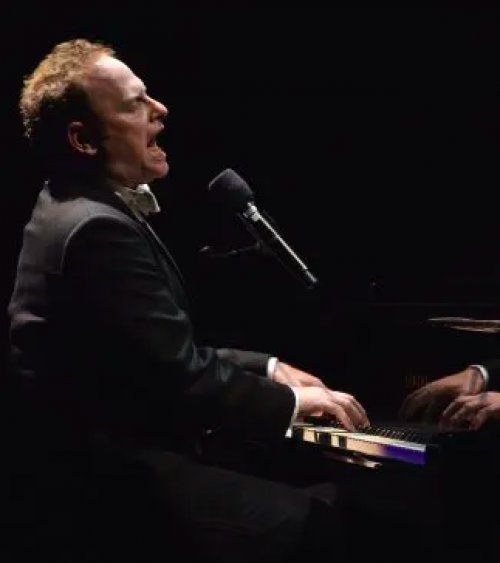 The barrel-chested Broder, with his hair cut short replicates the look of Buckley, though without the twirled mustache. Most importantly he channels Buckley's voice.
It's a rich, deep, growling drawl that's a combination of a stereotypical upper-class British accent crossed with jazzy African-American cadences. His performance is a series of enthralling, fast-paced, and animated recitations of Buckley's routines as well as superb jazz singing.
His script fuses the 1950's set pieces with anachronistic topical references, achieving the fantasy that Buckley exists in the present. Ben Carson, Black Lives Matter, registering Muslims, Forrest Gump, Lin-Manuel Miranda, Hamilton, Kanye West and President Obama ("The Big O") are mentioned along with Sen. Joseph R. McCarthy, Marilyn Monroe and Joe DiMaggio. The President-elect is slyly referred to but never named. "It's The Oval office. It ain't square!"
Missing from this inventive presentation are any biographical details. That's bold and confident, as many audience members most likely would have at best only a slight familiarity with Lord Buckley.
Raucous highlights include a jive reinterpretation of A Christmas Carol, "by Chazzie D, about a cat called Scrooge…who lives in Scrooge Tower." There's also Buckley's irreverent take on The Gettysburg Address, "I'm a Lincoln cat." Intertwined are Broder's cool renditions of "On The Sunny Side of The Street" and "Georgia On My Mind." He also demonstrates excellent saxophone and tambourine playing.
Onstage throughout, is the period dressed jazz trio who variously wear a vintage suit, a fedora, and a vest. Brad Russell is on bass, Mark Hartman is on piano, and Daniel Glass is on drums. Their engaging countenances and superior musicianship are a perfect aural and visual accompaniment to the show.
A structural framing device is the periodic broadcasts of "The Hipster News." With the droll comedic talents of a Laugh-In performer, the gawky and bespectacled Michael Lanahan is hilarious as a mock newscaster and foil for Lord Buckley. Lanahan also appears as a silly Abraham Lincoln and sings a beautiful rendition of "What The World Needs Now."
Director David Ellenstein supremely blends all of the spoken, musical and technical elements into a briskly paced production with creative flourishes. There's a well-executed sight gag involving an American flag.
Aaron Rumley's evocative lighting design conveys the quality of being transported to such a place in that time with stark brightness on the stage and eerie darkness and dimness throughout the theater. There's also an abounding sheen of swirling mistiness. Mr. Rumley's sound design further evokes the texture of the era with the tones of old jazz recordings.
His Royal Hipness Lord Buckley is highly entertaining showcase for the talented Jake Broder.
His Royal Hipness Lord Buckley (through January 1, 2017) North Coast Repertory Theatre 59E59 Theaters, 59 East 59th Street, in Manhattan. For tickets, call 212-279-4200 or visit http://www.59e59.org. Running time: one hour and 45 minutes with one intermission