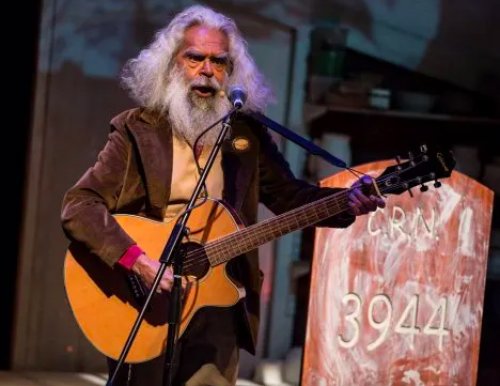 By: Darryl Reilly
Harrowing and redemptive, Jack Charles V The Crown is a fascinating and dynamic autobiographical performance art piece. Movie Star Turns Burglar is a newspaper headline that's projected during the show. With a mane of white hair and a long white beard, the charismatic, athletic and 73- year-old Jack Charles tells his life story in the course of 75 minutes.
The Aboriginal Mr. Charles was born in Australia in 1943, to an unwed mother who got pregnant 13 times. According to government legislation he was taken away as an infant and raised in a boys' home and then taken in by foster parents. He was an apprentice glass blower and after getting into arguments with his foster parents, he was sent to reform school. There were many traumas during this era including sexual abuse.
Charles became an actor after getting a part in a production of Lorraine Hansberry's A Raisin in The Sun, founded notable theater companies, and appeared in such films as The Chant of Jimmie Blacksmith.
His innate charm, joy of performing and theatrical grandeur is always on display in this show. All of those qualities combined with his resonant, Australian-accented vocal delivery makes it easy to imagine him being commanding in Shakespeare and any number of roles in the classics of dramatic literature, as well as a screen actor. Sadly, environmental circumstances did not as of yet make this possible.
After getting hooked on heroin, he began a life of petty crime, committing robberies to pay for his habit. He was arrested 22 times and served about 20 years altogether in prison. A 2008 film documentary about him garnered attention and led him to stop taking heroin.
Co-writer and dramaturge John Romeril collaborated with Charles in shaping this raw material into a compelling narrative. Racism, classism, the criminal justice system, and grappling with self-destructiveness are all fiercely explored with often gallows humor.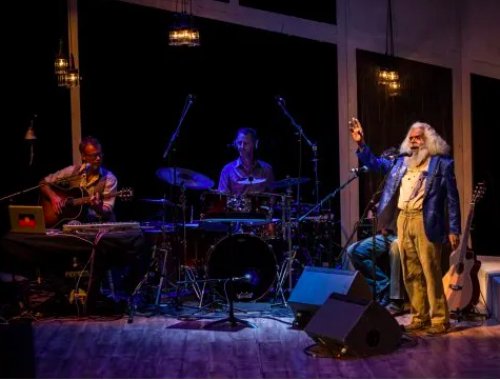 A highly skilled musical trio is onstage throughout, and frequently performs. Musical director Nigel Maclean is on guitar and violin, Phil Collings is on percussion and Malcolm Beveridge is on bass. They play a lot of jazzy instrumentals and accompany Charles on an eclectic selection of songs that include blues, originals, and even something by Pat Boone.
A flaw of the presentation is an overly elaborate production design and a reliance on multi-media elements that at times undercuts the show's impact. However, Charles' magnetic, lovable rogue persona transcends these mostly accomplished but extraneous conceptual aspects.
Scenic designer Emily Barrie has the stage segmented into areas that indicate a living room with some furniture, a visible backstage dressing room, and a raised platform that serves as Charles' pottery studio. It's all very well rendered, though not really necessary. Ms. Barrie's costume design is as lively as her subject.
Peter Worland's audio-visual design is technically proficient with its recurrent photographs and film clips that are abundantly projected onto a jagged screen that's center stage.
The musical portions are well modulated by the sound design, but sometimes dull Charles' booming voice with too much amplification.
The lighting design by Danny Pettingill is as intrusive as the other features with too frequent variances.
Director Rachael Maza's staging overall adds visual depth and a compelling pace. Less successful is integrating all of the components into a fluid and totally unified event.
Ultimately these production defects do not deter from the entertaining power of Jack Charles V The Crown. It is produced by the Australian ILBIJERRI Theatre Company, and since its 2013 premiere, has toured internationally.
Jack Charles V The Crown (March 22-25, 2017)
ILBIJERRI Theatre Company
Performance Space 122 and New York Live Arts
New York Live Arts, 219 West 19th Street, in Manhattan
Running time: 75 minutes with no intermission