Brian Ferry and his 10-piece band got about halfway through "Virginia Plain":
Make me a deal and make it straight
All signed and sealed, I'll take it
To Robert E. Lee I'll show it
I hope and pray he don't blow it 'cause
We've been around a long time just try try try tryin' to
Make the big time
Then the sound went awry. A piercing blast, like that of a home smoke detector alarm was heard. Simultaneously, Ferry and the band's sound ceased. He was singing and they were playing, but it was like they were lip-synching and miming.
This was at Heinz Hall in Pittsburgh, and was near the end of this North American tour, on April 1, 2017.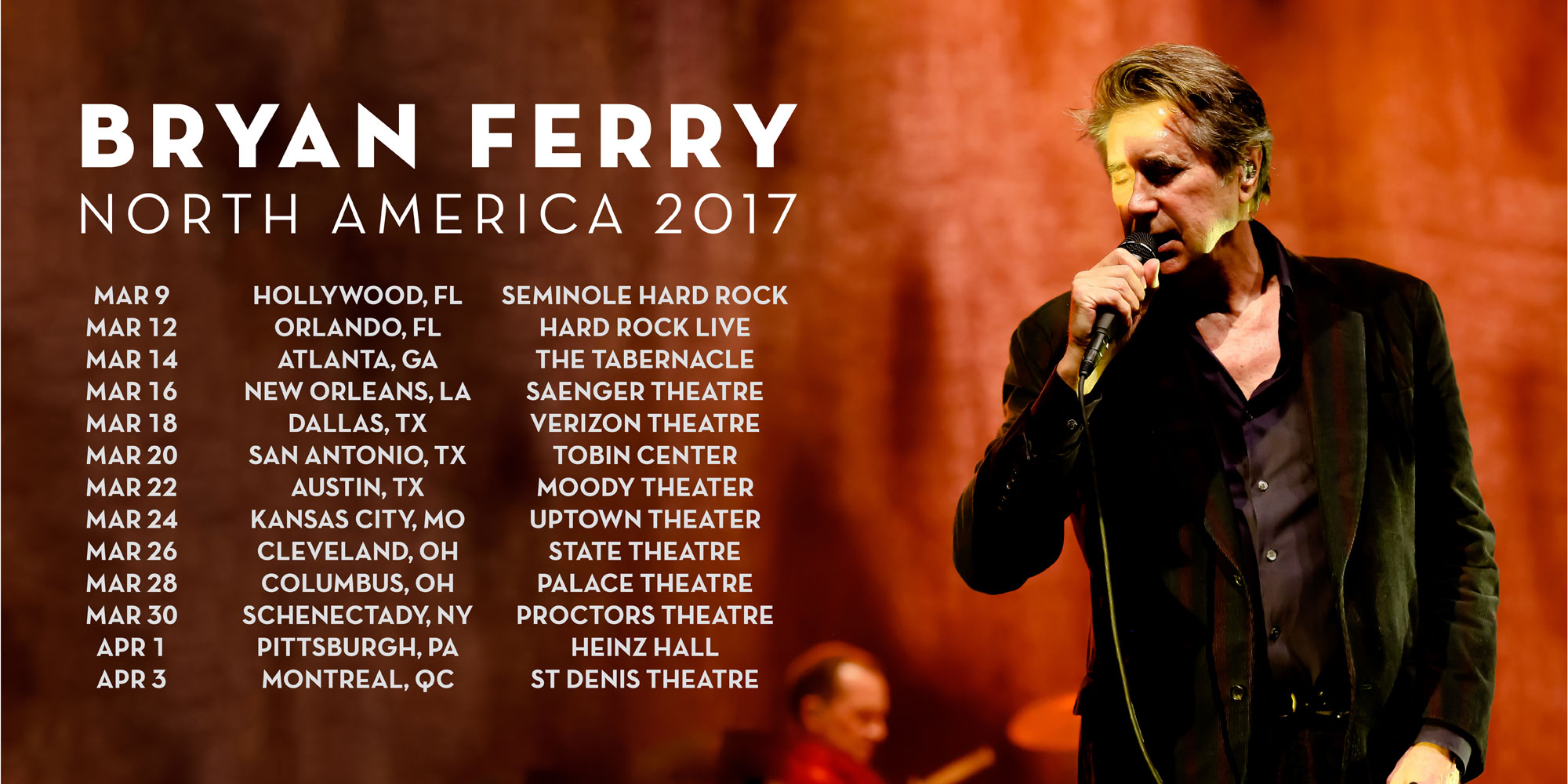 It was confusing, as one would expect that this malfunction would have been corrected. They played on, seemingly oblivious to the distortion, finishing the song, and then leaving the stage.
About 10 minutes later, violinist Marina Moore appeared and performed for a few minutes. Shortly after, Ferry came out with a microphone and delivered a brief, apologetic statement that was mostly inaudible. The band returned for bows and the show was over.
[wpvideo jOna35nw]
[wpvideo dP8cuSlP]
Luckily, the snafu came near the conclusion of the intended 24-song concert.   "Let's Stick Together" and "Jealous Guy," two of my least favorite songs were not performed, though it would have been nice to hear "Editions of You" again.
This off-kilter finale made an already vivid presentation even more memorable.
I've seen all of Bryan Ferry's New York City performances since 1987, most recently at The Beacon, in July 2016. That one was bittersweet, as at nearly 71 years old, he seemed weary and his voice was whispery.
When tickets went on sale for this North American tour, I bought one for the closest city to New York. With my partner driving, and our dog in the backseat, I endured the eight-hour trek with stops, to be in Pittsburgh.
I had the gnawing belief that it could be the last time I would see him perform live. Based on his previous, sporadic touring schedules, he might not return to New York City, for another two or three years. Anything could happen in that time.
My minimal expectations were tremendously surpassed. Unlike that last concert, his voice was possessed of range and power. In contrast to the previous, large band, here he had a contained ensemble. Though Heinz Hall's seating capacity of 2,676 is comparable to The Beacon Theatre's 2,894, Heinz Hall's stage configuration seemed smaller.
At the Beacon with a larger band, Ferry often seemed in the background, letting the musicians and backup singers shine. His keyboard that he played for several songs, was on a raised platform, off to the side.
At Heinz Hall, he was front and center, and the keyboard was level. He was more engaged. Not known for much stage patter, he was relatively chatty. There was praise for Pittsburgh, jokey statements and energy. "He's up there in his little house," he quipped about the drummer, who was raised up, and behind a small, glass structure.
The lighting was brighter, there were minimal effects including a mirror disco ball, a few swirling projections but nothing that pyrotechnical. In contrast to The Beacon, it was an uplifting revelation.
Perhaps performing New York City has more pressure, or he had a bad day. There was undoubtedly the residual anxiety that led him to abandon touring for several years.
"It was dispiriting to be told at the end of a show that, 'We almost broke even tonight.'" In the 1980's, after the popularity of Boys and Girls and Bête Noire, he toured with a large and expensive retinue of musicians, backup singers, and dancers. He was then understandably striving for mainstream pop acceptance in the U.S. It didn't happen.
The follow up to Bête Noire, Mamouna took seven years due to his obsessive recording delays. It was not a success, but now seems wonderful. In between, there was the delightful collection of covers, Taxi.
His behavior was mysteriously erratic in that era. The most notable gaffe was being offered, and turning down the opportunity to record "Don't You Forget About Me" for the film, The Breakfast Club. Simple Minds did.
A few years ago while reading a British publication's profile of him, the missing piece of the puzzle was revealed for the first, and really only time. Deep inside the article was a brief, matter of fact mention of his cocaine problem in the 1980's. I used cocaine at that time. Just about everyone did.  There's a Japanese television interview of him back then where he is obviously and hilariously high. This disclosure explains so much of his activities and personality in that period. It also informs his triumphant return to prominence that began with 1999's, As Times Goes By. For this gorgeous collection of popular standards, he received his first and so far only Grammy nomination.
In Pittsburgh, there was such a marvelous looseness. Another beneficial factor might be the euphoria of having attracted a large audience in a smaller locale. He routinely plays to crowds in the United Kingdom, and all over Europe, but has never been as comparably popular in the United States.
Eschewing the often-luxurious clothing he wore in the past, he had on a sober, basic dark suit, a tieless white shirt that later he changed to blue. Like his band, his guise was of stripped down simplicity. It was all visually and aurally compelling.
The set list was a familiar and straightforward assortment drawn from the Roxy Music and his solo work catalogue.
"The Main Thing," "Slave to Love," "Ladytron," "Out of the Blue," "Beauty Queen," "Bitter-Sweet," "A Waste Land/Windswept," "Bête Noire," "Zamba," "Stronger Through the Years," "Like a Hurricane," the instrumental "Tara," "Take a Chance with Me,"  "Re-Make/Re-Model," "In Every Dream Home a Heartache," "If There Is Something," "More Than This," "Avalon" and "Love Is the Drug" were all sensationally performed.
Having come to music from an art background, Ferry's songs have an abstract, passionate, aesthetic quality that make them ageless.  Many of the early ones were written in his 20's, and singing them now in his 70's, does not seem at all jarring, as they transcend time.
Sadly, he continued not to perform my all-time favorite song, "Do The Strand." Having listened to it countless times, the finale of, "Lolita and Guernica…did The Strand!" with its pause after Guernica, still makes me bristle with delirious anticipation.
Also absent was anything from what is probably my favorite of his later work, 2007's Dylanesque. That 11-song collection of Bob Dylan cover showcased Ferry's voice and sensibility to profound effect. There were none of his quirky takes on popular standards as well. Many of the stops on this tour were to places he hadn't performed in decades, or ever. Though slightly disappointing, the basic repertoire that was presented was pragmatic. It was exciting hearing the rarely done live "Like a Hurricane" by Neil Young.
The technical issue came near the end of what had been a thrilling experience. Then there was the exuberant spontaneity that superseded the audience's anger over the interruption. It was an unusual spectacle spectacle, as Ferry's shows are renowned for their perfection.  Now, there had been stage technicians  haplessly milling around and then the violinist's mini-recital.
Finally Ferry's addressing of the audience. This was the most stunning portion, brief but so effective. It was the first time I ever saw him speak at length extemporaneously to an audience. The sincerity and depth were palpable. It decisively demonstrated common sense.
Opening the event was the sultry, Welsh, jazzy vocalist Judith Owen. Her husky, expressive voice delighted the audience for 30 minutes. It was clearly evident that Ferry selected her for this tour due to her vivacious, and mature presence, and her affinity with his own tastes.
Ms. Owen's program consisted of mainly her own appealing, compositions. Standouts were her slow cover of Roxy Music's "More Than This" and a lively "Aquarius" from Hair. She announced that she'd be in the lobby during the break to sing her CD, Somebody's Child.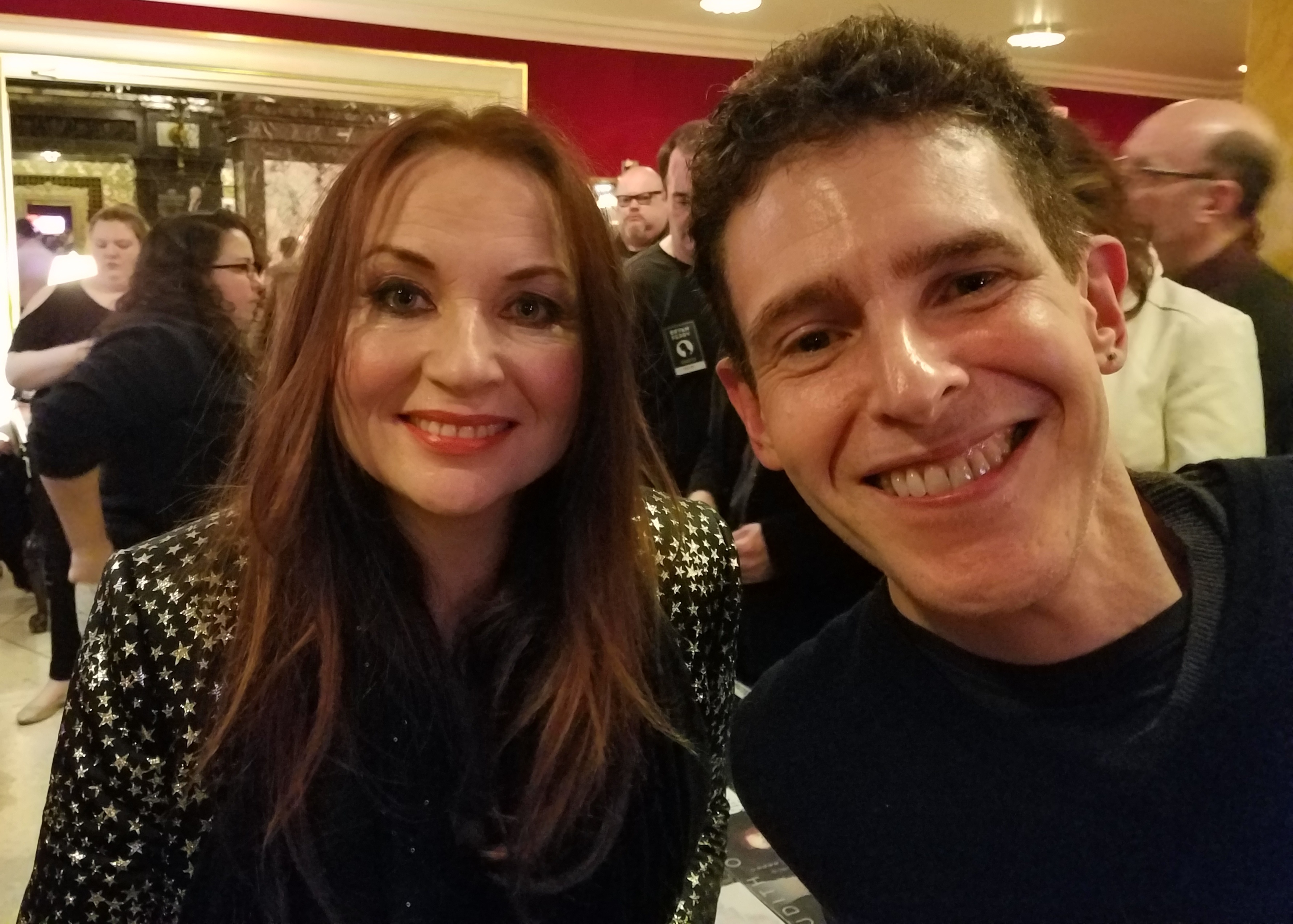 Bursting with enthusiasm I went out and bought it, and she soon appeared. We were both giddy as she signed my CD, as did the members of her outstanding band.
After it was all over, I went to the Tap Room at The William Penn Hotel, where I stayed on my previous visit to Pittsburgh, 19 years earlier, for a large, perfect, Grey Goose dirty martini and to take it all in.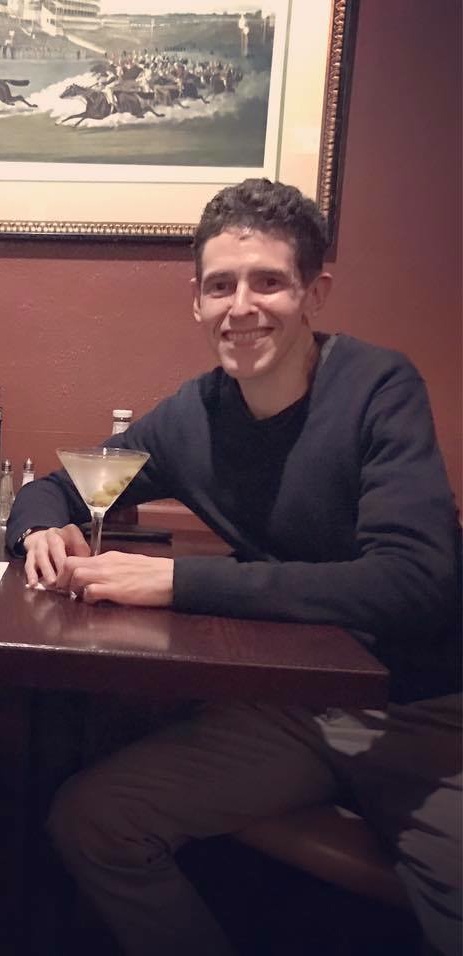 "I went with friends to see Roxy Music at Radio City Music Hall," said my ex, and first boyfriend Paul. It was the spring of 1983. We had been involved for a few months, drifted apart and occasionally kept in touch. His taste in music was impeccable and he had introduced me to several artists that I became enamored of. I had never heard of Roxy Music, and soon after his remark I bought their Greatest Hits compilation.
From the first notes of "Virginia Plain" I was riveted. Then it was on to "Do The Strand," "All I Want Is You," "Out Of The Blue," "Pyjamarama," "Editions Of You," "Love Is The Drug," "Mother Of Pearl," "A Song For Europe," "The Thrill Of It All," and the roaring "Street Life."
The unison of Ferry's alluring voice with its melodious tones, that would shift from song to song, his dazzling lyrics that had the artistry of Cole Porter, conjuring up shimmering imagery, and depicting emotion, and the forcefully unique sound of the music, had me spellbound.  Years later I figured out that the beguiling, "2HB" was an ode to Humphrey Bogart.
The albums' striking artwork with their glamorous photographs were equally enticing. The often-brooding images of the very handsome, perfectly dressed, and enigmatic Bryan Ferry added to the mystique. There was the overwhelming rapture of discovering something new and instantly significant.
In short order I bought all of the band's and Ferry's solo work, mostly on used LPs from Sounds on St. Marks Place. Buying the British publications The Face, Melody Maker and New Musical Express kept me well informed about him. I had gone from total ignorance to being an ardent devotee in a few weeks, spurred by Paul's casual remark.
For December 6, 1987, I bought a ticket to the Ritz night club. Bryan Ferry was to appear as part of a charity lineup to raise money for an ailing musician. The night before, he performed on Saturday Night Live. This was during the Bête Noire period. He had an aloof but intense demeanor and wore an 80's style, slightly oversized, black suit, and black tie white shirt and gleaming black shoes.
His five-song performance was sublimely galvanizing. The Ritz was primarily a dance club, so there was a dance floor and seats only upstairs. I had positioned myself very close to the stage and stood transfixed as he sang, "Slave to Love," "Kiss and Tell," "The Chosen One, "Avalon" and "Do The Strand." Seeing him live for the first time was pure bliss, and this special situation made it even more vivid. Attending his often-infrequent concerts became an enriching ritual.
August 1988, at Radio City Music Hall for Bete Noire, then the periodic concerts at The Beacon, usually in support of his latest recording. November 1994 for Mamouna, November 1999 for As Time Goes By, November 2002 for Frantic, October 2011 for Olympia, October 2014 and July 2016 for Avonmore.
In July 2001, there was the monumental Roxy Music reunion tour at the Madison Square Garden Theater, and their return engagement in July 2003, at Radio City Music Hall.
I met him twice. In March 2007, I eagerly visited music stores in search of Dylanesque and was disappointed on not finding it. I was told that it was an import and wouldn't be available for some time in the U.S. That meant ordering it from Amazon UK. When it arrived, I played it over and over. It had been five years since Frantic, and the excitement of hearing something new from him was tremendous.
In June of that year, it was announced that he would be appearing at J & R Music World, to promote its U.S. release. I anxiously got there an hour before the start time. The line of fans was in the store, and gradually went outside. He arrived, resplendent in a blue suit and looking smashing at nearly 62. There were the bursts of lights from photographer's cameras. He sat at a table. I was close to the start of the line, but it still took awhile as several people had bags of stuff for him to sign, tour books, CD sleeves and the like.
It was my turn. I handed him my import copy, and he signed it. "I hope you enjoy it!" "Thanks so much!" From the pocket of my cargo shorts, I pulled out the rolled up, sepia tour poster for As Time Goes By. "This too, please." He signed it, and I returned home exhilarated.
In February 2013, he was at the Union Square Barnes and Noble for the U.S. release of The Jazz Age. I also obtained that from Amazon UK, and bought another copy, so as to get into the signing, which I later returned. I got there over an hour before the start time and sat waiting and chatting with other fans. He arrived in a blue suit and accompanied by the bursts of lights from photographer's cameras. He signed my copy. "I hope you enjoy it!" "This too, please," as I unrolled the black white Frantic 2002 tour poster. He signed it.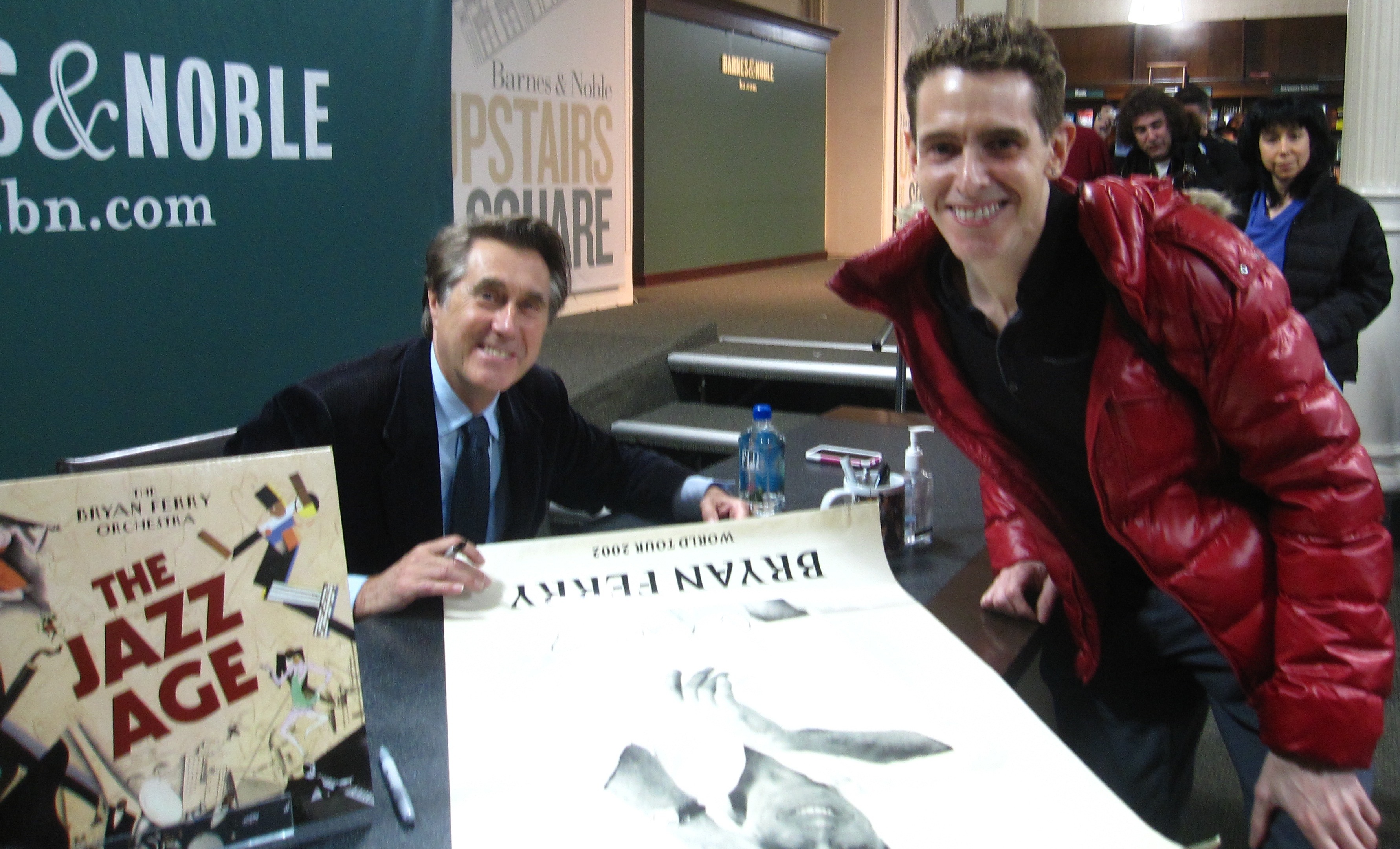 There are a few other musical figures that I been consumed with, but Bryan Ferry has remained the most powerful one in my consciousness. This Pittsburgh expedition was the latest, and possibly one of the last chapters in our decades long involvement.
Here as I sit at this empty café
Thinking of you
I remember
All those moments lost in wonder