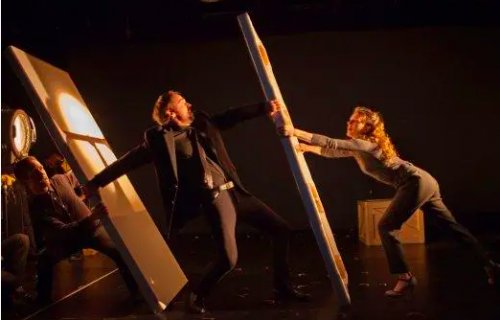 By: Darryl Reilly
A pretentious travesty is perpetrated on the beloved, classic movie Casablanca by this tiresome performance art deconstruction. It survived Ted Turner's colorization and it will survive this pointless, behind the scenes fantasy.

"The structure of CasablancaBox is inspired by another filmmaker's technique, Robert Altman's roaming camera," writes playwright Sara Farrington and director Reid Farrington in their program notes. This homage results in a collection of frantically staged vignettes that aren't funny and don't add up to much.
When the audience arrives, there are black clad actors dressed as crewmembers, smoking fake cigarettes, and milling about on the stage that has been set to resemble a Hollywood soundstage. Lights, flats and equipment are scattered about. The show begins, and it's evident that we are witnessing the filming of Casablanca in 1942.
The actors hold up panels on which clips from the film are shown. Often the sound cuts off, and they provide the voice of the character being shown from behind the panel. Sometimes, scenes are acted out from the film onstage. These alternate with actions on the set of the sound stage.
Hungarian-born director Michael Curtiz, the screenwriters and crewmembers are all depicted. One of the few interesting touches is the appearance of Humphrey Bogart's abusive, alcoholic, actress wife, Mayo Methot (well played by Erin Treadway).
Ingrid Bergman (solidly played by Catherine Gowl) anachronistically rhapsodizes about Italian film director Roberto Rossellini's Neo-Realist movies, years before he made them.
The large cast for the most part offers exaggerated, fast-paced characterizations that due to the piece's stylized agenda don't really register as full-fledged performances.
Considering all that goes on, Roger Casey, as Humphrey Bogart is amazing. Capturing Bogart's unique vocal cadences, deep tone, and inflections, while often wearing the trademark trench coat and fedora, Mr. Casey is outstanding.
Technically the show is highly accomplished. Laura Mroczkowski's lighting design, John Erickson's video engineering, Travis Wright's sound engineering, Laura K. Nicoll's choreography, and Mr. Farrington's set and video design, all proficiently fulfill the creators' vision.
There been several books and documentaries chronicling the making of Casablanca. It is a story with the potential for dramatization.
It was just another picture on the Warner Brothers studio's assembly line. Nothing led anyone to believe that it would other then a routine film, and certainly not a masterpiece. Casting was difficult, and beginning filming without an ending was chaotic. That situation is humorously depicted in the show. The alchemy of these conditions and the timing of its release, all contributed to its great success and enduring popularity.
Unfortunately, The Farringtons have opted for hi-tech trendiness and the result is hollow and uninvolving.
CasablancaBox (through April 29, 2017)
HERE, 145 Sixth Avenue, in Manhattan
For tickets, call 212-352-3101 or visit http://www.here.org
Running time: 90 minutes with no intermission