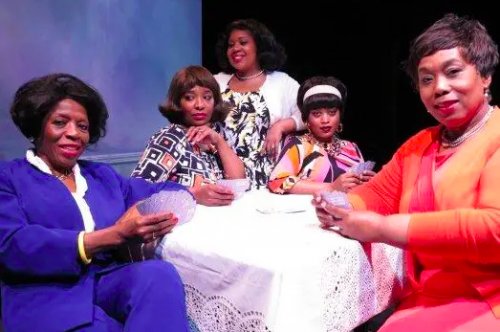 By: Darryl Reilly
Prescient, ingenious, and wonderfully realized, these uproarious, two-one plays were first performed in 1971 and are radical, 1960's-style political satires that skewer race relations.

To celebrate its 50th anniversary, The Negro Ensemble Company, Inc. is producing a season of revivals of works from their distinguished past that were notable in their original productions.
Clarence Young III wrote The Perry's Mission in 1969. It's set in "a typical bar in a Black Community in any city of normal or large size."

To escape the heavy rain while waiting for an unreliable bus, several people seek shelter there and interact with the mostly African-American, regular patrons. Verbal and physical conflicts arise. The forceful cast perfectly meshes with their characters.
Chauncey DeLeon Gilbert is commanding as the gruff owner of the establishment and its and bartender. Maria Silverman is delightfully raucous as a white prostitute. Chaz Ruben as her man, wonderfully ranges from low-key to explosive. As a Black Panther-type militant, Horace Glasper is terrifically fiery. Aaron Lloyd and G. Anthony Williams excel at playing two comical teenagers. Daniel Carlton and Buck Hinkle are hilarious as stereotypical businessmen. Laurie Folkes is quite poignant as a shabbily but stylishly dressed, destitute, retired boxer.
Mr. Young's dialogue is a pleasurable blend of earthiness and realism, that's in the styles of Eugene O'Neill and August Wilson. Young upends the classic theatrical situation of strangers in a bar with his chilling coup de theater that echoes the well-founded and popular paranoia of the time.

Rosalee Pritchett was written in 1969 by Barbara and Carlton Molette, and is a wicked fantasia. Set in an unnamed Southern town, we meet the African-American Rosalee. She is the wife of a prominent physician. Through flashbacks, we learn of the traumatic incident that led her to being in a hospital after suffering a nervous breakdown.
She had been at a bridge party with her fellow upper-class, African-American women friends. Their chat is concerns planning society functions, rhapsodizing about Doris Day and extolling the governor's policies in quelling riots by poor African-Americans. These actions include curfews and allowing the National Guard free reign.
The Molettes' premise is a scathing critique of the futility African-Americans striving for assimilation into white society while disdaining their roots and culture. The play's absurdist tone simultaneously incites laughter and horror, as it reaches its devastating finale.
Monique Pappas is stirring as Rosalee. Jeannine F. McKelvia, Deidre Benton, Joyce Griffen and Malika Nzinga are all marvelous as the imperious bridge companions

An eerie device of the playwrights is having the marauding National Guardsmen played by Black actors in white face. Horace Glasper, G. Anthony Williams, Chaz Ruben and Chauncey DeLeon Gilbert all vividly perform these roles with suitable menace.
Both plays are exceptionally well directed by Allie Woods. Mr. Woods' accomplished staging provides expert pacing and renders these works' dark humor, social commentary and stark conclusions with flair. For the record, he is an original company member of NEC.
Scenic designer Patrice Davidson's simple sets are inspired, creating atmospheric landscapes that fulfill the author's visions. Alex Moore's lighting design and Jacqueline Anscombe's sound design add a nightmarish dimension with their creepy effects.
Lots of plaid, suede, fringes, camouflage patterns and vibrant floral prints are the arresting features of Ali Turns' dazzling costume design that beautifully evoke the look of that era.
Rosalee Pritchett and The Perry's Mission are in the provocative tradition of such works of the period as Amiri Baraka's 1964 play Dutchman and Melvin Van Peebles' 1970 film Watermelon Man. This exemplary production brings attention to these neglected playwrights, and is a welcome opportunity to experience their unsettling power.
Rosalee Pritchett & The Perry's Mission: Two one-act plays (through April 22, 2017)
The Negro Ensemble Company, Inc.
Theatre 80 St. Marks, 80 St. Marks Place, in Manhattan
For tickets, call 866-811-4111 or visit http://www.necinc.org
Running time: two hours with one intermission