By: Darryl Reilly
Insightful, highly theatrical and fiercely acted, playwright and director S. Asher Gelman's Afterglow is a sharp take on contemporary "A-list" gay life in New York City. There's a lot of nudity in it that's artistically integrated into the presentation.

The audience sits on two sides of the small stage. Clothing is strewn around and the playing area is dominated by a rectangular configuration of hanging sheets. Lustful sounds are heard, and the sheets rise. Revealed are three, young and attractive nude men on a black-sheeted bed. Clearly they all have just had sex with each other.
"The heart wants what the heart wants" is the Emily Dickinson line that Woody Allen famously quoted during the fallout of his much-chronicled romantic entanglement in 1992, and it's referenced here. Admirers of Mr. Allen may wince at the harsh riff on that contentious situation given during the play. More importantly it could be a sly acknowledgement of Allen's influence. Afterglow particularly recalls the scabrous Husbands and Wives as well as the style and themes of other Allen films.
We're in the milieu of glamorous Manhattan, and the three characters who are all portrayed by Caucasian actors, deliver wistful reveries about that enchanted locale. Twenty-nine-year-old Josh is a New York City native, who's a theater director from a wealthy family. Indeed, money is no object. Josh lives in a fabulous apartment that he owns, with his husband Alex. He is a 28-year-old graduate student in chemistry, from rural Pennsylvania. They've been together a few years and are soon to be parents due to a surrogate. "Honestly, we're selfish… we believe our DNA is so super-fucking-fantastic that it NEEDS to be passed on."
Though in love with, and committed to each other, they're in an open relationship with rules, "No sleepovers" among them.
Josh has found the good-natured, New Jersey-born, 25-year-old Darius from the Internet. He's a massage therapist who is struggling to make ends meet and at one point Josh offers to pay his rent. The three have had such a great time, and have tremendous chemistry that they continue to see each other. Josh's growing attachment to Darius unearths cracks in his relationship with Alex.
Mr. Gelman's scenario and plot developments are well observed and true to life in their predictability. Gelman's dialogue is realistic and perfectly crafted with flavorful simplicity. Many exchanges are mirthful and should incite laughter but don't, as an air of perpetual melancholy looms over the events.
Despite the inevitability of its finale, Afterglow is quite engrossing. Its dazzling production elements magnify its achievements.
Having a background in dance accounts for Gelman's mesmerizing staging that is filled with finely choreographed sequences. Characters take showers onstage with actual water cascading on their nude bodies and there are stylized, brief simulations of sex that are suggestively erotic. Numerous, arresting tableaus silently emit significance. The actors all give bold, brave and intense performances that transcend stereotypes.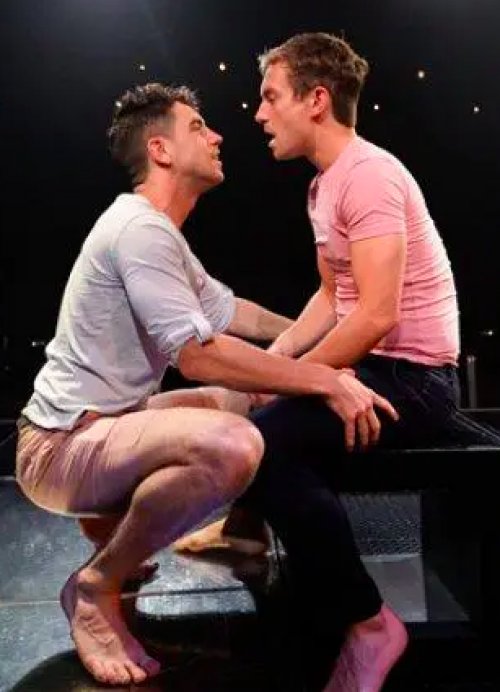 With his animated and expressive features, wiry physique, and a voice that crackles with emotion, Patrick Reilly is shattering as Darius. Mr. Reilly forcefully veers from comedy to anguish with heartbreaking results.
Wide-eyed, boyish and transmitting Josh's idealized and privileged worldview is the personable Brandon Haagenson. Mr. Haagenson effortlessly conveys the character's conflicts with his appealing performance.
The magnetic Robbie Simpson excels in the difficult role of Alex. Mr. Simpson skillfully humanizes the passive aggressive traits of this catalyst who causes turmoil. The rapport between him, Reilly and Haagenson is palpable.
Ann Beyersdorfer's colossal scenic design is a key feature of the production's success. That concealed bed later disassembles into living room furniture. Ms. Beyersdorfer's further minimalist inventiveness includes the onstage shower, a polished, glass floor that changes colors and black cubes. These components all fluidly and atmospherically represent several locations.
Combining smoky effects through shades of dimness with strings of small Christmas tree-style bulbs, along with strings of larger bulbs hung throughout the theater, lighting designer Jamie Roderick fantastically provides a moody and striking visual environment.
Expertly blending a throbbing, repetitive electronic score with bits of recognizable pop tunes, Alex Dietz-Kest's sound design evocatively enhances the scene transitions.
Though unclothed for stretches at a time, the actors are also suitably dressed due to Fabian Fidel Aguilar's strategic costume design. Jeans, T-shirts, tuxedoes and colorful underwear have all been effectively selected.
"Love is easy. Relationships are work" is the play's debatable conclusion. Gay men have long grappled with the issues of monogamy, promiscuity and polyamory. Afterglow forthrightly explores these concerns in a provocatively entertaining manner.
Afterglow (extended through August 12, 2018)
The Loft at the Davenport Theatre
354 West 45th Street, in Manhattan
For tickets, call 800-447-7400 or visit http://www.afterglowtheplay.com
Running time: 90 minutes with no intermission