"I have to go to LA, to lose the Oscar to Don Ameche," was William Hickey's explanation about his upcoming absence from his scene study class at HB Studio in New York City. It was March 1986, and he did lose the Oscar to Don Ameche, but that miraculous nomination for Best Supporting Actor for Prizzi's Honor, really was his award.
Today he would have been 90 years old. My memories of studying acting with him remain vivid.
Though only in his late 50's in that era, he looked a good deal older. That contrasted with his childlike aura and impish manner. He was short, very thin, wore glasses and his gray/white hair was often wild. There was a slightly disheveled quality to his appearance.
His unforgettable voice was a wavering assortment of various pitches, ascending from a whiny growl to raspy bursts that could be soothing. This vocal delivery made his irreverent, sincere and personal statements quite memorable.
"What were you trying to accomplish?" was usually his opening remark to students after watching their scene. During the scenes he would sit scrunched up in his chair, shifting around at his desk, his legs crossed and uncrossed or extended. Gutturally chuckling and alternating with other appreciative sounds, he was always engaged. These actions were done in unison with sipping from a liter seltzer bottle. There was speculation that the bottle had liquor in it as he was known, and confessed to being a big drinker. A heavy smoker as well, he'd light up numerous cigarettes during class.
No "Method" was espoused. Instead of the predicable acting school jargon of "objectives" "intentions" and "tasks", his analysis was usually lengthy, digressive and wholly idiosyncratic.
There could be a recounting of his experiences from his long career that began as a child actor in radio with his older sister, or from his many stage and film appearances. Anecdotes about those he worked with such as Elaine May, Julie Bovasso, Tennessee Williams and of course Uta Hagen and Herbert Berghof, the founders of the school, were plentiful.
He would often talk so long that the last scene on the sign up list would have to be carried over to next week's class. This wasn't held against him as he was enthralling offering first hand, practical experience of performing in professional works.
Those reflections could be mingled with observations of recent events or biographical details.
I was so happy the day we dropped the atom bomb on Japan.
Oh, Billy think of all those poor people, my mother said.
 I know Ma, but it means I'm not gonna get killed in the war! I'm getting drafted but the war is over!
He was single and had lived in Brooklyn for much of his life with his now deceased mother. There was also his dog (Buddy?) that he frequently spoke of. He would later turn down movie work in Europe because he couldn't bring his dog with him.
It was worth getting accustomed to his methodology because those stream of consciousness ramblings were well-constructed parables that directly related to the scene that had just been performed. Sometimes there would be strong criticism embedded.
Unlike a number of other teachers, he did not go in for breaking actors down. There were never harsh or stinging remarks. His class was a nurturing environment for a variety of people.
A sizeable contingent were in their 60's and had past careers in the theater. They had studied with him for many years and didn't perform outside of the class anymore. It was obviously therapeutic for them to continue to do so.
Young male and female models whose agents sent them there to get acting training were also present. Middle-aged people who had thought of being actors and now were trying were also there in sizeable numbers. Youthful, ordinary beginners was a major subset as well.
William Hickey took them all in without an audition and treated everyone with warmth, encouragement and respect. He was also known to help students get acting jobs and with financial assistance when he became successful.
"I see a talented young boy…" Hickey said to me after I had done a monologue from Harold Pinter's No Man's Land. It was a comically baroque speech supremely done by John Gielgud in the original production that I had seen the television version of. Hickey was being kind as I was totally wrong for the character but I enjoyed that speech and enacted with glee.
I was new to the large class and was shy about getting a scene partner so I needed make my debut in something. That led to a serious of scenes I performed with many classmates during the two years I was in his class.
Most profoundly, I was paired with Kevin, a jovial recovering alcoholic in his early 40's, for Waiting for Godot. I was Vladimir and he was Estragon. We rehearsed at my apartment and had a marvelous rapport. The scene went so well that Hickey told us to work on the next portion. Over a few months of classes we did the entire sequence before the arrival of Lucky and Pozzo.
I didn't really understand the play at the time, but Beckett's writing is so precise that by just saying the lines with the appropriate feelings was enough to carry it. Whenever I see it performed I can still mentally recite the dialogue before the actors do.
"That's okay if you're just playing an attitude…" was his assessment of my Lee from Sam Shepard's True West. I saw John Malkovich in the celebrated Cherry Lane Theatre revival do the part, sparring with Gary Sinise. My take was one of intense belligerence. I wore a raggedy army jacket, swilled water from a pint whiskey bottle and threw my screenwriter brother's typewriter across the room. It felt exhilarating but I knew he was right, that it wasn't a fully complete characterization.
Being young, learning lines was quite easy and there was no overthinking, just raw impulse. Hickey's enthusiasm and the support of fellow students made me feel as if I were on the right path.
A teacher at NYU recommended that I study with Michael Howard. He was quite distinguished in the field and had his own school. He was pleasant during our interview but explained he only dealt with professionals and not beginners. He advised going to HB Studio and studying with William Hickey.
By 1984, Hickey had achieved a career of small parts in mostly Off-Broadway plays and bit roles in movies such as The Producers. It was said that Hagen and Berghof kept him at the school out of long-time loyalty and that he needed the teaching fees to live on. He was not held in as high esteem in comparison to some of the other teachers.
"The worst actor in America, " was said to be the renowned critic John Simon's assessment of his gifts.
HB Studio prided itself as having a faculty that were working actors. Teachers could be absent due to a job. Hickey began missing classes. The substitutes ranged from the soft-spoken and perceptive Carol Goodheart and the engaging Frank Geraci, both of whom I later studied with. There were also two ogres.
"STOP! Would you wash dishes without water?!" yelled the owlish, aged mandarin, at a young man who was acting in a scene that took place in a simulated kitchen. "Go out into the hallway, take the sink and fill it with water!" Of course realism is desired, but that outburst was nasty. This substitute was mean and pompous, yet had a following at the school. He told a long story about seeing Gary Cooper on Fifth Avenue in the 50's in the 1950's. It was filled with off-putting testaments to Copper's handsomeness.
Another revered substitute was said to have had a nervous breakdown and was definitely off. In his 40's, he was chiefly interested in cultivating the attentions of young girls in the class. His critique of a young man's performance in a scene from Jean Genet's The Balcony was scathing and bordered on homophobic. Viciousness was his forte.
The reason Hickey was missing a lot of classes was that he had been busy filming John Huston's film Prizzi's Honor in Brooklyn. He told us how great Jack Nicholson was, and that he was interested in coming to observe Hickey's class, but alas that didn't happen.
Hickey played Don Corrado Prizzi, the wily head of the crime family. It was a showy role and several more established character actors had been suggested for it. These included Herbert Berghof who bellowed, "Bill Hickey stole my Oscar nomination!"
He had a small part in Huston's film Wise Blood (1979) as a preacher. With his intuitive sense of casting, Huston wanted Hickey for The Don. It was another of the many examples of Huston's genius for picking the right person for a role. He did that with the 61 year-old Sydney Greenstreet for The Maltese Falcon, who had never been in a movie before and stage actress Grayson Hall for The Night of The Iguana. Both of them received supporting Oscar nominations. There was also the non-actor, Filipino hairdresser Zorro David who made a splash in a supporting part in Reflections in a Golden Eye.
"Another cookie my dear?" he distinctively croaked as The Don. I saw the movie at an advance screening. As a long-time John Huston admirer it was confounding as this mob drama was played as a comedy. I soon comprehended that that was the point.
Huston had him as the chieftain looking like a depraved, wizened gnome with cadaverous makeup, searing eyes and palpable malevolence, suggesting that he was in his 80's. It was fascinating to see the little old man I knew from class on the big screen. He didn't seem that different, especially his voice.
The movie was a critical and commercial success, and seemingly overnight Hickey was raised from obscurity and relative poverty to show business glory. His fee went from union scale to $15,000 a week, and he was never out of work from then on.
Besides Don Ameche who was nominated for Cocoon, Hickey's strong competition for the Oscar was Klaus Maria Brandauer for Out of Africa, his Prizzi's Honor co-star Robert Loggia for Jagged Edge, and Eric Roberts for Runaway Train.
That summer of 1986, he was on Broadway in the revival of Arsenic and Old Lace, starring Jean Stapleton, Polly Holliday and Tony Roberts. Hickey played the Peter Lorre role from the film, the sidekick to Abe Vigoda. Watching him, it again was a case that he didn't seem that dissimilar when he was acting from the way he normally was.
It was his last Broadway appearance but there was a steady stream of film and television roles that included National Lampoon's Christmas Vacation, Sea of Love as Al Pacino's father, Puppet Master, The Nightmare Before Christmas and Jerky Boys. For an episode of HBO's Tales From The Crypt he was nominated for the Primetime Emmy Award for Outstanding Guest Actor in a Drama Series.
With his soaring success, he was gone so often that I didn't sign up for his class again due to the varying sensibilities of the potential substitutes, and wanting to try studying with another teacher.
He died on June 29, 1997, of emphysema six weeks before he would have turned 70. His final movie, MouseHunt was released after his death and was dedicated to him.
This photograph is from the 1988 screen adaptation of author Hugh Leonard's Tony Award-winning play, Da. Filmed in Ireland, it has one of his rare, "normal" roles as a bitter, Irish civil servant who mentors the young hero.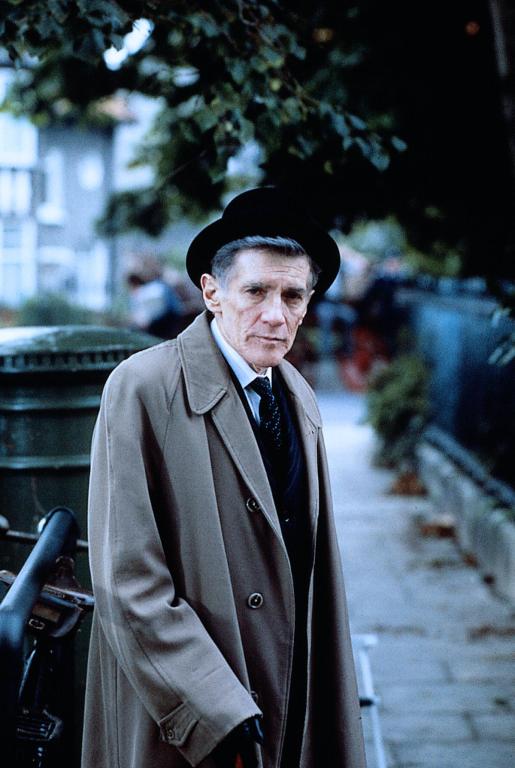 The last time I saw him in person was in the late 1980's, in a West 42nd Street porno store. He was wearing an exquisite trench coat over a blue blazer and gray trousers. From a shopping bag he took out several, rental gay porno VHS tapes and placed them on the counter as returns for the cashier. I was nearby but did not say hello and watched him leave after the transaction.