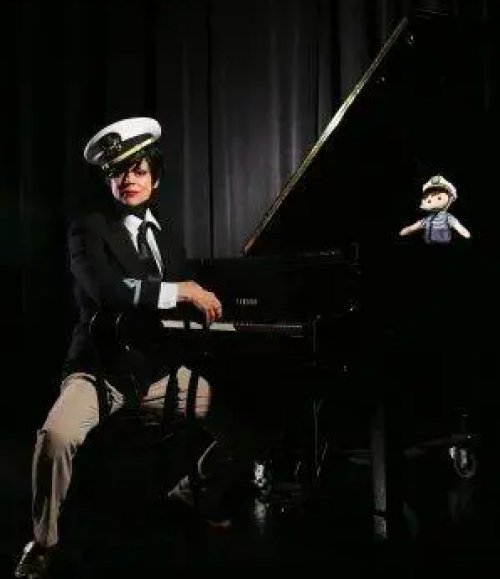 By : Darryl Reilly
Hilariously impersonating Marlene Dietrich while playing an accordion, singing and trotting about, is one of the grand highlights of performer Phoebe Legere's Speed Queen. Spanning from W.W. I to the present, it's a madcap lesbian historical and musical fantasia about Joe Carstairs, for which Legere has written the book and original score.

My name is Tallulah Bankhead. I'm a lesbian. What do you do?
That theater icon is also vividly recreated by Ms. Legere. There's a wicked bit depicting Bankhead's rage against Bette Davis for playing her stage parts in the movies and being blacklisted for her political beliefs in Hollywood. "First they crush you and then they steal your worst mannerisms."
Legere's dynamism recalls the comic timing, vibrant presence and gutsiness of Broadway star Dorothy Loudon. This Juilliard trained composer, a Pulitzer Prize finalist for musical composition and performance artist's career began in the 1980's and she opened for David Bowie during his 1990 tour. Her experience and quick-wittedness were gloriously on display as she hysterically incorporated intermittent gaffes and technical glitches during the show's first preview performance swiftly into the presentation.
Her compelling scenario is à la Patrick Dennis' episodic Little Me. Her witty lyrics are matched by music that echoes the melodies of Irving Berlin, Cole Porter, Leonard Bernstein and Stephen Sondheim with dashes of Joni Mitchell. Her piano playing is accomplished and she sings superbly to recorded music as well.
A bare stage, a piano set with trophies and a male doll, atmospheric slide projections and film clips shown on the theater's back wall and some whimsical props are the simple elements that director Lissa Morra weaves into an engaging production with her crisp staging. Ms. Morra's shimmering lighting design realizes the piece's multiple tones and dimensions. Shawn Rawls' spirited choreography infuses the production with verve.
An antique wooden screen from behind which Legere changes costumes gets a lot of comic mileage. A great sight gag is her speed racing in a miniature boat designed by Litza Colon with rigging by Janet Clancy.
This is not quite a solo show as the rotund, bearded, bald and delightfully deadpan David Zen Mansley outrageously pops up in several small roles including an unintelligible gruff general.
The inspiration for this small-scale extravaganza is Joe Carstairs' fascinating life story. Born in England in 1900, as Marion Barbara Carstairs, she was the daughter of an American heiress and a Scottish military father who abandoned the family. Openly gay, Carstairs lived a privileged life of eccentricity. She wore men's clothes from Savile Row and founded a London taxi company staffed by women. Promiscuous, she had affairs with a number of famous women including Oscar Wilde's niece Dolly, Dietrich and Bankhead.
In 1925, she came into her fortune and became celebrated as a speed boat driver. Her girlfriend Ruth Baldwin gave her a male doll that she named Lord Tod Wadley, that became her beloved mascot. She bought the island of Whale Cay in the Bahamas and was a grandee there. After selling the island in 1975, she retired to Florida where she died in 1993 at the age of 93.
Striding onstage in jaunty nautical regalia is how we first encounter Legere as Carstairs. Then she's wearing a W.W. I military uniform and holding a steering wheel as she furiously mimes driving an ambulance on a French battlefield complete with a garish dummy representing a slain soldier.
Further incidents from Carstairs'life are dramatized and more of the notables that she was involved with are detailed such as Alla Nazimova, Radclyffe Hall and Isadora Duncan. Djuna Barnes is the subject of mirthful wordplay.
Throughout, Phoebe Legere's colossal talents and imaginative sensibility are pleasurably showcased. The revelation that she met Carstairs late in Carstairs' life adds even more depth to Speed Queen's zany yet poignant artistry.
Speed Queen (through March 24, 2018)
Dixon Place, 161A Chrystie Street, in Manhattan
For tickets, call 866-811-4111 or visit http://www.dixonplace.org
Running time: one hour and 45 minutes with one intermission