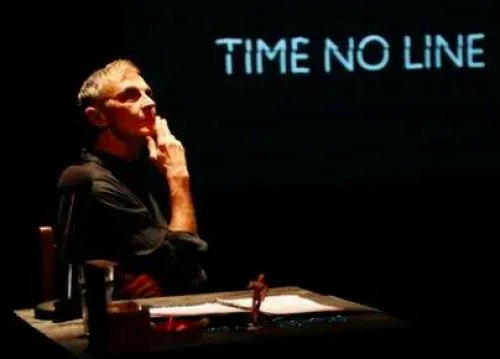 By: Darryl Reilly
In a mesmerizing 70 minutes acclaimed performance artist John Kelly presents his memoir for the stage with the multimedia collage Time No Line. It's derived from the journals he's kept since 1976 and is told through song, dance and film. A recording of Handel's Sarabande is frequently played to great effect.

In darkness on the large screen on the stage's back wall is projected introductory comments that are followed by an eight-minute video of pages of his handwritten entries and images of his artworks, illustrative film clips and later photographs of his family.
During this presentation, Mr. Kelly is visible in motion dragging around a red rope. He eventually sits down at a desk with a microphone and reads from his journal and also addresses the audience.
With his melodious voice, charming presence and physical charisma, Kelly is commanding as he recounts his eventful life and eclectic career.
I heard the muffled opening chords of Tchaikovsky's Swan Lake from our vantage point on the stage of the Metropolitan Opera House, behind its huge curtain; as it slowly lifted, the orchestral music flooded the stage. This shy kid – who just a couple of years earlier had been bullied in high school – was realizing that he hit his stride in these strange voids in front of people, this metaphor for life, on these stages that felt like home.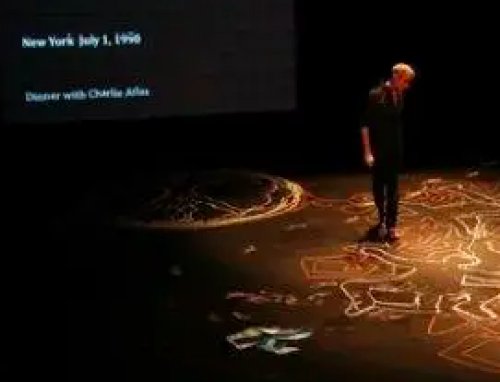 Born in New Jersey, at the age of 17 he attended The American Ballet Theatre's school with the intention of becoming a ballet dancer. As he began training relatively late it became apparent that he would not progress that far. He gave up dance and then went to the Parsons School of Design to be an artist.
In 1980, he created his first performance piece in which he sang. After discovering opera, he was obsessed with Maria Callas. He appeared in drag as her imaginary daughter by Aristotle Onassis, Dagmar Callas.
An excerpt of a Tavis Smiley interview with Joni Mitchell leads to Kelly's celebrated tribute to the singer-writer. He appears in drag resembling her and powerfully sings "The Last Time I Saw Richard." Equally as riveting is the finale, his awesome rendition of Charles Aznavour's gay story song, "What Makes A Man."
The openly gay Kelly reminisces about his youth. While staying at the Fire Island house of a man he was dating, he meets and has a serious conversation with David Hockney. "I felt like I was in one of his paintings, a faceless boy rendered graphic in a turquoise rectangle."
Slides of striking drawings he did of performers at the gay club The Anvil in 1979 are displayed. In 1982 his boyfriend dies of AIDS. "After that, a sense of mortality, loss, and striving permeated my life and my work."
In the moving and affirmative final sequence, journal entries from 1989 to 1990 are projected as text that details deaths of friends. Kelly is on the floor silently drawing shapes with white and then red chalk that becomes a configuration of human forms. One of the entries shown from that era reveals his HIV positive diagnosis.
In addition to performing, Kelly is also the writer and director of the production as well as overseeing much of the video design. His efforts are accomplished on all of these levels. John LeVasseur's dynamic lighting design majestically accompanies Kelly's words and actions with its array of steady dimness, spotlights and smoky texture.
There are so few of my generation left to tell their stories. I've been holding onto this frayed connection with my generation of friends, lovers, and colleagues.
In Time No Line, John Kelly vividly tells his story with theatrical flair and emotional resonance.
Time No Line (through March 11, 2018)
La MaMa, 66 East 4th Street, in Manhattan
Running time: 70 minutes with no intermission