This striking portrait of Maureen Stapleton was painted by Raphael Soyer in 1968, a pivotal year in her life and career. It's on view at The Forum Gallery in New York City until February 24, 2018. It's part of their exhibition "Artists by Artists," a collection of works whose subjects are creative people.
As a long-time admirer of Maureen Stapleton I was keen to visit the gallery after learning of this painting's existence and inclusion. Seeing it in person was a fascinating experience as the vivid colors and minute brush strokes present her in a novel manner. Not acting, being "on" or posing, but in still solitude. What was happening then?
I chatted with a gallery agent who told me that Stapleton's son had come to see the exhibition and remarked that he remembered her sitting for it at their New York City apartment.
When I got home I went to my library for her 1995 memoir, A Hell of a Life, co-authored with Jane Scovell. I read it when it was published but couldn't recall specifics and wanted to see if there were any details about the painting. Looking up Soyer in the index led to a section describing her struggling actress years in New York City, she arrived there with $100 in 1943. The following quotations are from the book.
The last job worth telling you about you're not going to believe. I was a model. Now, I'm not talking about the high fashion kind, of course, I'm talking about being a life model for art classes. What's more, I'm talking about posing for big-time artists.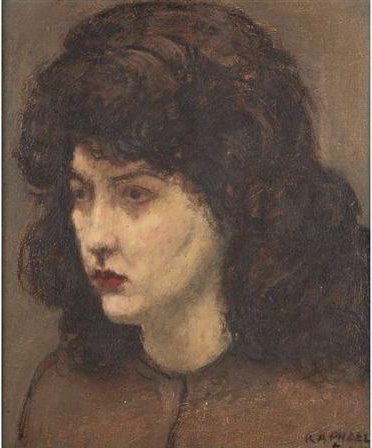 She goes on to chronicle how at the prodding of a friend she ended up posing at The Art Students League of New York for $1 an hour.
At first, I was skeptical. I was so damn self-conscious about my body, so uncomfortable in my ample skin, how the hell could I parade that too, too, solid flesh in public? I decided that modeling nude might be the solution. After all, it makes you strip away all of your defenses as well as your clothes. That first week was hell and nearly killed me, but I finally got comfortable in my skin.
Reginald Marsh taught there. He saw her modeling in classes and she then began posing for him. "He passed me on to his friend Raphael Soyer…Eventually I dropped everyone except for Reginald and Raphael."
Posing in the mornings made it possible for me to take acting classes at night and later, to make the rounds looking for acting jobs in the afternoons. I couldn't go wild on the three or four dollars a day modeling paid, but it was good clean money and was also my brush with the art world.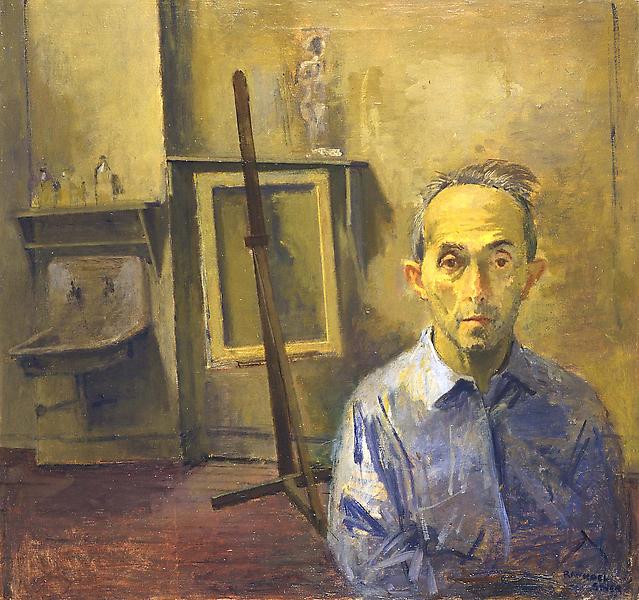 Raphael Soyer (1899-1987) was born in Russia and emigrated with his Jewish family to the United States in 1912, settling in the Bronx. He got his art training at Cooper Union, the National Academy of Design and at the Art Students League of New York. He began exhibiting in the 1930's and in 1967 was given a retrospective by Whitney Museum of American Art. He was a Social Realist and his subjects were often friends who were artists and writers.
Stapleton's life-long love of the movies began when she was a child during the 1930's in her hometown of Troy, New York. Visible in the painting are posters of two screen legends.
I was nuts about Jean Harlow. She'd strut around those fabulous black and white Art Deco sets yapping away in her funny little-girl voice, and meanwhile her boobs were bobbling around, looking like they were going to jump right out of her skin-tight white satin gown and into your face. It was watching her that gave me the idea that I wanted to be an actress. It had nothing to do with inspiration or "art" or anything like that. I just figured if I became an actress, I'd have everything I wanted and automatically look like Jean Harlow.
Her big break came in 1950 in the original production of Tennessee Williams' play The Rose Tattoo for which she won her first Tony Award, as Best Featured Actress. The tour of it brought her to Los Angles where she attended her first star-studded Hollywood gathering. Due to her heavy drinking it was a disastrous event with her taking a swing at Burt Lancaster.
Humphrey Bogart was definitely my hero and savior at the Fringses' party. He took it upon himself to look after me. Sometimes, if you're a pretty good drinker and somebody else is getting drunker than you, it's your job to look after the less sober one, and that's what Bogey did for me. Was it the damned leading the damned? I don't know. I only know we came together and because he helped me, he made himself accessible. After that experience, I didn't think of him as Humphrey Bogart the movie star, he was Bogey, my friend.
Following her success in The Rose Tattoo she had a steady career on the New York stage and on television. In 1959 she made her film debut in in Lonelyhearts, for which she was nominated for the Academy Award for Best Supporting Actress. There were a few more screen roles including as Dick Van Dyke's mother in 1963's Bye Bye Birdie. Then it was back to the stage for revivals of The Glass Menagerie and The Rose Tattoo.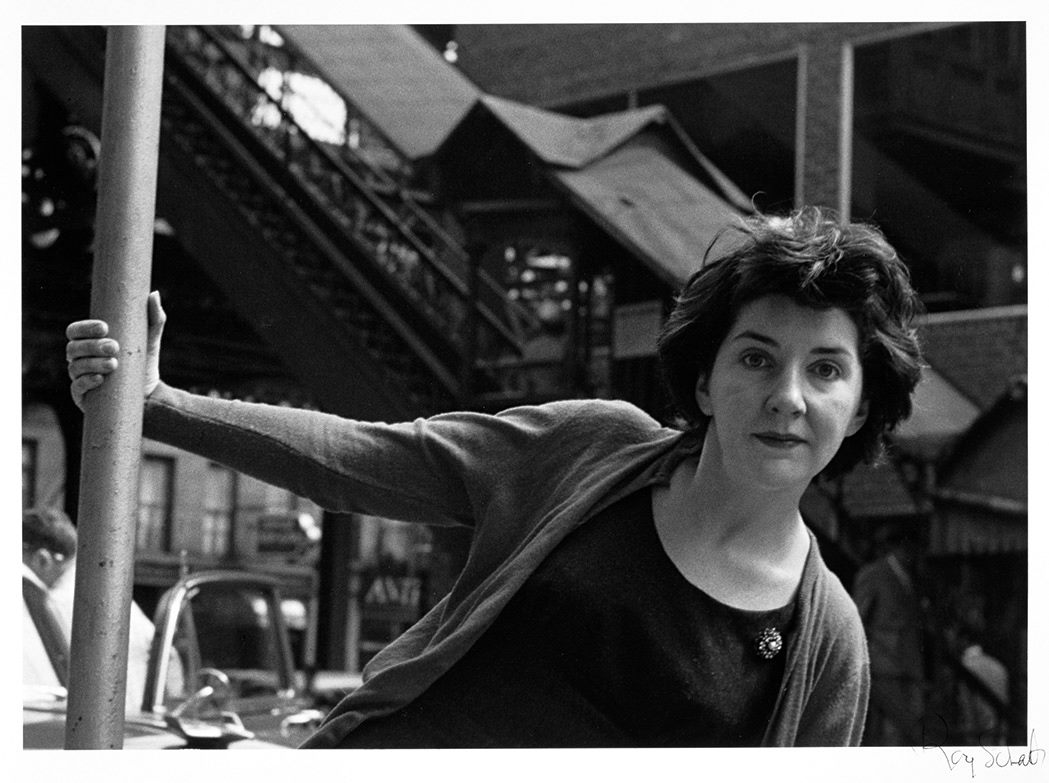 After rewrites, tumultuous rehearsals and cutting out one of the plays that later became the film The Out-of-Towners, Plaza Suite opened on February 14, 1968 at the Plymouth Theatre (now the Gerald Schoenfeld), and was a smash hit running 1097 performances.Over the years that I'd been futzing around, an American playwright had been turning out wonderfully entertaining material for Broadway, and in 1968 my opportunity came to get on the Neil Simon bandwagon. Doc had written four one-act plays, all of which took place in the Plaza Hotel, and Saint-Subber was going to produce them under the umbrella title of Plaza Suite. Mike Nichols was the director, and he cast me and George C. Scott in the lead roles.
It is interesting that at this time, after having painted her as an unknown struggling actress, Soyer did this portrait of her over 20 years later. Obviously, they had remained close. In the midst of this headiness on May 19, 1968, she won the Primetime Emmy Award for Outstanding Lead Actress in a Limited Series or Movie for her performance in the television adaptation of Truman Capote's story Among the Paths to Eden.
After having been married and divorced twice and having had two children, she met the legendary Broadway director George Abbot who was nearly 40 years her senior. They became intimate and had a 10 year relationship. Most crucially Plaza Suite propelled her career to a higher level.
In 1970 she was nominated again for the Academy Award for Best Supporting Actress for Airport. She won the Tony Award for Best Actress for 1971's The Gingerbread Lady as an alcoholic singer, this was written for her by Neil Simon. There was a third Oscar nomination as Best Supporting Actress for Woody Allen's Interiors. She finally won the Oscar as Best Supporting Actress for playing Emma Goldman in Warren Beatty's Reds in 1981. After more stage, screen and television roles she retired in 1995 and died in 2006 at the age of 80.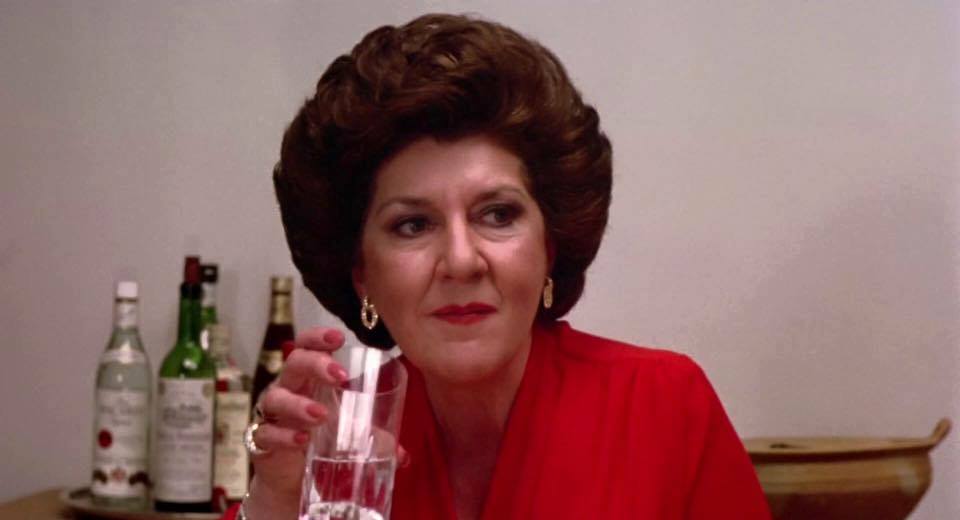 Witnessing Maureen Stapleton's participation in the memorial tribute to Colleen Dewhurst in 1991 at The Martin Beck Theatre (now the Al Hirschfeld) was very memorable. It demonstrated her renowned saltiness. She was wearing a house dress and got very emotional, referring to her good friend as, "The Madonna of the broken wings," because of her being such a soft touch.Watching her as a child in a television broadcast of Airport and seeing the film of Plaza Suite made me aware of her. Seeing her stupendous performance on the opening day of Interior's release led to my enduring fascination with her. As a Mother's Day present I took my mother to see the 1981 Broadway revival of The Little Foxes which was her last stage appearance and for which she received her sixth and final Tony nomination. It was a major event as Elizabeth Taylor starred as Regina. "I said get good actors but not that good!" cracked Taylor when learning Stapleton had been cast as Birdie. New York State Governor Hugh Carey was in the audience at that performance with his new and flashy wife Evangeline Gouletas, and they caused quite a commotion.
She recounted how on the night of 1968's Tony Awards, Dewhurst's then husband and Stapleton's Plaza Suite co-star George C. Scott rented a limousine to take them to the ceremony. There was trepidation as they were each competing for Best Actress in a Play. Stapleton for Plaza Suite and Dewhurst for a revival of Eugene O'Neill's More Stately Mansions. However, Zoe Caldwell received the award for her performance in The Prime of Miss Jean Brodie.
"That Australian cunt won!" bellowed Stapleton to gales of uproarious laughter as Caldwell was in attendance. Outside afterward I saw her smoking a cigarette and chatting with Helen Hayes.
Links:
http://www.facebook.com/maureenstapletontribute
http://www.amazon.com/Hell-Life-Maureen-Stapleton/dp/0684810921/ref=sr_1_1?s=books&ie=UTF8&qid=1517978776&sr=1-1&keywords=maureen+stapleton&dpID=51IDY65CjlL&preST=_SY291_BO1,204,203,200_QL40_&dpSrc=srch