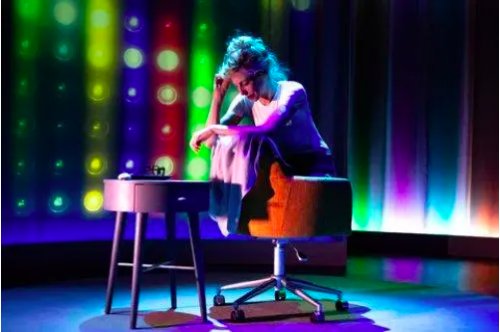 By: Darryl Reilly
"Everything is copy" was Nora Ephron's maxim about the potential of all of one's life experiences to be fashioned into narrative material if one has the cachet to be paid attention to. Actress Maddie Corman sure has a lot of copy as well the affluence and connections to get it out there in Accidentally Brave, her 90 minute self-written solo show. It's profanity-laden therapeutic storytelling with high production values succeeding as inspirational entertainment for those with an affinity for her upscale sensibility.
Though Ms. Corman's plight is undeniably harrowing, there's little acknowledgement that's it's been overcome by privileged circumstances. Fellow members of her strata should find this self-aggrandizing saga to be uplifting and those not could be indifferent. We're in the world of yoga, meditation, therapy, wealth and nepotism. An imaginary angel provides solace.
Now in her late 40's, Corman's solid career began as a child performer. She married Jace Alexander in 1998 and they have three children. Their wedding was prominently featured in the New York Times and a lavish pictorial article is projected on a screen as is video clips of that glorious occasion. A former actor in his youth with choice stage and screen credits, Mr. Alexander later became a director of episodic television, most notably on Law and Order. His late stepfather, the lauded theater director Edwin Sherin, was an executive producer for that show. Alexander's mother is the distinguished actress and former chair of the National Endowment for the Arts, Jane Alexander. She is not mentioned or referred to in this play. This is typical of the noxious evasiveness and lack of transparency on display. Wikipedia is necessary to fill in the many missing pieces.
On July 29, 2015, Alexander was arrested at the couple's Westchester home for the downloading and file sharing of child pornography. In 2016 he pled guilty and received 10 years' probation and was forced to register as a sex offender. The piece's tone veers from the solemnity of Ibsen to the wisecracks of Comden and Green.
Corman melodramatically reenacts the frenzied phone call from one of her children describing the police barging into the house while she's in a car on the way to film a television show. There's cloying flashbacks to her courtship with Alexander. Her mother's death at the age of 47 is poignantly recounted. Reality is calculatingly synthesized to give the semblance of profundity.
"Above all, be the heroine of your life, not the victim" is another hallowed quote of Nora Ephron that Corman takes to heart. "This is my story. It's not his story" she states at the beginning, offering patrons the opportunity to leave the theater if they find this admission of bias to be problematic. It's a coy device with which she gives herself license to selectively include which facts to impart while oddly not giving much description about herself or her career. Details of the case against Alexander are scant and the notion that he was molested as a child is inconclusively tossed out. She was unaware of his unsavory activities, but she grew concerned about his increasing moodiness and lack of sexual interest in her.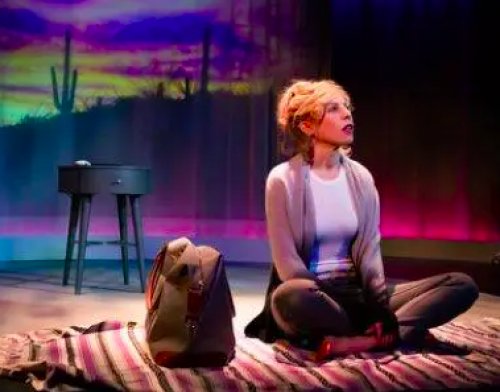 A friend flies her and the kids to Disneyworld following the traumatic incident for rest and relaxation. Alexander goes to an expensive rehab facility in Arizona. Corman goes to Italy to join her daughter who has been there on a college year abroad. There are gigs on shows such as HBO's The Divorce where Sarah Jessica Parker is wonderful. After the couple sells the Westchester house, another friend finds them a great place to move to in Harlem. They do not divorce and continue to live together.
Corman is personable, engaging and mildly comical but Accidentally Brave comes across as a self-conscious vehicle to showcase her presumed tremendous talents. A recreation of her howling reaction to the revelations is painfully awkward, and there's a lot of overdone character voices and mugging. For some, her grandiose histrionics will culminate in a heartfelt standing ovation. Others, may find her pampered socialite persona vapid and her aim of wanting to help others disingenuous.
It is possible that in a stark presentation with forthcoming confessional narration, Accidentally Brave might have had a sincerer impact. That obviously was not the goal here with this expansive production. Director Kristin Hanggi's energetic staging crackles with the assistance of a battery of high tech elements yielding plentiful visual flourishes. It elevates the material on a surface levell.
Scenic designer Jo Winiarski comes up with a neat semi-circular modern playing area framed by billowing gray curtains with a very utilized orange wheelie chair center stage and minimal furnishings on either side. Jamie Roderick's lighting design and Bart Fasbender's sound design are both crisp and decidedly obtrusive. Completing this overblown environment is projection designer Elaine J. McCarthy's ever-present adept though extraneous imagery of realistic and abstract accompaniments.
Accidentally Brave strives to tug at our heartstrings while tickling our funny bone and succeeds at neither due to its off-putting self-indulgence.
Accidentally Brave (through July 14, 2019)
DR2 Theatre, 103 East 15th Street, in Manhattan
For tickets, call 800-982-2787 or visit http://www.accidentallybrave.com
Running time: 90 minutes with no intermission