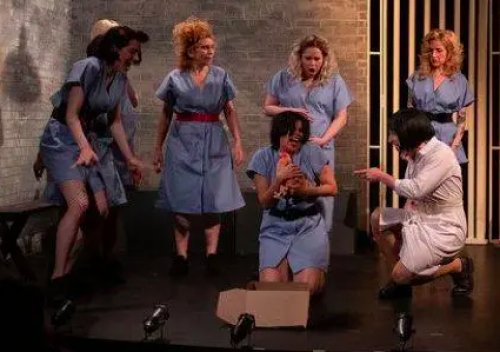 By: Darryl Reilly
Referencing the 1950 women's prison drama Caged and synthesizing all of the conventions of that cinematic genre, the late playwright Tom Eyen crafted the 1975 camp classic Women Behind Bars. It's been hilariously revived at the historic 13th Street Repertory Theatre in a punchy production lovingly directed by Joe John Battista.
It's New Year's Eve 1952 and we are at the Manhattan Women's House of Detention, ruled by a sadistic matron. Divine had a great success with this role in a celebrated 1976 Off-Off-Broadway revival. Assisting in the brutality is her toady Louise. Into the multiracial and intergenerational cross section of criminals arrives the young, innocent and fresh-faced Ada who was framed by her husband for a gas station robbery. Among the incarcerated is the elderly Bible-toting and pipe-smoking Granny who is serving life for poisoning nine husbands. The others are mostly there for prostitution and drug dealing. The next seven years pass eventfully with prevalent lesbianism.
Extravagantly playing up these stock characters' exaggerated traits, the cast is exuberantly in overdrive, yet Mr. Battista steers them to a sense of reality. Though appropriately broad, each characterization has truthful depth.
With her wild hair, fierce eyes, animation and gruff voice, Amy Stiller gets laughs while being powerfully forceful as the knife-wielding badass Gloria. As Ada, Meridith Nicholaev winningly manages to be simultaneously heartbreaking and silly. Mary Tierney's cackling Granny is a nightmarish iteration of Jane Darwell à la Ma Joad from The Grapes of Wrath. Conveying mania with her weird vocal tones and serpentine movements is cheery Erika Degraff's JoJo.
Jena Mroz as Blanche (as in Dubois) creates an entrancing semblance of that immortal heroine as an unbalanced actress. Having the physical presence of a Broadway dancer and using a breathy voice, Janel Koloski's spacey Cheri could be from Chicago. Kerielle Sollecito is wickedly feisty as Mary Eleanor. The Mexican spitfire Guadalupe is wonderfully played to the stereotypical hilt by Marlene Villafane whose teeth chattering is quite effective.
Decked out in institutional drag, glaringly made up and wearing a black wig, Andy Crosten is hysterical as Louise. Mr. Crosten's detailed brassiness channels the essence of Charles Ludlum's Theatre of the Ridiculous. In each of his multiple roles, Daniel Yaiullo is supremely chameleon-like. Ada's abusive Long Island weaselly husband, a supercilious psychiatrist and a taciturn guard are all vividly brought to life by Mr. Yaiullo's marvelous intensity and comic timing.
Towering over the production is fearless Kelli Lyn Harrison's stupendous performance as the Matron. Ordering inmates to solitary confinement, threatening the electric chair or calling for the hose, Ms. Harrison is chilling with her quasi-Baltimore accent and manifest viciousness. Harrison's pharmaceutical seduction of Ada is particularly creepy. Her imagined suggestively smutty reverie about an impending date with a man in his car at a Long Island drive-in becomes a grotesque aria inciting its captive listeners to orgasmic crescendos.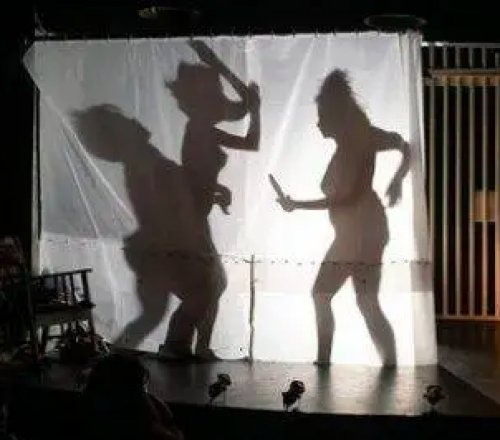 Battista's virtuosic staging is a kaleidoscopic unison of superior stagecraft, ferocious performances and a command of the visual with robust stage pictures. These include a shadow play shower sequence performed behind a curtain with a knife fight. A beloved chicken, giving birth and a lobotomy make for outrageous sight gags. Cast members occasionally exit and enter from the theater's center aisle onto the stage. Battista faithfully renders Mr. Eyen's antic vision with energetic thoughtfulness.
Integral to the presentation's success is Allison Hohman's stunning lighting design. From old-fashioned footlights and a few ceiling lights, Ms. Hohman's strategic shadowy effects frame the performers and their surroundings in ways which amazingly replicate the smoky texture of long ago movies. Most impressive are the clipped transitions between the prison and the Matron's room. Then there are the screaming red hues that score violent passages such as a stylized sexual violation with a broom. Ms. Hohman's sound design is equally as adept with crisply tuneful accompaniments.
Kerielle Sollecito's bleak production design is an arresting recreation of a prison common room that's a model of drabness dominated by a cell door's bars. Adjacent in view is the Matron's creepy lair and the actions fluidly pass between the two locations. Denim prison tunics and ominous white uniforms are the main elements of Everett Clark's wittily grim costume design. Later on for a New Year's party, Mr. Clark has whipped up ornately edgy ensembles that recall The Women's fashion show.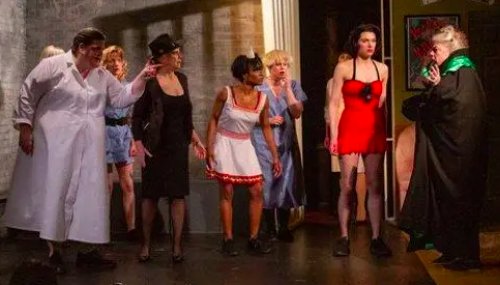 A distinguished and prolific avant-garde author, Eyen's most commercial achievement was his Tony Award-winning book for the 1981 musical Dreamgirls for which he also wrote the lyrics. He died in 1991 from AIDS at the age of 50. Women Behind Bars premiered Off-Broadway in 1975 and ran for 54 performances. A year later, the Divine production played for 311 performances.
This jubilant incarnation is pleasurable on many levels, demonstrating that its fondly recalled cult reputation is justified.
Women Behind Bars (through April 7, 2019)
13th Street Repertory Theatre, 50 West 13th Street, in Manhattan
Running time: two hours including one intermission