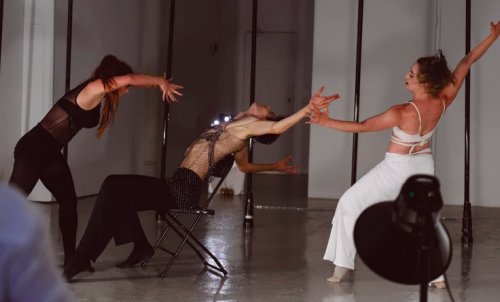 By: Darryl Reilly
"Toxic" gets a lot of mileage during Freedom ≠ Britney, an exhilarating dance piece inspired by the ongoing Britney Spears conservatorship case. Presented by the Brooklyn-based Ziel Dance Theater, it was performed and recorded in September at Manhattan's Caelum Gallery and is now on YouTube.
"Work Bitch," "Oops! I Did It Again" and "Gimme More" are also among the choice hits included in the show's delirious soundtrack, interspersed with audio statements by Spears. The piece is performed in the gallery's contained white space. Black poles and a black chair are utilized, lending a Bob Fosse vibe. The earthiness, cynicism and sensual dazzlement of Sweet Charity, Cabaret, Chicago and All That Jazz are recalled. At one point, a cascade of paper money falls from the ceiling showering down on the dancers to their orgiastic delight.
Often front and center, is the tall and dynamic Tomislav Nevistic. He's clad in black trousers, his shirtless rippled torso is encased in a harness, over which is a mesh top that shimmers and sways. Mr. Nevistic's leonine presence is fully showcased through his ferocious dancing. Whether leaping, gyrating, moving with his partners or handling an umbrella, he's a marvel.
Equally as formidable are the performances of Devin Ziel and Lauriane Nabet. Ms. Ziel is skimpily dressed in white and Ms. Nabet comparably in black. While at times chained together, the trio have a palpable chemistry as they interact for 22 minutes, with Ziel and Nabet each having solo turns of glory.
"Britney is seen as a consumed object, an archetype of The Mary and her fall from The Virgin to The Magdalene, and so her image and narrative have been energized by and reflective of American respect for women." So, states the Ziel Dance Theater about Freedom ≠Britney. Nevistic's accomplished and varied choreography simultaneously succeeds at visual and thematic concerns. The thrills of the piece are matched with sensitively depicting Spears' exploitation resulting in substantive entertainment.
Born in 1981, the Grammy-winning Britney Spears had by the late 1990's become a major pop star. In 2008, after Spears' tabloid-chronicled erratic behavior her father was appointed conservator of her financial affairs. Beginning in 2019, Spears has sought to overturn this conservatorship. That has become a continuing cause célèbre through intense media focus, celebrities weighing in, the creation of the popular fan movement, #FreeBritney and several documentaries on her.
Billed as "an experiential essay" for many, Freedom ≠ Britney will be more fantasia than narrative. It's possible that a Britney Spears authority could parse and correlate the piece's sequences to specific events and incidents in her life. The rest of us hear the songs, have knowledge of the imbroglio, respond to the premise and experience the ensemble's kinetic dancing.
Founded in 2020, the Ziel Dance Theater has distinguished itself with several arresting works that have been performed in New York City. It's mission "is to bring its modern live performance, dance films, and innovative repertoire to this important moment in the feminist movement." Freedom ≠Britney achieves this aim.
Link: https://www.youtube.com/watch?v=ftUH8sjRy30&t=18s
Freedom ≠ Britney
Ziel Dance Theater
For more information, visit www.zieldancetheater.com
Running time: 22 minutes