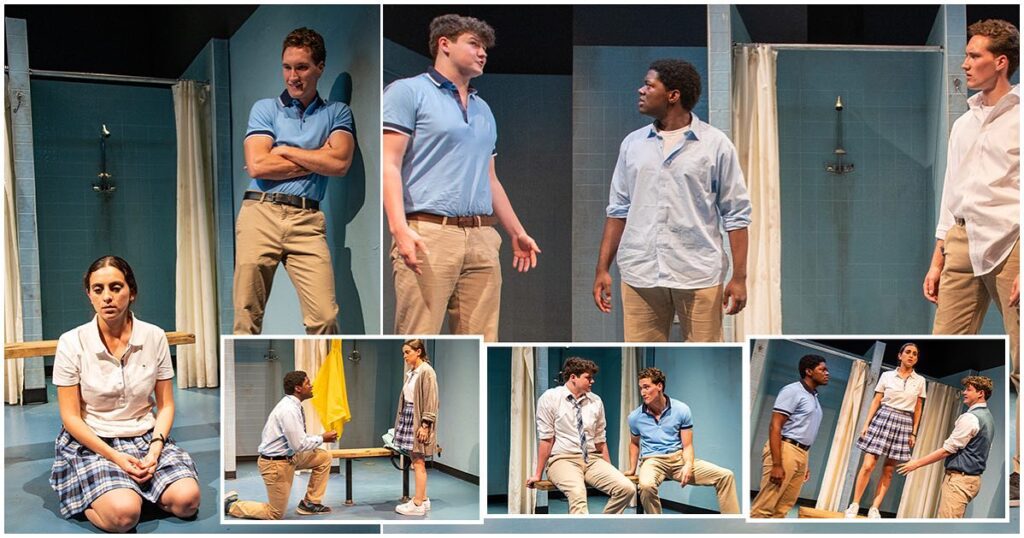 By: Darryl Reilly
A 15-year-old high school girl wearing a white blouse and a plaid skirt masturbating two eager male khaki-clad classmates in a boys' locker room's adjoining shower stalls is an uproarious highlight of playwright Oren Safdie's wild dark comedy, Gratitude. Oh, the actors all have their backs to the audience and the skirt later becomes a Monica Lewinsky-like totem.
Another frothy sequence is two straight male classmates suddenly getting it into their heads to perform oral sex on each other. In this current climate where the arts are burdened by lecturing, solemnity and culturally correct messaging, there's collective audience hysterics at experiencing such old-time unabashed suggestive raunchiness à la Porky's, American Pie and the Farrelly Brothers. There's seriousness too.
Mr. Safdie channels the Oleanna-mode essence of David Mamet, Neil LaBute's twisted psychological gamesmanship and Jules Feiffer's Carnal Knowledge-style ribaldry, all into his own distinctively refreshing and well-plotted work which builds to a shattering conclusion.
Are you…hard right now?
Absolutely.
Then have some fun.
Okay.
And if you really want to go to second base, you can do it over my underwear.
You mean—
Just rub me. My clitoris. It's—
I know.
Here, give me your hand…You sure you know where it is?
Yes.
Because it's a little different for every girl.
Yeah, I know.
In the boy's locker room of a present-day Montreal private school, we meet quirky 15-year-old Najaf who's from a Muslim family. She is smitten with Drew, a dreamy and dim 16-year-old jock and helps him cheat on exams. Initially, he spurns her sexual advances as he has a girlfriend whom he's faithful to. He also instigates Les Liaisons Dangereuses-style assignations between Najaf and his friends, Josh and Ben. Ominousness arises when Najaf's unseen 20-year-old Muslim boyfriend to whom she is arranged to be married, learns of the situation. Safdie enacts these events through high-caliber dramatic writing, humor and suspense.
The animated Aline Salloum fearlessly embraces all of Najaf's unsettling complexities, delivering a riveting performance. In the early sexually frank verbal exchanges, Ms. Salloum marvelously recalls Elaine May's matter of fact comedic brilliance. With his captivating boy next door presence, Erik Larsson as Drew offers a smashing characterization combining naiveté and Machiavellianism. As Josh and Ben, the equally commanding and personable Jalen Ford and Jake Bryan Guthrie wonderfully evoke boyish randiness and adolescent confusion. Though clearly not teens, this youthful quartet are totally and effortlessly believable in their roles.

Director Maria Mileaf's vigorous staging fully realizes Safdie's vision through her vivid cast's chemistry, kinetic movement and mesmerizing clothed eroticism. Fight consultant Thomas Schall further embellishes the physical staging with ferocious clashes among the characters. Neil Patel's authentic locker room scenic design with its showers and overhead fluorescent lighting panels, achieves a haunting immersive environment. Lighting designer Greg MacPherson's eerie hues appropriately and aesthetically match the incidents. From the schoolgirl uniform to the boy's khakis and polo shirts, costume designer Laurie Churba clothes the cast with accuracy.
This New York City premiere production of Gratitude originated at Montreal's MainLine Theatre and is presented by Urban Stages. Outrageous, poignant and electric, Gratitude is a theatrical powerhouse.
Gratitude (through June 30, 2022)
MainLine Theatre
Urban Stages, 359 West 30 Street, in Manhattan
For tickets, visit http://www.UrbanStages.org
Running time: 75 minutes without an intermission