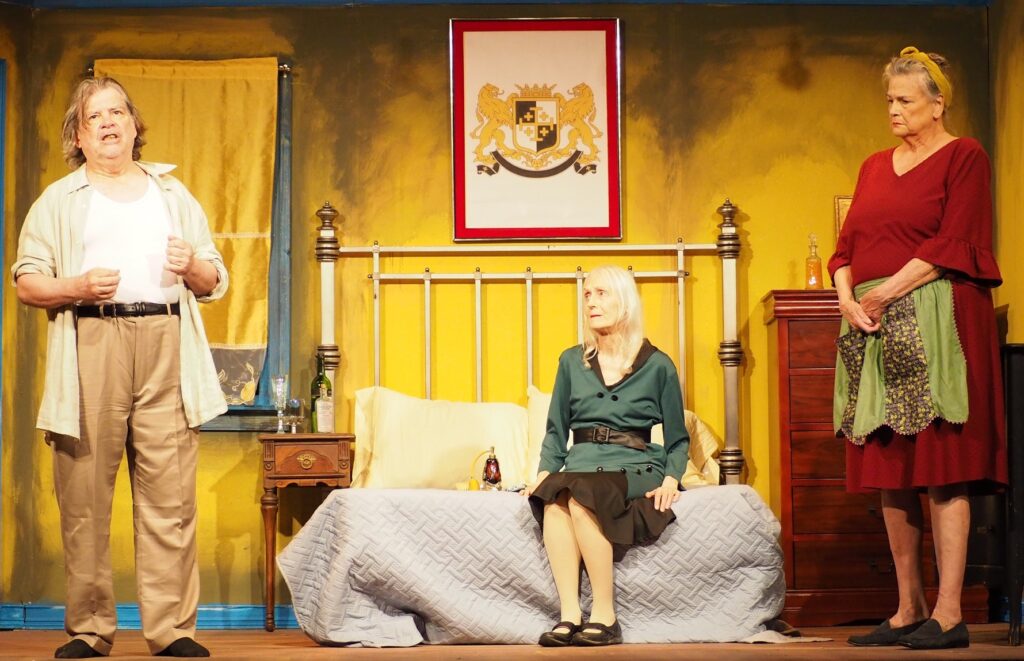 By: Darryl Reilly
Tennessee Williams' full-length play's titles, characters and dialogue have been part of the consciousness since The Glass Menagerie's 1944 premiere. During his peak years of the 1940's and 1950's, he also wrote many one-acts, exploring his familiar concerns, chiefly the naïve preyed upon by the worldly. Five By Tenn is an enchanting program drawn from these, which are uniformly satisfying. This modest Off-Off-Broadway production is presented by the Out of the Box Theatre Company, whose members are artists mostly over the age of 50. The show serves as an introduction to rarely performed obscure Williams works, all of which take place in drab bedrooms, and as a showcase for the talented mature cast.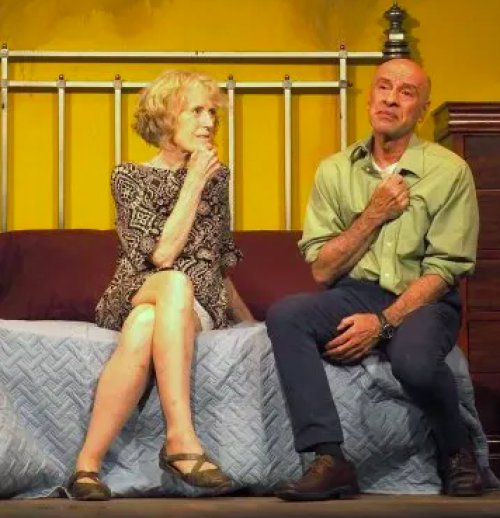 "The Strangest Kind of Romance": The Little Man, a gentle Italian immigrant (tenderly performed by empathetic Franco Pistritto) rents a Midwestern room from The Landlady (delightfully chattery and wily Beth Griffith). She's a lascivious and opportunistic figure with an incapacitated husband, who has a penchant for male boarders. The Little Man is concerned with his factory job and his cat, Nitchevo, which means nothing. The Old Man (charismatically garrulous Joseph Rose) is the inebriated Landlady's father who bonds with The Little Man. The Boxer (charming athletic Clinton Faulkner) pops up as a prospective boarder. Humanity, cruelty and optimism course throughout this and all the plays.
"Hello From Bertha": In an East St. Louis brothel, the title prostitute character (towering Gloria Sauvé) lays dying in bed, ruefully accepting her fate. She is attended to by tough madam Goldie (winningly steely Susan Case) and the friendly servant Lena (radiantly sympathetic Valarie Tekosky).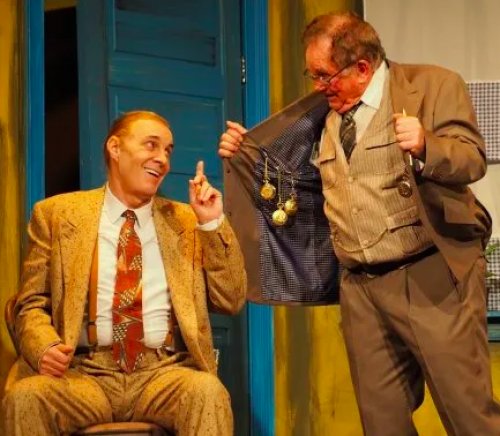 "The Last of My Solid Gold Watches": Joseph Rose commands the stage again as Mr. Charlie Colton, a 78-year-old traveling shoe salesman who arrives for his regular stop at a Mississippi Delta town hotel. The Negro Porter (appealingly warm Frank Bowman) greets Colton as usual and finds him a guest with whom to play poker. He's the comic book-reading Harper (wickedly jocular Kelly Gilmore) who becomes an audience for Colton's operatic ruminations on mortality and the changing United States
"Talk to Me Like the Rain and Let Me Listen" is a dreamy duologue set in a seedy Manhattan furnished room between The Man and The Woman, she's dying and he's a drunk. Janet Girardeau and Jeff Burchfield are entrancing as the cryptic couple in this experimental work.
"The Lady of Larkspur Lotion": In a roach-infested New Orleans furnished room, down on her luck, promiscuous Mrs. Hardwicke-Moore (hilariously haughty Marilyn Duryea) attempts to connive her way out of back rent by citing soon to arrive checks from her Brazilian rubber plantation. Hard-edged landlady Mrs. Wire (titanically comic Sheila Dehner who visually channels a W.C. Fields movie battle-axe) won't have it and is ready to throw her out. The Writer (devilishly loopy Mark Solari), a drunk, futilely laboring over a 780-page novel, enters to provide solace. Larkspur Lotion was a common treatment for body crabs and lice.

Through steering his cast's ingratiating performances and attentive physical staging, director Ward Nixon mines each play's pathos and humor. Scenic designer Harlan D. Penn's contained vintage bedroom setting serves each piece well, with slight embellishments indicating a different locale. Stephen D. Cornelius' subdued lighting design artfully matches the varying tones and situations. Costume designer Katherine Roberson's wizardry visualizes the multitude of characters with vintage style. Composer Nick Wilson's lively original score is matched with clips of songs and melodies of the era, all realized by his crisp sound design in concert with technical director Tuquan Smith
Tennessee Williams and Out of the Box Theatre Company's reputations are burnished by Five By Tenn, small in scope, it's grand in theatrical achievement.
Five By Tenn: An Evening of Short Plays by Tennessee Williams (through June 19, 2022)
Out of the Box Theatre Company
Bernie Wohl Center, 647 Columbus Avenue, between 91st and 92nd Streets, in Manhattan
For tickets, call 917-992-5150 or www.outoftheboxtheatre.com
Running time: two hours and 10 minutes including one intermission