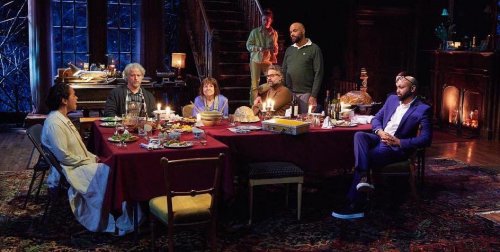 By: Darryl Reilly
Ira Levin's sense of eerie foreboding initially looms over playwright Brian Watkins' entrancing drama, Epiphany. As a reunion dinner party comically unfolds, we anxiously await supernatural surprises and a metaphysical denouement. Instead, as indicated in Mr. Watkins' script we get a beguiling existential exploration referencing themes, characters, and the snowy atmosphere of James Joyce's 1914 contemplative long short story, The Dead. From Watkins' stage directions:
A very old house, on the banks of a large river, just north of a big city. The parlor floor is in full view. Tall ceilings. Double doors to an unseen room. A piano. A fireplace. Some old, worn furniture. Scuffed wood floors. A big, long wooden dining table with chairs. Large vertical windows look out into a bleak winter night, where white snow falls throughout.
Aged, widowed and childless Morkan, has invited far away friends for an Epiphany dinner of roast goose, libations and social activities. The gathering is not religious, it's intended to be a spiritual bonding with singing, reciting poetry and dancing. That's all humorously undermined by the guests not having received or forgotten about an email attachment that came with the invitation detailing the agenda.
The invitees are a professional cross-section including a showy concert pianist, her wheeler dealer husband, a self-important gay psychiatrist, his outgoing tech executive partner, an imbibing algebra teacher, a reflective retiree and a local vegan female teetotaling helper. Most anticipated is the Beckettian arrival of Morkan's nephew, the distinguished writer Gabriel, whose alluring girlfriend actually shows up. Over the course of two hours which are much longer in the world of the play, there's expositional interplay, an accidental injury, shattering revelations and death is lurking.
Watkins smoothly imparts just enough biographical data for each of his nine fascinating characters, renders his cerebral premise with vivid incidents and connects it all with flavorfully precise dialogue. Epiphany is high-caliber dramatic writing, offering delightful roles.
Obie Award-winning venerable journeyman performer Marylouise Burke played Paul Giamatti's mother in the 2004 film, Sideways. In Epiphany, Ms. Burke dazzles in the leading part of Morkan. With her distinctive quavering voice, spry physicality and serene presence, Burke truly commands the stage. New York theater veteran Jonathan Hadary as Morkan's loquacious elderly local friend is outstanding delivering several Joycean ruminative reveries. The rest of the company of Francois Battiste, Heather Burns, Omar Metwally, Colby Minifie, David Ryan Smith, C.J. Wilson, and Carmen Zilles, all offer exuberant characterizations.
Director Tyne Rafaeli combines the calibrated performances with choreographed actions and polished stagecraft, all into a highly satisfying mood piece, fulfilling Watkins' vision. A gothic center staircase out of The Munsters television show is a central element of John Lee Beatty's grandly perfect snow-centric scenic design. Lighting designer Isabella Byrd supplies plenty of visual variety evoking the play's tones and off-kilter dimension. Daniel Kluger's original music and sound design fully conveys ominousness and crypticness thru piercing melodies and crashing effects. Costume designer Montana Levi Blanco represents the nine diverse characters with individualized flair and authenticity.
This Lincoln Center Theater premiere production of Epiphany is an enriching addition to the narrative genre of "What's It All About?"
Epiphany (through July 24, 2022)
Lincoln Center Theater
Mitzi E. Newhouse Theater, 150 West 65 Street, in Manhattan
For tickets, call 800-447-7400 or visit www.lct.org
Running time: two hours without an intermission