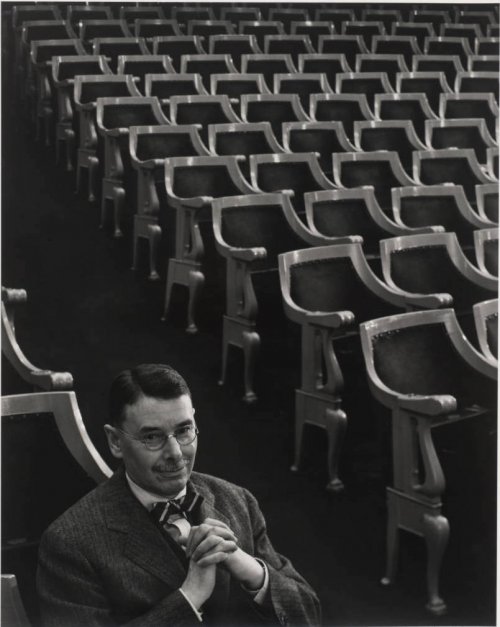 By: Darryl Reilly
There cannot have been another critic as trusted as Brooks Atkinson was by so large a proportion of the theatergoing public. He is the only one who can be said to have presided over Broadway. For most people, it was probably less his analytical insights that mattered than his common sense and the air of total candor that his reviews carried with them. He followed no bandwagon, viewed each production pragmatically for what it tried to accomplish rather than what he would have preferred it to attempt, and was not at all afraid to be moved. Above all, he made the reader see what he had seen and thus left some room for dissent. His presence lent the theater a dignity and importance it did not usually merit, but his influence served to raise the sights of everyone it touched. Arthur Miller
Massachusetts-born, Harvard-graduate Brooks Atkinson (1894-1984) was the New York Times' chief drama critic from 1925 to 1960. There, he was an early admirer of Eugene O'Neill, praised Orson Welles' 1930's stage productions and supported New Deal arts programs. During W.W. II, Atkinson was a New York Times war correspondent in China, he was later stationed in Moscow, and was awarded the 1947 Pulitzer Prize for Correspondence for his Soviet Union reporting. He then returned to New York City, and resumed his theater criticism.
"Atkinson was the conscience of the theater. He rediscovered Off-Broadway in the 50's when other critics did not want to bother going off the beaten path. His standards were tough, but his criticism was tempered by compassion," stated the late Eugene O'Neill biographer and New York Times colleague Arthur Gelb. Indeed, Atkinson's championing of Off-Broadway is a major aspect of his legacy, as evidenced by the opening paragraphs of his monumental reviews of two 1952 and 1956 revivals:
Nothing has happened for quite a long time as admirable as the new production at the Circle in the Square in Sheridan Square to be precise. Tennessee Williams' "Summer and Smoke" opened there last evening in a sensitive, highly personal performance. When "Summer and Smoke" was put on at the Music Box in 1948 it looked a little detached and perhaps because the production was too intricate or because the theatre was too large.
Since José Quintero's productions at Circle in the Square are always admirable, no one should be surprised by his latest achievement. But it is impossible not to be excited by his production of Eugene O'Neill's "The Iceman Cometh" which opened in Mr. Quintero's theatre yesterday. It is a major production of a major a theatre work. Taking a long script with a massive theme, Mr. Quintero has succeeded in bringing every part of it alive in the theatre. Although he tells the story simply and spontaneously, he leaves no doubt about the value he places on O'Neill's place in the literature of the stage. Mr. Quintero seems to take him on the level of Ibsen, Strindberg, Gorki and other modern masters of tragic writing.
These reviews' impact enabled the careers of José Quintero, Geraldine Page and Jason Robards . Most crucially, O'Neill's widow, Carlotta Monterey was then persuaded to lift O'Neill's 25 years after his 1953 death's production ban on Long Day's Journey into Night. Quintero directed it later that year on Broadway to great acclaim, O'Neill's faded reptutation was restored, and he was posthumously awarded his fourth Pulitzer Prize for Drama.
Atkinson appreciated the new during his time:
Don't expect this column to explain Samuel Beckett's "Waiting for Godot," which was acted at the John Golden last evening. It is a mystery wrapped in an enigma. But you can expect witness to the strange power this drama has to convey the impression of some melancholy truths about the hopeless existence of the human race. Mr. Beckett is an Irish writer who has lived in Paris for years, and once served as secretary to James Joyce.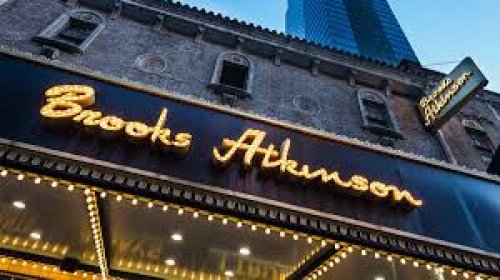 Richard Mansfield (1857-1907) was born in Germany, raised in England and became a popular United States classical actor. Named in his honor, Broadway's Mansfield Theatre opened in 1926. In 1949, it became a CBS television theatre for the next decade. It's new owner and manager Michael Myerberg renovated and renamed it, the Brooks Atkinson Theatre on September 12, 1960, reportedly the first time in the world that a theatre was named after a critic.
Atkinson had stepped down as the New York Times' chief drama critic the previous spring. He would continue to contribute regular opinion columns there until 1965, when he fully retired at the age of 70. Broadway (1970) and The Lively Years 1920-1973. A Half-Century of the Most Significant Plays on Broadway (1973) were two notable works of critical reminiscences he published before his death at the age of 89, in 1984.
For close to 62 years, the Brooks Atkinson Theatre has stood on West 47th Street, so it did 34 years previously as the Mansfield. On June 9, 2022, its current owner, the Nederlander Organization announced that this fall it will be renamed in honor of the distinguished performer Lena Horne (1917-2010), the first such designation for a Black woman. News coverage of this milestone uniformly, dutifully and curtly cited Atkinson as a long-time New York Times critic and did not include a picture of him. Hence, this tribute.
After the Second Stage Theater company bought Broadway's Helen Hayes Theatre in 2015, they set about selling naming rights to it. Named for the "First Lady of American Theatre," it has since been known as "The Hayes," and her cement shoe prints which were placed in the sidewalk in front of it in 1982, have been removed. The grandeur of Broadway's Golden Age is still evoked by theatres named for Ethel Barrymore, Alfred Lunt and Lynn Fontanne, George and Ira Gershwin, Richard Rodgers, Al Hirschfeld, Stephen Sondheim and Walter Kerr, for now.
Note: Quotations of Arthur Miller and Arthur Gelb are from Brooks Atkinson's New York Times obituary. Atkinson's review quotations are from the New York Times.