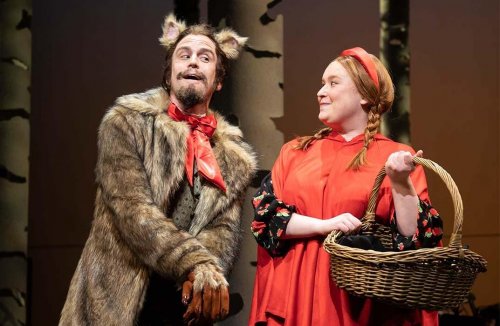 By: Darryl Reilly
Audience euphoria expressed by frequent hollering, laughter and ovations, welcomely add to the running time of this smashing revival of the 1987 musical, Into the Woods. It is a communal joy experiencing Stephen Sondheim's ravishing score and the comedy and pathos of James Lapine's ingenious book. The giddily repeated title song, The Witch's "Lament," "Your Fault," "No One is Alone" and all the other marvelous numbers are given vivid renditions. The familiar plots and characters from "Little Red Riding Hood," "Jack and the Beanstalk," "Rapunzel," and "Cinderella," are among the Grimm's Fairy Tales cleverly mashed up into an absorbing narrative.
With some cast changes, this Broadway production is a transfer of the acclaimed May 2022, New York City Center Encores! incarnation. Visionary director Lear deBessonet's vigorous, spatially smart and picturesque staging has the orchestra onstage and in view with music director Rob Berman conducting. There's a surfeit of wit and cool stylized moves to Lorin Latarro's choreography. Puppet designer James Ortiz's striking visibly operated creations include the perfect Milky White cow, vicious pigeons and wire representations of the giant's wife's huge lethal boots.
Floating miniature dwellings, tree trunks and a beanstalk are components of David Rockwell's fabulously simple scenic design. From The Wolf's snazzy fur coat to Little Red Riding Hood's crimson cape, to Prince Charming's bright yellow waistcoat and assorted peasant and regal wear, costume designer Andrea Hood's outfits are sensational. Tyler Micoleau's vibrant lighting design complements the show's moods and actions. Songs, dialogue and effects are adeptly rendered by sound designers Scott Lehrer and Alex Neumann. This wondrous stagecraft is all in service to the dynamic ensemble.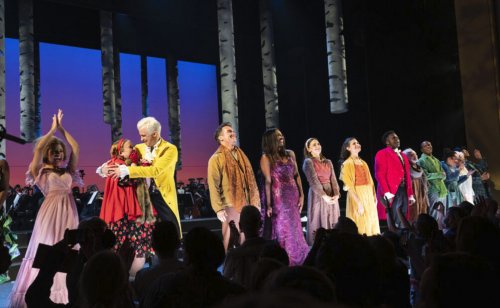 Radiant Sara Bareilles is delightfully tart while complex as The Baker's Wife. Charismatic Patina Miller's Witch evolves from ferocious to tender. After his slyly malevolent turn as The Wolf, animated Gavin Creel brings hilarious mock heroics to his Prince Charming. Sparkling Phillipa Soo is a touching Cinderella.
Aymee Garcia is formidably comic and maternal as Jack's mother. Sitting mostly at a lectern when not interacting as a mysterious stranger, venerable performer David Patrick Kelly is a wickedly droll narrator. While operating Milky White, the silent and personable Kennedy Kanagawa makes a poignant impression as that cow. Stage veteran Nancy Opel revels in Cinderella's stepmother's selfishness and wields a mean knife to shorten her daughter's feet to fit into that hallowed slipper. Legendary Annie Golden brings her idiosyncratic verve to her roles as Red Riding Hood's grandmother, Cinderella's mother and the giant's wife.
Alysia Velez as Rapunzel, Joshua Henry as her Prince, Brooke Ishibashi as Florinda, Ta'Nika Gibson as Lucinda, Albert Guerzon as Cinderella's father and David Turner as the unctuous steward, all score.
At the performance under review, Brian d'Arcy James as The Baker, Julia Lester as Little Red Riding Hood and Cole Thompson were all out of the show. Their substitutes, Jason Forbach, Delphi Borich and Alex Joseph Grayson were each exceptional.
Into the Woods is even more emotionally resonant now, as the pandemic appears to be waning. In the show, giants are on the rampage leaving death and destruction, characters we've become besotted with are killed; life goes on.
Into the Woods (through August 21, 2022)
St. James Theatre, 246 West 44th Street, in Manhattan
For tickets, visit www.intothewoodsbway.com
Running time: two hours and 45 minutes including one intermission