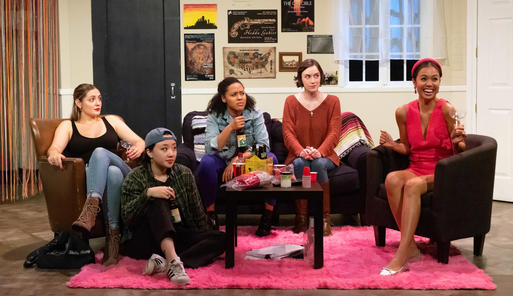 By: Darryl Reilly
I'm great
First Witch is a great part
I've got nothing to complain about
yeah
I just know you wanted
I wanted to be in the show and I'm in it
we're all in it
and it's going to be a blast
So, commiserate seasoned female college theater students who've auditioned for and lost out on the role of Lady Macbeth to a bright-eyed freshman in playwright Sophie McIntosh's hilarious, knowing and ultimately chilling dark contemporary comedy, macbitches. Ms. McIntosh is a recent University of Wisconsin-Stevens Point graduate, and here precociously demonstrates a remarkable command of dramatic writing. The pleasurable dialogue is a well-crafted amalgam of jokes that land, steady exposition and subtle character delineation. The play is as barbed as its title.

Cosmos, shots and vodka out of the bottle are consumed during a party at a campus apartment celebrating the casting of a university theater department's production of Macbeth. Its unseen egomaniacal male faculty member "conceptual" director's toxicity is a major plot point. Hedda Gabler, The Crucible, Into the Woods, sexual harassment. and intimacy directors are cited in conversation.
A coolly imparted feminist slant, shifting emotional tones and palpable suspense, elevate macbitches beyond a familiar serio-comic academic exploration. In 85-brisk minutes, McIntosh authentically dramatizes her five straight and gay characters' aspirations, rivalries and dysfunctions, while offering precise mini-portraits of them.

There is total ease and connectedness between the vivacious racially diverse quintet of Laura Clare Browne, Marie Dinolan, Morgan Lui, Natasja Naarendorp, Caroline L. Orlando. Each of these radiant performers portray the striving thespians with equal verve. They create distinctive and relatable characterizations, conveying humor and pathos. Some, also recite Shakespeare with authority.
Director Ella Jane New's physical staging is just as impressive as her achievements with her superior ensemble. Cast members are strategically positioned in various areas of the confined black box space, cleverly suggesting different campus locations. The drunken party sequence is vigorously choreographed by Ms. New, mining all possible psychological and physical dimensions, including violence. Integral, is Leana Gardella's fierce fight direction.
Scenic designer Brandon Scott Hughes' cheery college student living room is illustrious, as are costume designer Sydni Rivero's choice individualized outfits. Michael Abrams' attentive lighting design ranges from straightforward to ominous. The band Bad Mary's terrific grunge-style songs channel Blondie, The Ramones and Green Day, and are used in interludes and as the pre-show soundtrack. The score and the effects are finely realized by sound designer Greg Russ.
This polished Chain Theatre-presented world premiere production of macbitches is high caliber thoughtful entertainment and signals author Sophie McIntosh's emergence.
macbitches (through September 10, 2022)
Chain Theatre, 312 West 36th Street, in Manhattan
For tickets, visit www.chaintheatre.org
Running time: 85 minutes without an intermission