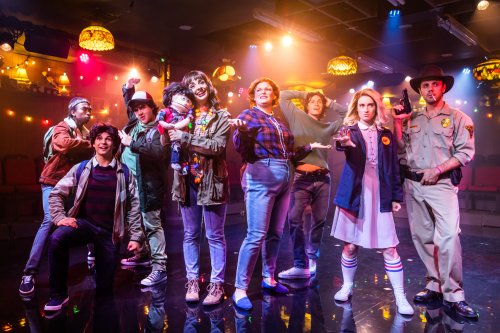 By: Darryl Reilly
Jonathan Hogue's cheeky adept book and tuneful score are the spine of Stranger Sings! The Parody Musical. It's an affectionate musical spoof of the Netflix Sci-Fi series, Stranger Things, which concluded its fourth season this year. Fans of the show will be delighted by its faithful distillation and non-viewers should be entertained by its fast-paced zaniness. That is due to director Nick Flatto's artfully vigorous staging on the four-sided playing area and Ashley Marinelli's giddy choreography.
The energetic and personable ensemble of Caroline Huerta, Garrett Poladian, SLee, Jamir Brown, Jeremiah Garcia, Jeffrey Laughrun, Harley Seger, and Shawn W. Smith, all delightfully portray the beloved 1980's Hawkins, Indiana, characters. Dashiell Gregory, Hannah Clarke Levine and Jean Christian Barry are understudies.
Mr. Hogue's skillfully contained scenario chiefly focuses on the small-town events of the show's early episodes. There's teenage angst, a missing boy (wickedly represented by puppet designer Matt Anderson's sly creation), a taciturn sheriff, caricaturist dysfunctional adults and science fiction flourishes involving Russian scientists and an ominous creature. It all mirthfully plays out over two hours plus an intermission.
Technically the production is of witty small-scale achievement. Scenic designer Walt Spangler's clever minimalist trappings include a shopping mall ice cream stand, a pivotal diving board and comically rendered other locales. Props supervisor Brendan McCann's efforts assist in numerous funny sight gags.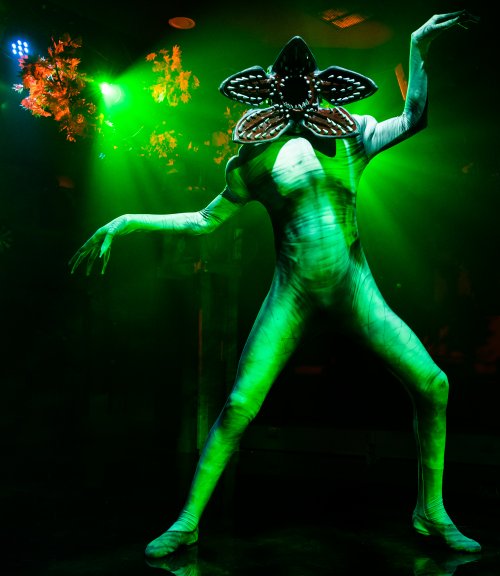 The skin-tight creepy-headed creature outfit is the standout of Matthew Solomon's smart costume and hair design. Lighting designer Jamie Roderick masterfully replicates the show's distinctive sheen and utilizes instrumental Christmas tree lights and strobes. Music and effects are crisply rendered by Germán Martínez's sound design. A chief asset of the presentation is Michael Kaish's music supervision, arrangements and orchestrations. Mr. Kaish's sterling contributions realize Hogue's accomplished music and lyrics to their fullest.
Stranger Sings! The Parody Musical is a good-natured and well-done diversion.
Stranger Sings! The Parody Musical (through January 1st, 2023)
Playhouse 46 at St. Luke's, 308 West 46th Street, in Manhattan
For tickets, visit www.strangersingsthemusical.com
Running time: two hours and 15 minutes including one intermission