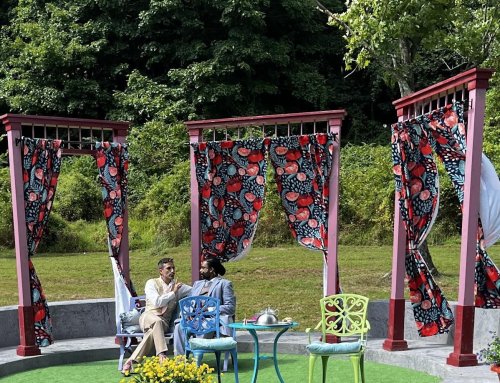 By: Darryl Reilly
Dressed in flashy 1890's-style formal wear, the cast of The Importance of Being Earnest descends one by one from the second story exterior wooden staircase of a barn, jauntily makes their way to the circular lawn playing area which has a tall willow tree over it and dances. Such novel introductory pageantry gets this splendid outdoor production of Oscar Wilde's immortal class-conscious comedy off to a rousing start.
Other features of director Leo Lion's clever bucolic presentational flourishes include Miss Prism singing period-type original songs before each of the three acts which are punctuated by a cast member blowing a whistle, an amusing piece of business with a croquet mallet and numerous gorgeous stage pictures and tableaus. Most notable is the mise-en-scène dynamic of some actors on view in the distant greenery as the play unfolds on stage. Then there are the lively performances Mr. Lion has obtained from his robust ensemble.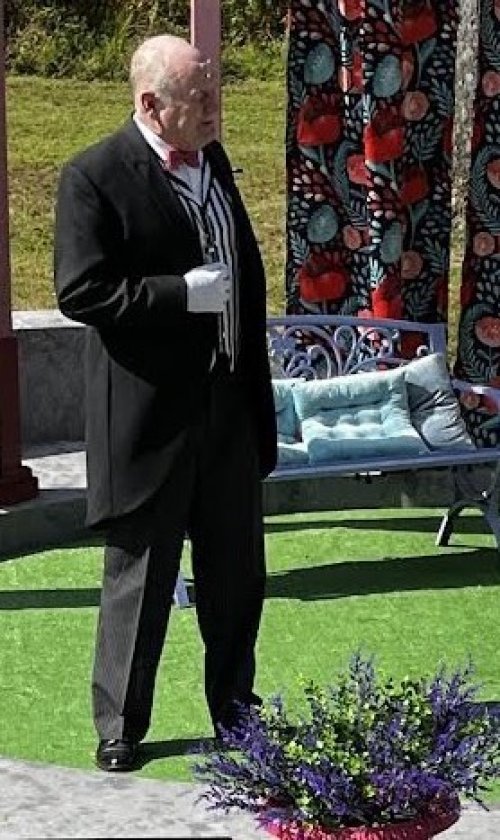 Bordering on stealing the show is the uproarious John Lenartz in the dual supporting roles of the crusty manservants, Lane and Merriman. With British music hall-style verve, Mr. Lenartz outrageously mugs, ferociously declaims and moves with balletic grace. Sashaying around on a cane while growling witticisms, the effervescent Amelia Fowler's Lady Bracknell is marvelously distinctive. Radiant Jessica Crandall's vivid performance as Miss Prism combines authority, sunniness and emotional range, especially in the giddy finale when she's reunited with her long-lost handbag. As the genial celibate Rev. Chasuble, Joris Stuyck is wonderfully sly. Mr. Stuyck shines during the verbal adults' christening routines and his parson's passion for Miss Prism is palpable.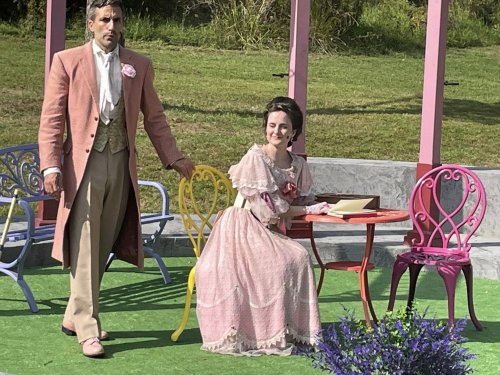 Strongly portraying the pivotal opportunistic young gentlemen are Josh Tyson and Wesli Spencer. The characterizations of the animated Mr. Tyson's Algernon Moncrieff and the soulful Mr. Spencer's John Worthing each fully realize those charming rakes. Tyson has many comedic moments and Spencer achieves striking pathos amidst the finale's mirth when all is breathlessly resolved. With her upswept hair, regal facial features and daffy hauteur, Morgan Rosse is a prime Cecily Cardew. Zoë Watkins enjoyably ranges from placid to explosive as Gwendolen Fairfax.
Three tall doorframes, eyepopping curtains and day-glow lawn furniture are the components of Chen-Wei Liao's cool scenic design which complements the rustic atmosphere. Costume designer Debbi Hobson's array of sumptuous garments mixes sober shades with pastels and includes a terrific top hat. Composer Ellen Mandel's festive original score is exhilarating, and her sound design is topnotch. The actors wear subtle headsets, their unobtrusive miking provides clear volume.
Mistaken identities, a missing baby and Victorian hypocrisy all figure in Wilde's intricate "Trivial Comedy for Serious People," that was first performed in 1895. This joyous outside incarnation has freshness for those who know it well while offering an entertaining sense of discovery for those unfamiliar.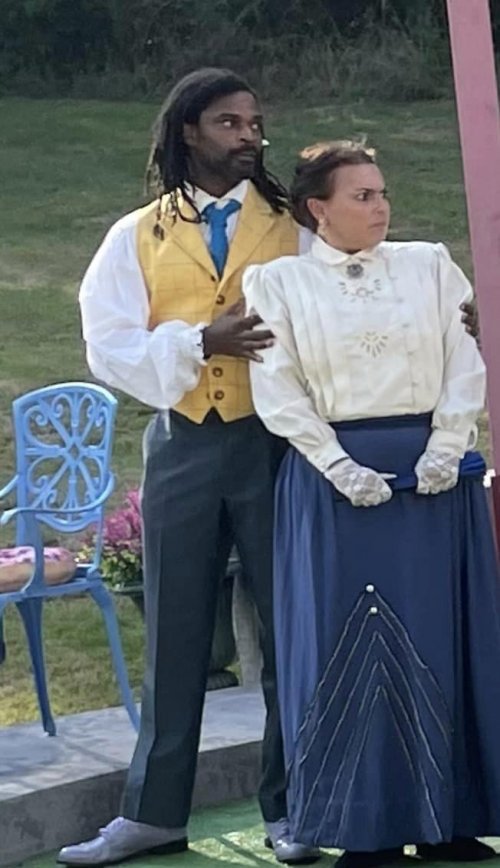 The Importance of Being Earnest is presented by the Phoenix Theatre Ensemble at the Marydell Center. Formerly based in New York City, this distinguished company, which was founded in 2004, has relocated to Nyack, New York. This buoyant production is part of their inaugural Phoenix Festival: Live Arts in Nyack. Thornton Wilder's The Skin of Our Teeth, Anton Chekhov's The Harmfulness of Tobacco, smart phone-directed self-guided walking tours and Garden at Edward Hopper House programs are among the activities taking place over four weeks.
The Importance of Being Earnest (September 17, 23, 24 & 25, 2022)
Phoenix Theatre Ensemble
Marydell Center, 640 North Midland Avenue, in Upper Nyack, New York
For tickets and information, visit www.phoenixtheatreensemble.org
Running time: two hours and 40 minutes including two intermissions