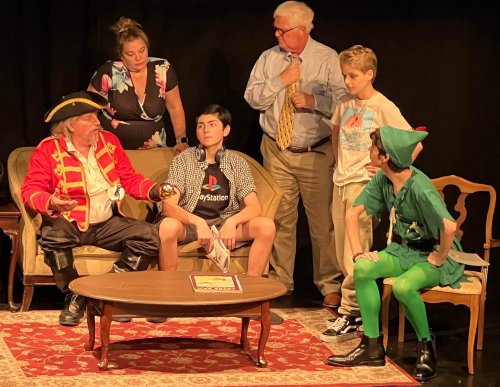 By: Darryl Reilly
"I'm a big Harry Potter fan, but Dumbledore never showed up in my bedroom!" declares Dad to his son Max in playwright Claude Solnik's zesty fantasia, Pandemonium: A Sequel to Peter Pan. The title is the name of the Monkees-style rock band Peter Pan and Captain Hook are exploited into by a dastardly lawyer. The eternal fish out of water premise here is akin to a Bewitched episode where Henry VIII or Benjamin Franklin materialize, and hilarity ensues. Thru playful dialogue with an abundance of sharp one-liners, fondly drawn characters and a clever plot, Mr. Solnik offers an upbeat entertainment for audiences of all ages.
Max uses an old pen which unbeknownst to him contains magical powers to draw a doorway in his copy of Peter Pan. Soon, Peter Pan is being pursued by Captain Hook in a contemporary suburban American home during bedtime. Tinkerbelle and Smee also make appearances. Solnik balances the sentimental with the satiric as he utilizes J.M. Barrie's iconic figures.
Clad in those familiar green tights, a green tunic and a green pointy hat with a red feather, the lithe, animated and youthful Calvin Zanetti is a perfect Peter Pan. Mr. Zanetti's expressive voice, dancing talent and sincerity all empower his wonderful characterization. Equally as commanding is Kevin Clyne's grand Captain Hook. Blustering, waving his hook-hand and reveling in English pirate-speak, the magnetic Mr. Clyne gets laughs galore. Zanetti and Clyne's rapport is a key feature of the show's success.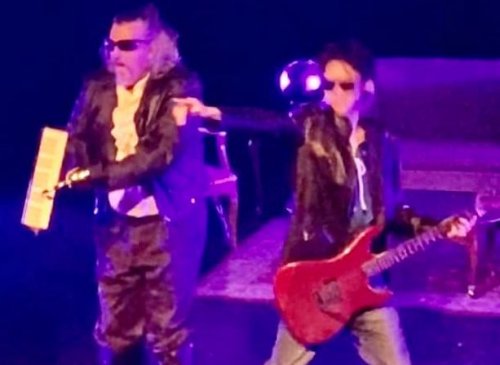 With child-star verve, Anthony Buonagurio delightfully and warmly captures Max's boyish sensibility. As his sister Claire, Chloe Keil is charming and plucky. Mom and Dad are brightly played by Kami Crary and Patrick Reilly with parental comic relief-flair. Greg Halvorsen is gleefully over the top as the villainous attorney. Perky Kassidy Collins is winning as Wendy, a young neighbor caught up in the mayhem.
Flying isn't done here with cast members on wires, but instead suggestively via smart projections and blackouts. It's characteristic of director Tony Chiofalo's artfully resourceful staging on basic production design settings. Sword fights, slapstick, Tinkerbelle's darting around and musical bits are all rendered with polish, resulting in a accomplished presentation in concert with the ensemble's affective performances. Mr. Chiofalo achieves high caliber stagecraft aided by lighting and sound designer Marsh Shugart's deft contributions. Wendy Tonken's witty costume and prop design provides visual accuracy.

This five-performance engagement of Pandemonium: A Sequel to Peter Pan is presented by Theater for the New City as part of its "The Dream Up Festival." May it go straight on till morning elsewhere.
Pandemonium: A Sequel to Peter Pan (through September 3, 2022)
The Dream Up Festival
Theater for the New City, 155 1st Avenue, in Manhattan
For tickets, visit www.theaterforthenewcity.net
Running time: one hour and 45 minutes including one intermission