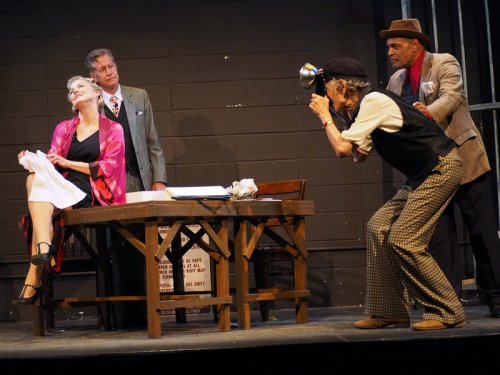 By: Darryl Reilly
Roxie, Velma and Billy Flynn don't sing and dance in Chicago: The Play, but they're still dynamos in this spirited Off-Off-Broadway revival of playwright Maurine Dallas Watkins' 1926 hit Broadway true crime satire. It was adapted into a silent film, a Ginger Rogers movie and the same-titled 1975 musical, whose 1996 revival is still running on Broadway. Its book by director and choreographer Bob Fosse and lyricist Fred Ebb is a scathing take on celebrity culture which faithfully extracted and expanded on the core of Ms. Watkins' acerbic play. Fans of the musical will be intrigued by this opportunity to experience its source material with its spoken similarities; oh yes, they both reached for the gun.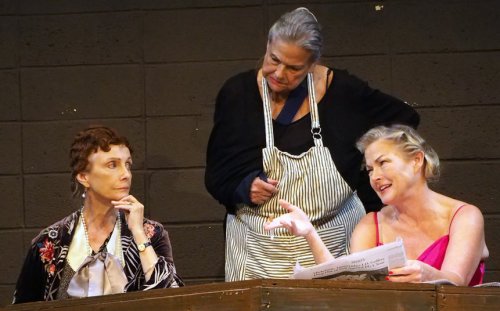 Roxie Hart is arrested for murdering Fred Casely. Her dim-witted husband Amos agrees to take the rap until he learns that Casely wasn't a burglar but was in fact his wife's lover. Roxie ends up in the Cook County jail run by the steely Mama Morton where she encounters a host of fellow killers including the gutsy Velma. Wily amoral superstar lawyer Billy Flynn accepts Roxie's case for $5000 and a spectacular Roaring 1920's tabloid-covered trial ensues.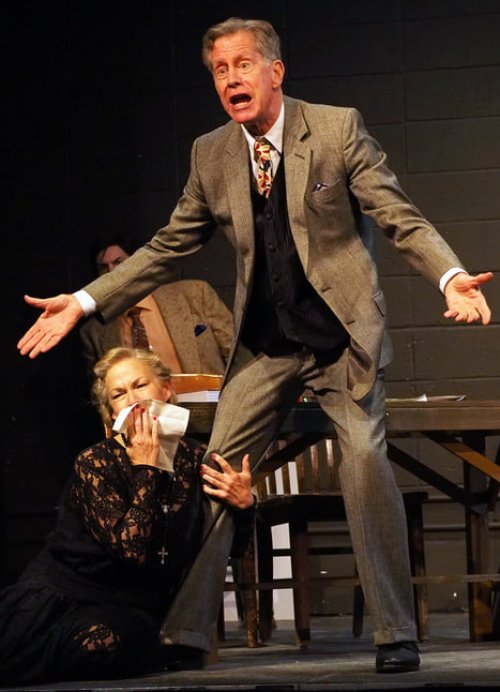 Chicago: The Play is presented by the Out of the Box Theatre Company, which is dedicated to showcasing its members who are over the age of 50 and here they have a blast with this quaintly riotous material. They're aided by Katherine Roberson's outstanding and voluminous period-style costume design.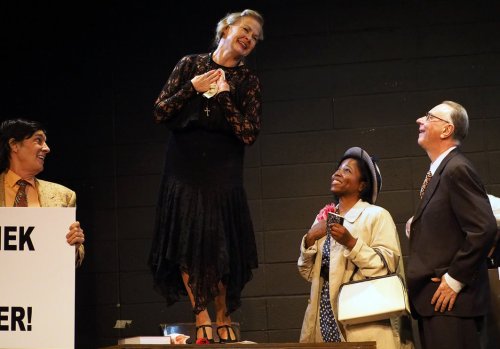 With flapper-like flair while often flouncing around in a red dressing gown, blonde bewigged Jenny Tucker offers a marvelously brassy characterization of Roxie. The animated Mark Hofmaier deliciously oozes charm and cynicism as Billy Flynn. Velma is a featured role in the play, still Susanna Frazer makes a delightful impact. James Harter's Amos is a grand portrait of lunkheadedness. The prosecutor is enacted by Jeffery Passero with authoritarian relish.
.
Eric M. Moreland's wise guy reporter is enjoyably rat-a-tat. Resembling Jane Darwell, Sheila Dehner is a formidable Mama Morton and a riot as a white-wigged judge. Sob sister reporter Mary Sunshine is played by Kubbi with terrific daffiness. Donning a George Jessel-style jet black toupee, Kelly Gilmore is a hoot as the spacy narrator and appears in drag for a mirthful turn as a salty murderess. Brandishing a vintage flash-bulb camera, lanky Jane Marx winningly pops up repeatedly as a crusty newspaper photographer. Wearing her cap half-cocked, Eve Packer is a comically brusque cop. As another murderess, Susanne Brinnitzer is appealingly wacky.

Director Lin Snider's fast-paced adept staging at times has a welcome Carol Burnett Show-style vibe, particularly in the eventful second act. Jo DiNozzi's bracing fight direction further contributes to the production's physical flair. Scenic designer Harlan Penn's ingenuity is noteworthy. Despite the limited landscape of a community center space, Mr. Penn's employment of prison-bar panels and well-selected furnishings achieves inspired stagecraft. Sharp blackouts and stark brightness are characteristic of Stephen Cornelius' focused lighting design. The droll soundtrack of jokey songs and music, gunshots and other effects are pointedly rendered by sound designer Nicholas Wilson.
Chicago: The Play is good-natured and giddy entertainment.
Chicago: The Play (through October 23, 2022)
Out of the Box Theatre Company
Bernie Wohl Center, 647 Columbus Avenue, in Manhattan
For tickets, visit www.outoftheboxtheatre.com
Running time: two hours with one intermission