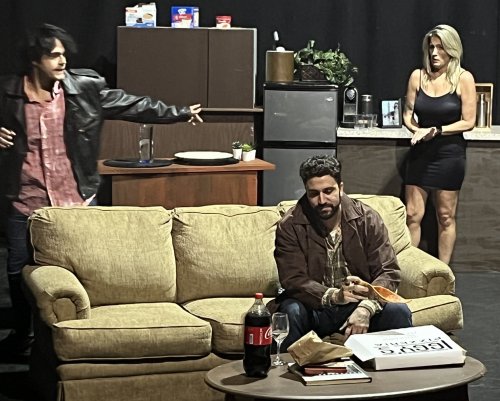 By: Darryl Reilly
Dial M for Murder, Sleuth and Deathtrap-style exhilarating plot twists abound in playwright Claude Solnik's smart contemporary comedy thriller, Fun and Games. A woman picks up a strange man in a bar, brings him home and her gun-toting husband soon barges in; it's a psychosexual game the married couple play to enliven their bland lives. Mr. Solnik spins out his engaging neo-film noir premise thru 70-mintues of punchy dialogue, plentiful surprises and eventful interactions between his well-drawn delectable characters, which are deliciously performed.
The alluring blonde Marisa Sullivan is in full Barbara Stanwyck-mode as the femme fatale wife. Ms. Sullivan's expressive voice, limber physicality and display of varying emotion, all enhance her full-blooded characterization. As the husband, the animated Joshua Gutierrez's relatable everyman persona enables him to convey humor and pathos with effective ease. Beaming Enrique Huili plays the grease monkey schnook the couple con, with appealing youthful passion and comedic flourishes. This magnetic trio's rapport carries the play.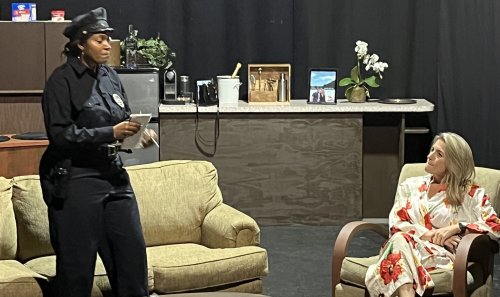 "One more thing…" brings down the house as delivered by Bridgette Leath, dryly playing a uniformed investigating police officer with hilarious shades of Columbo and Joe Friday. Hobbling around on a cane, Arisael Rivera is gleefully dim as the best friend involved in the shady machinations. Fiery Leo Delgado makes an impact with his charismatic presence as another of the couple's targets.
Besides assembling and guiding this superior cast, director Justin Bennett physical staging realizes the piece's suspense through crisp pacing, developing momentum and a fierce fight sequence. Scenic designer Mengyi Liu's artfully basic living room and kitchen area unit set serves the play well. Marsh Shugart's bracing lighting design punctuates the scene transitions and highlights the actions with flair. Costume designer Everett Clark's choice everyday garments include a cool leather jacket and a tempting wardrobe for the wife, especially a snazzy red dress.
With its marvelous old-time theatrical suspenser elements and fresh takes, Fun and Games is a welcome diversion.
Fun and Games (through Oct 23, 2022)
Theater for the New City, 155 First Avenue, in Manhattan
For tickets, visit www.theaterforthenewcity.net
Running time: 70 minutes with no intermission